Aquasphere Welcomes World Class Triathlete Sam Long to the Global Team
February 24, 2022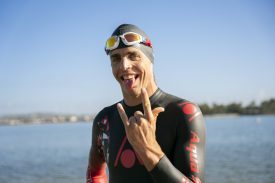 The 26-year-old rising star joins a strong roster of World Champion athletes on Team Aquasphere
SOPHIA ANTIPOLIS, France (February 24, 2022) /ENDURANCE SPORTSWIRE/ – Aquasphere, the premier swimming and triathlon brand, today announce 70.3 World Championship silver medalist Sam Long is joining its growing roster of world class athletes. As part of the partnership, Long will train and compete utilizing Aquasphere's range of industry-leading products including wetsuits, eyewear and training equipment. Long joins a strong roster of World Champion athletes on the global Team Aquasphere including triathletes Timothy O'Donnell and Mirinda "Rinny" Carfrae and competitive swimmer Ben Proud, who was announced earlier this year.
At just 26-years-old, Long is a rising star in the sport of triathlon and is currently ranked fourth in the world. He has served as a brand ambassador for Aquasphere North America since 2019 and will now endorse the Aquasphere product portfolio globally and lend his expert perspective to the brand's renowned R&D department to help influence the design and development of future global products.
"Aquasphere is an ideal partner for me because they believe in my ability to conquer limits and make the front pack. As we enter our third year together, I'm super excited to step up to the global level and embrace the limitless spirit of the brand," said Long. "At the same time, I get to enjoy the highest quality equipment from Aquasphere for both training and competition, which is paramount to helping me achieve my goals. I can't wait to play a bigger role in the innovation of Aquasphere products in the future."
Born and raised in Boulder, Colorado, Long won the silver medal at World Championships 70.3 in 2021 and has been labeled "one to watch" by fellow triathletes. He notched victories at IRONMAN Coeur d'Alene and IRONMAN 70.3 Boulder last year and has four total 70.3 career wins. Long is also the youngest American to break eight hours in the Ironman distance.
"As a brand, Aquasphere embraces a bold approach, which makes Sam and his big, infectious personality a perfect fit for us," said Jess Fitzsimon, Global Brand Director at Aquasphere. "Already a formidable, talented athlete, Sam has huge goals, and he will play a major role in shaping the future of the sport. We are thrilled to expand our partnership with Sam to a global level and we can't wait to see what he achieves in the coming years."
Driven by a commitment to develop the most innovative and best quality swim products on the market, Aquasphere values the involvement and contribution of its global team of athletes. The brand will continue to add athletes to its roster in both triathlon and competitive swimming with additional athletes scheduled to be announced in the coming weeks. For more information, visit www.AquasphereSwim.com.
About Aquasphere
Established in Genoa, Italy in 1998, Aquasphere is a premium swimming brand representing unparalleled design, development and manufacturing expertise. Inspired by extensive experience in the scuba diving industry, the brand was launched after Italian engineers, P. Ferraro and G. Beltrani, created the first curved lens with no visibility distortion: The Seal swim mask. From this creative ingenuity, Aquasphere quickly became the swim eyewear expert. Through our in-house R&D Department and manufacturing facilities in Italy, we design and craft high quality swim goggles that combine performance, reliability, and comfort. Sharpened over more than 30 years of research, our craftsmanship is based on advanced patented technologies, high-quality materials and driven by our swimming community. Whatever the playground, we celebrate and empower everyone in their pursuit of achievement and encourage swimmers everywhere to "be limitless". For more information, visit www.aquasphereswim.com.
# # #
Media contact:
Katrina Younce for Aquasphere
T: +1-310-995-3619
katrinayounce@gmail.com