Apple watch can now be used as a cycling power meter with the app HR2VP
March 29, 2023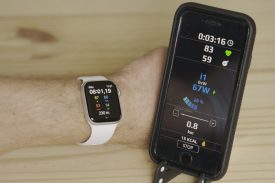 /ENDURANCE SPORTSWIRE/ – A few days ago, Apple released a firmware update improving the running power estimation, but until today, there was no option to get cycling power just with an Apple watch. A companion app has just been added to the iPhone bike app HR2VP, allowing the use of any Apple watch as a cycling power meter and bike computer.
How it works
The heart rate gets measured by the built-in watch sensor, which is known as one of the best optical sensors on the market. Then, power is computed by an algorithm running on the iPhone. Power estimation is based on heart rate, and is displayed on the watch.
Accuracy
In order to get a better accuracy, individual parameters such as functional threshold power (max 1h wattage), minimum and maximum heart rate are taken into account. In addition, the algorithm doesn't only take into account instantaneous values but also if your heart rate is increasing or decreasing. Optionally, a cadence sensor can be paired with your phone and come into account for power estimating. Last but not least, a power meter can be connected as well in order to compare real power versus power based on heart rate, and the data from the power sensor can be used in order to calibrate the app for a later use without any power meter.
Other features
HR2VP is a multi purpose cycling training app which can be used indoors as well as outdoors. Indoors, you can use structured workouts, connect your bike trainer or even pair with virtual cycling apps such as Zwift. Outdoors, as you can connect sensors to your phone and get all the data displayed on the watch, it makes it possible to use an Apple watch as a bike computer. And of course, you can upload all your rides automatically to Strava.
Get the app
HR2VP has been developed by the company BIPR in 2020, specialized in endurance sports training apps, and already counts over 20k downloads on the Apple App Store and Google Playstore.
If you want to get HR2VP, you can download and try it for free on the App Store: https://apps.apple.com/us/app/heart-rate-to-virtual-power/id1500870126
For Android: https://play.google.com/store/apps/details?id=com.bipr.heartrate.virtualpower