Any Distance Unveils Exciting New Social Network for Tracking and Sharing Over 90+ Activities
April 11, 2023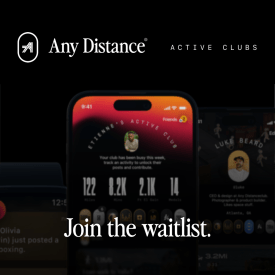 Any Distance Active Clubs focuses on safety and privacy of user
Atlanta, GA – April, 2023  /ENDURANCE SPORTSWIRE/ – Any Distance, the innovative Atlanta-based company renowned for its commitment to privacy and safety in fitness tracking, is thrilled to announce the launch of its groundbreaking new social network, Any Distance Active Clubs. Designed to foster connection and camaraderie among users, this revolutionary platform encourages individuals to track and share over 90+ activities in a fun, safe, and engaging manner.
Breaking New Ground in Social Fitness
Any Distance's new social network is a game-changer in the world of social fitness, offering users an unparalleled opportunity to connect with friends and share a wide variety of activities. The platform's core principle is to celebrate and motivate one another, moving away from comparison and competition to create a truly supportive community.
Rich Media, Rich Experiences
This state-of-the-art social network allows users to upload rich media such as photos, videos, song tagging and enhanced activity summaries. These dynamic, interactive features enable users to not only share their progress and achievements, but also inspire others to join in and experience the joy of staying active.
A Safe and Engaging Space
Any Distance's commitment to privacy and safety, a guiding principle since the company's inception in 2020, remains a cornerstone of Any Distance Active Clubs. The platform is designed to protect user information and ensure a secure, private environment in which users can connect and interact with confidence.
Connecting and Celebrating
"Any Distance was founded with the vision of creating a unique space where users can feel empowered to share their fitness journey without fear of judgment or comparison," said Luke Beard, CEO of Any Distance. "We are proud to bring this vision to life with Any Distance Active Clubs, providing a platform for users to connect, celebrate, and motivate each other to achieve their personal goals."
Join the Revolution
The Any Distance social network is currently in beta and is a ever-growing waitlist to join the platform is now. To be a part of this innovative community, join the waitlist at anydistance.club/waitlist/
About Any Distance
Founded in Atlanta in 2020, Any Distance was built on the mission of providing a safe and private way for users to track and share their workouts. With a focus on fostering connection, celebrating achievements, and motivating one another, Any Distance is revolutionizing the world of social fitness.
For more information, please contact:
Travis McKenzie
Chief Marketing Officer
Any Distance
Phone: (617) 230-6130
Email: travis@anydistance.club