Any Distance Launches Social Network to Encourage Healthy, Active Lifestyles for All
May 4, 2023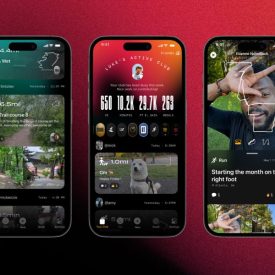 Any Distance launches a brand new social network designed for your active life focused on positivity, inclusion and motivation. No algorithms, no ads, no competition or comparison.
Featured by Apple as one of the best running apps, it's new close friend network is designed to help tackle the global epidemic of sedentary behavior and inactivity.
Atlanta, GA, May 4th /ENDURANCE SPORTSWIRE/ – Any Distance, the Atlanta-based workout tracking and sharing app is proud to release their latest update, Active Clubs. A fresh and innovative active lifestyle social network created to empower individuals on their personal fitness journey while fostering a close-knit community of like-minded friends.
Recognizing that current fitness apps and social networks may not cater to everyone's needs or are too intimidating to use, Any Distance is designed to motivate users of all fitness levels by celebrating all forms of physical activity. With an emphasis on privacy, safety, inclusivity, and personal growth, Any Distance, embodies the spirit of its slogan: "Any Distance Counts." The app has been featured by Apple, including on their "Best Running Apps" list and for its inclusive activity types.
Any Distance aims to address the worrying trends related to sedentary lifestyles, poor health, mental well-being, and the dramatic decline in life expectancy in the US since 2020. Many studies show that:
US adults are sedentary for 9.5 hrs/day, the majority of which is spent sitting.
By 2030, nearly 50% of US adults are projected to be obese.
At the current rate, ~500M people will develop heart disease, obesity, diabetes, or other noncommunicable diseases this decade.
Physical activity, especially high-intensity exercise, is shown to be 1.5 times more effective than counseling or medications in treating depression.
Beneficial effects of exercise are reported across all clinical populations, with the greatest impact on those with major depressive disorder and those undergoing supervised exercise.
Life expectancy in the US has experienced a significant decline since 2020, which can be attributed, in part, to increasingly sedentary lifestyles.
Any Distance embraces a wide range of inclusive and lifestyle activities, including stroller walking and running, dog walking and running, wheelchair-based activities, walking with a cane or walker, and recumbent cycling. While the app encourages progression, it also emphasizes the importance of maintaining an active lifestyle to create healthy active life habits.
Any Distance CEO, Luke Beard, said. "We recognized that many of the current fitness tracking apps lacked a real sense of community and were designed and built for individuals who were already superfit and they tend to foster a sense of competition rather than support and inclusivity. Our early testing of Any Distance Active Clubs has shown that small groups of friends are able to motivate each other to be more active, send more encouragement and document their active life in creative ways. We strongly believe Any DIstance will continue to have a positive impact on people's lives."
Key features of Any Distance include:
Your Active Club: A privacy-focused close friends-style social network, limited to 100 friends, that requires approved friend requests to join. Personalized with the user's name, Active Clubs offers a supportive and close-knit community for sharing activities, offering, motivation and celebration.
Activities are private by default, ensuring your personal progress remains your own. When you choose to share your activities, you can opt to hide specific stats like pace and time, fostering a supportive and non-judgmental space for you and your friends.
Active Clubs introduces Weekly Participation: to promote inclusivity and maintain engagement, users must post an activity to their Active Club each week to view their friends' posts. This feature encourages users to remain active, including those recovering from injuries or participating in less intense activities like meditation or stretching.
Collect 'em' all Collectibles: Any Distance includes hundreds of achievement medals and digital collectibles to motivate any level of active lifestyle. These include rewards from partners like Vacation, lululemon, Hipcamp and Atoms, along with free merch from the Any Distance Active Club store.
Unrelenting focus on privacy and safety: Any Distance prioritizes user privacy by offering Sign in with Apple, minimizing user data storage, adjustable privacy settings, and a safety message for activities. A strong roadmap of further enhancements are planned.
Compatibility with what you love: Any Distance syncs directly with Apple Health, Garmin, and Wahoo to securely bring your activities into the app. Thanks to the deep integrations with Apple Health, Any Distance is compatible with thousands of apps across the App Store.
A customizable fresh experience: Users can tailor their experience by choosing which features to enable or disable, creating a personalized and comfortable experience.
Fun and Beautiful Design: Any Distance boasts a visually appealing and user-friendly interface that makes tracking and sharing fitness activities enjoyable and inspiring.
In addition to the features listed above, Any Distance has plans to expand its offerings to include public Active Clubs for groups, brands, and companies, and other discovery options designed to enhance a user's active lifestyle. These upcoming features aim to further connect the active community and provide new ways for users to explore and engage with others who share their passion for an active life.
For more information about Any Distance and its mission to help people lead healthier, happier lives, visit https://anydistance.club or download the app from the Apple App Store.
About Any Distance:
Any Distance is an activity-tracking app and active life social network focused on promoting healthy lifestyles for individuals of all fitness levels. Built in Atlanta, the app has been recognized by Apple for its inclusivity and has been featured on the "Best Running Apps" list. With a commitment to privacy, personal growth, and a close-knit community, Any Distance seeks to combat the concerning trends of sedentary living, poor health, and declining life expectancy in the US and globally.
Press Contact:
Luke Beard
luke@anydistance.club
415-994-2431
Note to editors: For more information, news, and perspectives from Any Distance, journalists and analysts may contact Luke Beard. Any Distance press releases, executive biographies, and other news are available at https://anydistance.club.