American Couple McQueen and Sereno Both Hoping to World Championship Titles in London
April 5, 2023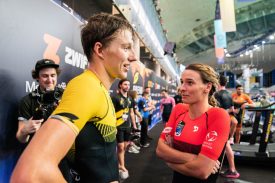 /ENDURANCE SPORTSWIRE/ – American golden couple Chase McQueen and Gina Sereno are hoping to complete a unique World Championship double as they race in the final of Arena Games Triathlon powered by Zwift in London on Saturday (April 8).
McQueen, one of the USA's greatest short course hopes, and Sereno, who also holds down a full-time job at the jet propulsion laboratory at NASA, had the dream day when the Colorado based couple both won at Arena Games Triathlon Montreal.
That means they sit joint top of the World Championship standings alongside Arena Games triathlon Switzerland winners Henri Schoeman and Zsanett Bragmayer heading into the final at the London Aquatics Centre at Queen Elizabeth Olympic Park (17:30 local time).
If they can master the short, sharp and intense unique hybrid race format of real life and virtual racing one more time each then they could boast a pair of World Championship titles to take back home.
Chase McQueen said: "To see Gina win and execute the perfect race I was just so proud of her. I don't know if it was excitement or happiness and pride, but it took a lot of pressure off of me and I would go out there and do what I could and I would still be really happy because of the race that she had. To both come home with gold medals in a race like that…it's rare to have a good day like that in the sport, and to have a good day on the same day as her in the same spot is really special and for sure a memory I will remember for the rest of my life.
"I am heading to London with the expectation to try and win a world title, but to manage that together helps a lot. There are a lot of really good people there and people that aren't competing for the overall Series but we are both going there to win and hoping to come home with world titles."
Gina Sereno said: "I was so excited to win (in Montreal). I didn't know if that would be possible but as the rounds went on I felt relaxed and felt comfortable in the heats. Chase did so well in his heats and I felt he could win as well. Watching him bike so hard and his face and thinking about all the times we ride on our trainers together I knew he was going hard.
"It will be really fun to be in the finals in London and see what I can do at this next level. I didn't get to leave it all out there in Montreal so being in an environment where there are better people and more challenges I am really excited to see what I can get out of myself and my goal is to win."
Schoeman's story is also a remarkable one as the 2016 Olympic bronze medallist and 2018 Commonwealth Games champion from South Africa battles back from nearly three years out of the sport with health and injury issues which almost forced him into retirement.
Hungary's Bragmayer, meanwhile, is looking to go one better than her runner-up spot in 2022 and will again race alongside her teammat,e 15-year-old Fanni Szalai, who produced a sporting fairytale to make the podium in Switzerland at her first ever elite level event.
Also competing in London but not in contention for the title are the likes of British star Beth Potter, Cassandre Beaugrand of France who won this event in 2022, and Gustav Iden, the current Ironman World Champion.
Last remaining tickets and more information is available via the Super League Triathlon website.