Altra Partners with Still I Run to Promote the Benefits of Running for Mental Health
November 30, 2020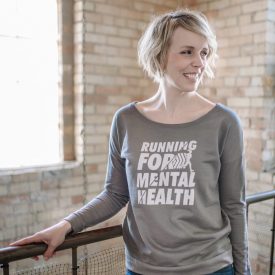 Monetary Donations and Virtual 5K to Highlight Partnership
Denver, Colo. (November 30, 2020) – Altra, an innovator in the performance footwear category, is excited to announce its partnership with Still I Run, a running community and non-profit with a mission to promote the benefits of running for mental health, defeat the stigma through running, and create a safe community for mental health running warriors. At the focal point of the partnership are two major give back efforts, kicking off with a Giving Tuesday initiative and New Year's Day Virtual 5K.
This Giving Tuesday, Altra will donate $1 for every pair of shoes sold, up to $5,000, to help support Still I Run's Starting Line Scholarship, designed to reduce the barriers of running for mental health. On December 3, Altra and Still I Run will open registration for a New Year's Day virtual 5K, an opportunity to run for health, raise awareness of mental health issues and help bring an end to the stigma.
"At Altra, we believe running is a great way to improve both your mental and physical health, and so is talking about it," said Shanna Burnette, Global Community and Partnerships at Altra. "That's why I am thrilled to partner with Still I Run particularly during these unpredictable and stressful times. Together, we hope to bring awareness around taking control of mental health and provide the tools and tips to start the year on the right foot."
Giving Tuesday
On December 1, Altra will launch its Giving Tuesday campaign on the website, for every pair of shoes sold, the company will donate $1 (up to $5,000) to support Still I Run's Starting Line Scholarship. Still I Run's Scholarship program is designed to reduce the barriers of the activity of running for mental health by providing a proper pair of running shoes, running gear, check-ins from a certified coach, mentorship throughout the process, and entry into a 5K or 10K. To support this initiative please visit https://www.altrarunning.com/.
Breaking the Stigma in Stride 5K
Start the new year by giving back and moving forward with Still I Run X Altra's Virtual Breaking the Stigma in Stride 5K on January 1, 2021. Each participant will receive a branded neck gaiter, medal, Still I Run sticker pack and will be entered to win a gift pack. The prize pack includes a Still I Run water bottle, hat, sling backpack and Altra's newest shoe, the Lone Peak 5. Registration costs are $2 and all of the proceeds from the race will go directly back to Still I Run's mission to promote the benefits of running for mental health. For more information and registration, please visit https://runsignup.com/Race/MI/Anycity/BreakingStigmainStride5K.
"Mental health is always an important topic around the holiday season and it's even more important than ever this year. We're so honored and excited that we can elevate this conversation through the lens of running with Altra's help," said Sasha Wolff, Founder and Executive Director of Still I Run. "Through our Starting Line Scholarship, and other programs, we do truly hope to encourage and help anyone that wants to run for their mental health."
To learn more about Still I Run, the Starting Line Scholarship or make an additional donation, please visit www.stilliruncommunity.com.
###
About Altra
Altra was founded in the backroom of a small specialty running store in the Wasatch Mountains of Utah. Since the beginning, the goal has been to create innovative and purposeful running shoes that help people run more naturally. Altra's unique platform includes a FootshapeTMtoebox that allows the toes to relax and spread out which enhances stability and encourages natural running form. Balanced Cushioning™ platform that positions the heel and forefoot at an equal distance from the ground, cultivating optimal alignment, better form and a low-impact landing. Altra is on a mission to unleash human potential by inspiring the world to move naturally. Be a part of our journey and follow along on Instagram, Twitter and Facebook.
About Still I Run
Still I Run grew out of necessity and personal passion. After a brief hospitalization for depression and anxiety in 2011, Sasha Wolff discovered the benefits of running for mental health. Wanting to find a group of individuals who also ran for mental health, but not being able to find one, Wolff created a group herself in 2016. Today, Still I Run is now a non-profit that reaches nationwide, promoting the benefits of running for mental health through community, awareness, and programming. We invite everyone to connect with us through Instagram and Facebook. Support for Still I Run can be made through donations or by shopping online at our store.