Alchemy Bikes Increases Rear Travel on Two Arktos MTBs; Pre-Order Now
February 17, 2023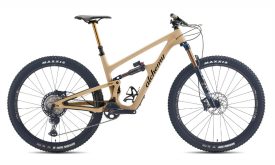 Boutique brand sees longer travel as future of MTB; flagship Arktos line for '23 available in new 125 and 140 models
Golden, Colorado (February 17, 2023) /ENDURANCE SPORTSWIRE/ – Addressing what they see as the future of mountain bike design, Alchemy Bikes – a leading fabricator-to-rider boutique bike manufacturer – is updating its critically acclaimed Arktos line of full-suspension carbon mountain bikes for 2023 with longer rear travel on two of its most popular models. The new Arktos 125 and Arktos 140 will both see an increase of 5mm for rear travel, with the new names reflecting the increase.
The new Arktos 125 and Arktos 140 are now available for pre-order, with delivery in April for current colorways and May for two new colorways, Pine Green/Sunray Gold and Camel/Black. The current 150 (their longest-travel model) will remain as is for now and is already available in those colors and will be offered in those new colors as well. Front travel on the new models will remain the same as the current line: 130 and 150mm respectively.
Originally launched in 2015, the Arktos has long enjoyed the rare-but-coveted combination of speed, quickness and descending chops, for which Alchemy credits its patented SINE Suspension and highly versatile carbon frames.
"We've definitely heard from our consumers that they'd like more travel in general as long as the performance isn't otherwise sacrificed," says Alchemy's Founder and Owner, Ryan Cannizzaro. "Thanks to our progressive frame and suspension designs, we're in a perfect position to offer just that in our new line of Arktos; we just had to design new linkage to compensate for the added rear travel. This ensures riders on a previous-model Arktos can still join in on the longer-travel fun with a relatively quick, simple adjustment!"
Adding to the unique versatility of these bikes, all three Arktos models share one frame, which when paired with their custom-tuned, patented SINE Suspension, performs equally well at any of the three travel options – this applies to the new frames as well as the current frames.
So thanks to Alchemy's Conversion Kits, which will be available on their website when new travel options are in stock – along with each model's capability to run 'mullet' setups – consumers can conceivably have multiple different bikes in one for a fraction of the cost of buying separate bikes for different riding styles.
For media inquiries please contact: Scott Boulbol, scott@simbolpr.com; Nic Sims, nic@simbolpr.com
About Alchemy Bikes: Known for their handmade and customizable builds, Alchemy Bicycles crafts the finest gravel, road, and mountain bikes available. Alchemy holds themselves to the highest standard using cutting-edge technology, quality craftsmanship, and carbon fiber and titanium materials. Using a direct-to-rider model, customers work directly with their builder to craft a perfectly tailored ride and experience. For more information on Alchemy, please visit AlchemyBicycles.com