After five-year break, Little Rock's Dirtiest 5k is Back!
May 10, 2022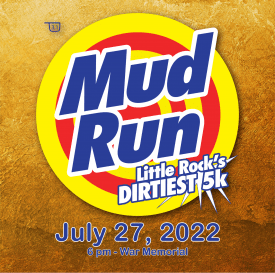 Registration for the infamous Mud Run is now open!
LITTLE ROCK, Ark. (May 10, 2022)/ENDURANCE SPORTSWIRE/ – After a five-year hiatus, registration for the Mud Run – affectionately known as Little Rock's Dirtiest 5K – opens today.
The 2022 return of the Mud Run is slated for Wednesday, July 27, at 6 p.m. in War Memorial Park, and is a project of Little Rock Parks & Recreation.
"We started the Mud Run to introduce people to the sport of running to people who would have never considered it before," said Geneva Lamm, the race CIC (that "mud-ese" for Chick in Charge, aka race organizer). "It is the funniest race I have ever seen, and it's a great change of pace from your typical road race."
Lamm called The Mud Run a combination of the Macy's Thanksgiving Day Parade, a Razorback Football Game and the Olympics with a little running thrown in.
"We don't have barbed wire," she laughed. "We won't make you crawl through flames, and we definitely won't make you climb through anything with electrical current.  The only thing we take seriously is the mud."
She added this reminder for participants: "The point is not to finish fast, but finish with style."
The biggest competition on race day is not winning the race, but for the "other" awards handed out. Competition categories in addition to the top three overall winners are: Cleanest, Dirtiest, Best Costume, Best Performance in the Mud Pit – just to name a few.
Participants can register at https://lrmarathon.com/39GrM2a. Registration is $25 before race day and $35 on race day.
For more information visit www.mudrun.org
###
About Little Rock Marathon
The mission of the Little Rock Marathon is provide a premier event open to athletes of all abilities, while promoting a healthy lifestyle through running and walking and raising money for Little Rock Parks & Recreation.  Since its inception in 2003, more than $1,093,360.65 has been donated to Little Rock Parks & Recreation. Little Rock Marathon Race Weekend is held the first weekend in March each year and includes a marathon, half marathon, 10K, 5K run/walk, a children's mile and a free two-day health and fitness expo.  With an estimated $6.5 million in local spending annually, more than 140,000 individuals have participated in a Little Rock Marathon race, sponsored event, or free training program.  This has been achieved through school-based programs, community outreach, and partnerships with running/walking groups across the country and passionate grass roots promotion.
About Little Rock Parks & Recreation
Little Rock Parks and Recreation oversees 62 developed parks and twelve undeveloped parks totaling over 6,100 acres.  In addition, the Little Rock Parks & Recreation offers a wide-range of youth and adult recreational and sports leagues, after-school and summer playground programs for children ages 6-15, outdoor recreation, therapeutic recreation and programs for seniors.  Little Rock's parks system is not only a source of pride for the city, but it has received national recognition for excellence! Little Rock Parks & Recreation became the 30th agency in the United States to receive accreditation of Park and Recreation Agencies. Funds raised will continue to support parks and recreational programs for all ages. For more information about Little Rock Parks & Recreation please visit www.lrpr.org.