Afghan Woman Zenab Rezaie Makes History as She Completes the 2022 Intermountain Healthcare IRONMAN 70.3 World Championship Presented by Utah Sports Commission
October 31, 2022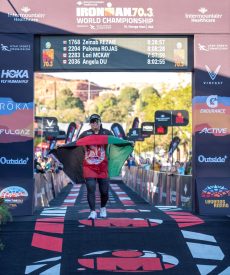 Rezaie, 27, is the first Afghan woman to race and finish the IRONMAN 70.3 World Championship; As final finisher of women's day at the 2022 Intermountain Healthcare IRONMAN 70.3 World Championship presented by Utah Sports Commission, Rezaie completes race in 08:28:57
For race day images and footage of Zeinab, visit: HERE
ST. GEORGE, Utah (Oct. 31, 2022) /ENDURANCE SPORTSWIRE/ At just 27, Zeinab Rezaie has made history in becoming the first Afghan woman to race and finish the IRONMAN® 70.3® World Championship. Zeinab was the final finisher of the 2022 Intermountain Healthcare IRONMAN 70.3 World Championship presented by Utah Sports Commission yesterday completing the race in a time of 08:28:57, giving her just over a minute to spare before the final cut off.
Zeinab, who was born a refugee in Iran, returned to Afghanistan with her family aged nine, just two years after American troops ousted the Taliban. Despite living in a society that didn't accept women or girls participating in sport, Zeinab was determined to stand tall in the face of adversity. She completed her first marathon in 2017 and then went on to complete a multi-stage ultramarathon across 250 km of the Mongolian Gobi Desert in 2018. In February 2020, she completed IRONMAN 70.3 Dubai and became the first Afghan woman to finish an IRONMAN 70.3 triathlon.
Yesterday, Zeinab re-wrote the history books once again and became the first Afghan woman to compete in and ultimately finish the IRONMAN 70.3 World Championship.
On finishing the 2022 Intermountain Healthcare IRONMAN 70.3 World Championship presented by Utah Sports Commission, Zeinab commented: "I did it not for myself but for the women and girls of my country who do not have the basic rights of education, work, travel, or sport. Not only was this for the women of my country but for the minorities and all the women across the world who do not have access to their basic rights."
Zeinab was introduced to triathlon by She Can Tri founder Jackie Faye when she was studying at the American University in Kabul.
Training in Afghanistan was challenging – there are only two swimming pools in Kabul that allowed women, but they were crowded and expensive. Thanks to the She Can Tri community, Zeinab learnt to swim by attending training camps and watching YouTube videos.
Now living in the USA, Zeinab is studying for a Master's degree in Social Entrepreneurship but her family remains in Afghanistan.
Zeinab hopes to set an example for other Afghan women who may also be passionate about sport, but don't know where to turn.
Talking about how triathlon has changed her life, Zeinab said: "In lots of ways, but mostly it has given me a voice to speak up about basic rights for women, such as freedom of movement, sport, education, work, and travel. Many women in my country are deprived of these things."
Zeinab was amongst nearly 5,500 age-group athletes who raced across Friday and Saturday in the 2022 Intermountain Healthcare IRONMAN 70.3 World Championship presented by Utah Sports Commission in St George, Utah. She raced alongside some of the world's best triathletes, which saw Taylor Knibb (USA) take the women's IRONMAN 70.3 World Championship Crown, followed by Paula Findlay (CAN), and Emma Pallant-Browne (GBR).
Zeinab completed the 1.2-mile swim course in Sand Hollow Reservoir located in Sand Hollow State Park in Hurricane, Utah in 00:53:32. She then went onto race the challenging 56-mile bike course through stunning desert landscapes with 3,201 feet (1003 meters) of elevation gain and an unforgettable climb into Snow Canyon State Park and surrounding Washington County in a time of 04:11:29. Finally, she took to the 13.1-mile (21.2km) run course in the stunning Red Hills Parkway, finishing the run in 03:10:58 in historic downtown St. George for an overall time of 08:28:57.
As part of her training and racing efforts, Zeinab is attempting to raise $15,000 for She Can Tri to make sure more women and girls can follow in her footsteps. Supporters may donate to her GoFundMe campaign.
For more information about the 2022 Intermountain Healthcare IRONMAN 70.3 World Championship presented by Utah Sports Commission event, please visit www.ironman.com/im703-world-championship. To learn more about the IRONMAN and IRONMAN 70.3 brands and series of events, please visit www.ironman.com. Media inquiries may be directed to press@ironman.com.
###
** Terms and Conditions: Footage and photography is provided courtesy of IRONMAN for news and editorial coverage and is not to be archived. Media may use up to a total of two minutes of video. The B-Roll packages are not provided for the intent of posting the footage in its entirety. Any commercial use or other use of the footage and or photos is strictly prohibited unless a separate written license is obtained from and signed by an authorized representative of IRONMAN. Additional terms and conditions can be found here. Usage of materials constitutes acceptance of terms. **
About Intermountain Healthcare
Located in Utah, Idaho, and Nevada, Intermountain Healthcare is a nonprofit system of 25 hospitals, 225 clinics, the Intermountain Medical Group with some 2,700 employed physicians and advanced care practitioners, a health plans division called SelectHealth, Homecare, and other health services. Helping people live the healthiest lives possible, Intermountain is committed to improving community health and is widely recognized as a leader in transforming healthcare by using evidence-based best practices to consistently deliver high-quality outcomes and sustainable costs.
About Utah Sports Commission
The Utah Sports Commission was created to be a catalyst for Utah in its Olympic legacy efforts and to help enhance Utah's economy, image, and quality of life through the attraction, promotion, and development of national and international sports. Since the 2002 Olympics and Paralympics, the Utah Sports Commission has attracted nearly 900 major events to the state. The Sports Commission works closely with communities, sports entities, and organizations to provide event services ranging from the bid process, on-site logistics, volunteer coordination, sponsorships and promotional opportunities, and other related services. It is a not-for-profit 501(c)3 business league and Utah Sports Commission Foundation, a not-for-profit 501c3 charitable organization, is governed by an all-volunteer Board of Trustees consisting of statewide sports, business, community, and government leaders. For more information, visit www.utahsportscommission.com and follow us on Twitter, Instagram and Facebook.
About the IRONMAN 70.3 World Championship
In 2006 the inaugural IRONMAN® 70.3® World Championship was held in Clearwater, Florida becoming another test for the world's elite triathletes. Since that auspicious beginning, the IRONMAN 70.3 World Championship has grown in stature and popularity moving first to Henderson, Nevada in 2011, where athletes encountered a more challenging terrain and then to Mont-Tremblant, Quebec—its first stop on the new "global rotation" for the IRONMAN 70.3 World Championship. The event reached European soil for the first time ever in 2015, with Zell am See, Austria, hosting an epic and memorable event. In 2016, the race moved from the mountains to the beaches of the Sunshine Coast in Queensland, Australia. In 2017, the race returned to the United States, taking place in Chattanooga, Tennessee where it became a two-day event for the first time. In 2018, the event reached the African continent for the first time and was hosted in Nelson Mandela Bay in South Africa. Continuing the rotation, 2019 saw the French Riviera and Nice, France play host to the ever-growing IRONMAN 70.3 World Championship event. After a year in which the event was not able to take place due to a global pandemic, the race returned in 2021 with over 3,500 athletes competing in St. George, Utah. The event again took place in St. George, Utah, returning to a two-day format on October 28-29, 2022, before shifting to Lahti, Finland on August 26-27, 2023 and Taupō, New Zealand on December 14-15, 2024. Historically, more than 200,000 athletes have participated annually in a series of qualifying races, consisting of over 100 global events. Hosting more than 5,000 athletes from around the world, participants in the IRONMAN 70.3 World Championship have ranged in age from 18 to 85-plus. For more information, visit www.ironman.com/im703-world-championship.
About The IRONMAN Group
The IRONMAN Group operates a global portfolio of events that includes the IRONMAN® Triathlon Series, the IRONMAN® 70.3® Triathlon Series, the IRONMAN® Virtual Racing™ (VR™) Series, 5150™ Triathlon Series, the Rock 'n' Roll® Running Series, the Rock 'n' Roll Virtual Running™ Series, IRONKIDS®, World Triathlon Championship Series, premier running events including the Standard Chartered Singapore Marathon™ and City2Surf®, UTMB® World Series events including Tarawera Ultra and Ultra-Trail Australia™, Epic Series™ mountain bike races including the Absa Cape Epic®, road cycling events including Haute Route®, and other multisport races. The IRONMAN Group is the largest operator of mass participation sports in the world and provides more than a million participants annually the benefits of endurance sports through the company's vast offerings. Catering to the full athlete experience, the company portfolio also includes FulGaz® virtual cycling, the most realistic indoor riding experience connected fitness application aimed at preparing athletes for real-world events. Since the inception of the iconic IRONMAN® brand and its first event in 1978, athletes have proven that ANYTHING IS POSSIBLE® by crossing finish lines around the world. Beginning as a single race, The IRONMAN Group has grown to become a global sensation with hundreds of events across 55+ countries. The IRONMAN Group is owned by Advance, a private, family-owned business. For more information, visit www.ironman.com/about-ironman-group.
About Advance
Advance is a private, family-held business that owns and invests in companies across media, entertainment, technology, communications, education and other promising growth sectors. Our mission is to build the value of our companies over the long-term by fostering growth and innovation. Advance's portfolio includes Condé Nast, Advance Local, Stage Entertainment, The IRONMAN Group, American City Business Journals, Leaders Group, Turnitin, 1010data and Pop. Together these operating companies employ more than 17,000 people in 29 countries. Advance is also among the largest shareholders in Charter Communications, Warner Bros. Discovery and Reddit. For more information visit www.advance.com.