AdventureCORPS returns to its roots with "Velo & Vino Solvang," a Wine Country Cycling Retreat
December 27, 2022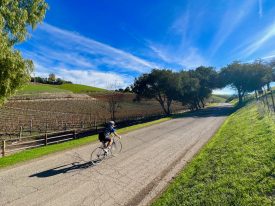 Six days of world-class cycling, plus winery visits, wine-tasting, and fantastic food!
Solvang, CA/ENDURANCE SPORTSWIRE/ –  AdventureCORPS, the organization most famous for hosting its legendary BADWATER® 135 Ultramarathon from Death Valley to Mt. Whitney, is excited to announce its return to hosting cycling events with its new Velo & Vino Solvang, a Wine Country Cycling Retreat in California's Santa Ynez Valley held March 26-31, 2023.
"AdventureCORPS got its start in cycling events back in the 1980s and has produced over 120 century rides, double centuries, charity rides, cycling tours and camps, plus the venerable 'Furnace Creek 508' ultracycling race for 26 years – but no cycling events since 2016. This cycling retreat represents a return to our routes – I mean roots – in more ways than one: Not only are we returning to hosting cycling events after six years, but I have been cycling in Solvang and the Santa Ynez Valley since 1982. In a lifetime of cycling – whether racing or exploring – I can honestly say that this area is unparalleled for its impeccably scenic and quiet road biking. Rounding out the cycling to make this a fantastic destination are the 125 local wineries, the Danish town of Solvang known as 'the most Christmasy town in America,' incredible restaurants and cafés, and the proximity to both secluded beaches and Santa Barbara." – Chris Kostman, Chief Adventure Officer at AdventureCORPS.
Participants will enjoy six days of vehicle-supported world-class cycling in the Santa Ynez Valley. Each day's ride will start and finish at our host hotel – Royal Copenhagen Inn – in Solvang, with multiple distances offered each day, offering something for everyone. This camp is suitable for most any eager cyclist, whether gearing up for a first-ever century or gran fondo, or for a long season of triathlon, bike racing, bike adventuring. It is also suitable for "bike-curious" runners who want to discover and learn more about this sport. Best of all, this cycling retreat offers the pure enjoyment of exploring a fantastic cycling region that is equally enjoyable off the bike.
Besides six days of fabulous cycling, participants will also enjoy a welcome dinner at a fantastic Solvang restaurant and a grand finale dinner at a winery restaurant located along the Foxen Canyon Wine Trail, as well as wine tastings in Solvang. Coaching and bike fitting are also offered for those new to the sport or looking to improve their comfort or performance.
"Velo & Vino Solvang is designed as a multi-day lifestyle adventure – six days of fantastic cycling in a gorgeous wine country setting – and the camp is only as difficult as YOU want it to be. Most days, participants can make their daily mileage any number they want! If you love cycling and want to get away from it all and enjoy incredible cycling and a wine-themed retreat, then you will enjoy Velo & Vino Solvang! And of course, for those who prefer, there are local brews available, and plenty of non-alcoholic beverages, as well!" – Chris Kostman
Located just a 40-minute drive from Santa Barbara (or two hours from LAX), Solvang and the Santa Ynez Valley are legendary for providing some of the finest cycling in North America, and several pro cycling teams host their winter training camps here. But the 125 exceptional wineries have also made the Santa Ynez Valley one of the top wine regions in North America and beyond.
Non-riding spouses and family members are welcome and will have plenty to do, including horseback riding, glider rides, shopping, touristing, hiking, visiting secluded beaches, and, of course, plenty of wine tasting! (There are also excellent local breweries!)
Registration is at https://ultrasignup.com/register.aspx?did=100640
Further information is at https://www.badwater.com/event/velo-vino-solvang/
About AdventureCORPS, Inc.
Founded in 1984, AdventureCORPS® made its name producing the world's toughest endurance races in dramatic, remote locations that few people would ever visit, let alone run or bike across. Our events have allowed runners and bicyclists to explore Death Valley, Cape Fear, the Salton Sea, the Mojave Desert, and the Nevada outback in the USA, as well as the Mustang region of Nepal, Yunan Province of China, the Okanagan Valley of British Columbia, as well as Armenia and Artsakh.
In the running world, we are most known for hosting the annual Badwater® 135 Ultramarathon from Death Valley to Mt. Whitney each July, along with sister races Badwater Cape Fear and Salton Sea. However, we got our start in the cycling world and have produced over 120 cycling events, including ultra races such as Furnace Creek 508 and cycling tours and camps in Death Valley, eastern San Diego County, the Santa Monica Mountains, and Mt. Shasta.
More info: www.adventurecorps.com and www.badwater.com.