Abbott World Marathon Majors to award equal prize money to Series Champions
September 27, 2022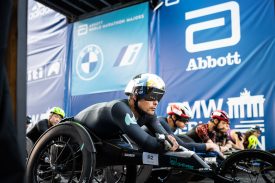 • AbbottWMM focused on providing more opportunities for marathon wheelchair racing
/ENDURANCE SPORTSWIRE/ – The Abbott World Marathon Majors (AbbottWMM) announced today that the Series XIV Champions will receive equal prize money across the elite and elite wheelchair competitions and the prize money fund will be extended to include the top five males and females in both categories.
As the world's biggest and best marathon series with the largest collective pool of prize money and appearance fees for the elite athletes, AbbottWMM will continue to focus on supporting and elevating the wheelchair series and its athletes, providing increased prize money and additional opportunities for competition and promotion.
On hearing the news, reigning AbbottWMM Series Champion Manuela Schär said, "This is wonderful news for the sport of wheelchair racing. The Abbott World Marathon Majors is a brilliant series for racing that I have been fortunate to be part of for several years now. The athletes are looked after so well at each Major and the series has really put our sport on the world map and continues to drive it forward. "
Dawna Stone, CEO of the Abbott World Marathon Majors said: "Our move to equating the wheelchair racing division with the elite runner division across the Abbott World Marathon Majors Series competition is an important step for us as an organization. We want to champion all our elite athletes and by providing more prize money to our wheelchair division we hope this will help encourage others into the sport."
Looking ahead, AbbottWMM will be allocating funds and working with partners to develop other initiatives that offer new channels to further promote the sport of wheelchair racing and the incredible athletes who compete across the six Abbott World Marathon Majors. More details on these plans will be shared in the coming months.
Series XIV began at the Tokyo Marathon on March 6, 2022 and the champions will be crowned at the TCS New York City Marathon on November 6. Additional to the six Abbott World Marathon Majors, the Olympic or Paralympic Marathons and World Athletics or World Para Athletics Championships are included in the series in the years they are held.
The champions of each AbbottWMM Series are the male and female athlete who scores the greatest number of points from the Qualifying Races during the scoring period.
For an elite athlete during each scoring period, points from a maximum of two Qualifying Races will be counted and they must start in at least two Qualifying Races during the Series to be eligible for the prize. If an athlete earns points in more than two events, the athlete's highest two finishes are scored.
The Wheelchair Series follows the same rules, but points from an athlete's best four races count towards the total, or best five during years with Paralympic Games or World Championship marathons.
New prize fund for elite and wheelchair athletes competing in AbbottWMM Series XIV:
| | | | | | |
| --- | --- | --- | --- | --- | --- |
| Place | Series XIV Men | Series XIV Women | Wheelchair Series XIV Men | Wheelchair Series XIV Women | Total |
| 1st | $50,000 | $50,000 | $50,000 | $50,000 | |
| 2nd | $25,000 | $25,000 | $25,000 | $25,000 | |
| 3rd | $12,500 | $12,500 | $12,500 | $12,500 | |
| 4th | $7,500 | $7,500 | $7,500 | $7,500 | |
| 5th | $5,000 | $5,000 | $5,000 | $5,000 | |
| Total | $100,000 | $100,000 | $100,000 | $100,000 | $400,000 |
The current leaderboards for Series XIV can be found HERE.
With three races remaining in the Series, there is still everything to run and race for.
– END-
For media inquiries, please contact:
Lorna Campbell
Head of Communications, Abbott World Marathon Majors
ABOUT ABBOTT WORLD MARATHON MAJORS
The Abbott World Marathon Majors (AbbottWMM) is a series of six of the largest and most renowned marathons in the world – Tokyo Marathon, B.A.A. Boston Marathon, TCS London Marathon, BMW BERLIN-MARATHON, Bank of America Chicago Marathon and TCS New York City Marathon.
Encompassing an annual series for elite runners and elite wheelchair athletes, AbbottWMM also applauds the achievements and passion of everyday champions from around the world. The AbbottWMM Six Star System is an online results hub that celebrates every runner who has completed from one to six of the races in the series and encourages them to 'Reach for the Stars' and earn the coveted Six Star finisher medal.
The AbbottWMM launched the AbbottWMM Wanda Age Group World Rankings in 2018 and the second AbbottWMM Wanda Age Group World Championships will take place on October 2, 2022, as part of the TCS London Marathon.
The AbbottWMM Global Run Club launched in August 2020 and aims to bring together the global community of marathon runners on a virtual platform.
For more information, visit www.Abbottwmm.com
ABOUT ABBOTT
Abbott is a global healthcare leader that helps people live more fully at all stages of life. Our portfolio of life-changing technologies spans the spectrum of healthcare, with leading businesses and products in diagnostics, medical devices, nutritionals and branded generic medicines. Our 113,000 colleagues serve people in more than 160 countries.
Connect with us at www.abbott.com, on LinkedIn at www.linkedin.com/company/abbott-/, on Facebook at www.facebook.com/Abbott and on Twitter @AbbottNews.