A 2023 Buyer's Guide to America's Best Bicycle Insurance
January 4, 2023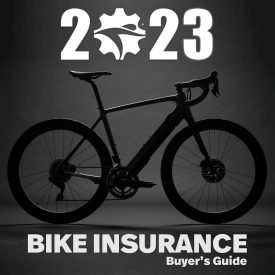 With the right bike insurance, a cyclist can protect their bicycle or eBike, while riding or in transit, bike accessories, and theft of the bicycle with optional theft protection.
January 4, 2023 / ENDURANCE SPORTSWIRE – BikeInsure, an insurtech company specializing in bicycle accident coverage for cyclists in the United States, has released a 2023 Buyer's Guide to America's Best Bike Insurance. Today's cyclists need a standalone insurance policy to protect their new or used bicycles and eBikes. BikeInsure provides damage reimbursement for repairs to your bike and listed accessories due to riding accidents. And during transit. The BikeInsure plan extends to a stolen bike or eBike when optional theft protection is selected.
Standalone Bicycle Insurance refers to a separate bike insurance policy that covers specific risks not covered by your existing policies. For example, the Forbes Magazine article "Do you Need Bike Insurance for Your Bicycle?" addressed Bicycle Damage, "You crash your bike. If you crash into an object like a tree or car, you typically won't be covered under a home, condo, or render insurance policy for the bike damage." The BikeInsure standalone insurance plan will not compromise a cyclist's homeowner's insurance if a bicycle accident claim occurs.
"Unlike the few traditional bike insurance companies in the United States, BikeInsure has Standardized Bike Insurance, a simple 2-minute sign-up comprehensive insurance for bicycles," said Buzzy Cohn, CEO of BikeInsure. BikeInsure innovated a process that allows a cyclist to obtain bike coverage with optional theft protection for a bicycle as quickly as it was to get for your smartphone, all from the BikeInsure website. In addition, the comprehensive insurance for your bike or eBike includes a standardized $10,000 limit and a $100 deductible for only $16.99 monthly.
"While cycling is safe, accidents do happen," said Ira Becker, President of BikeInsure. "Now available to cyclists across America is standalone bike insurance that is standardized with real value and reasonably priced coverage. BikeInsure is the solution for bicycle insurance."
Please click here to review the complete 2023 Buyer's Guide to America's Best Bicycle Insurance.
=====
About BikeInsure
BikeInsure is leveraging eCommerce technology to transform how cyclists in the United States buy and experience bike insurance to make it simple and affordable. Licensed insurance producer BikeInsure is administering the insurance plan, underwritten by carrier Great American Insurance Company, rated "A+" (Superior) by AM Best, an authorized insurer in all 50 states and Washington, DC. For 150 years, Americans have trusted Great American Insurance Company to protect them and render best-in-class service.
Media Contact:
BikeInsure | Buzzy Cohn
888.245.3467