8-Hour Dream Endurance Race Sold Out for Third Year in a Row
July 11, 2022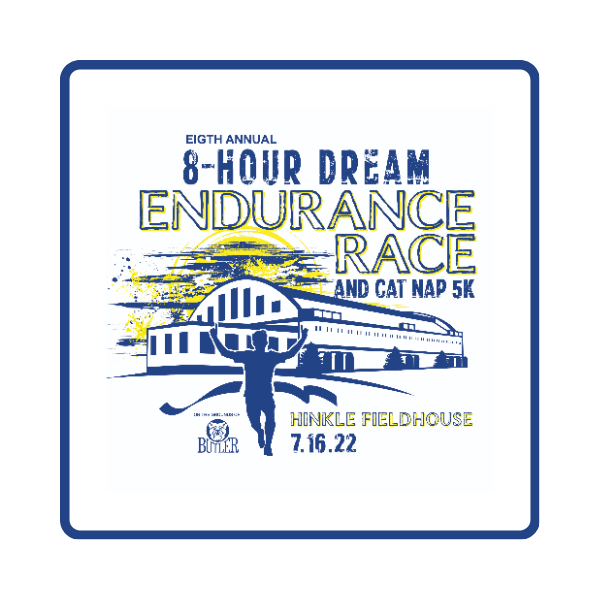 Eighth annual event to bring competition from 14 states to Hinkle Fieldhouse
CARMEL, Ind. (July 11, 2022)/ENDURANCE SPORTSWIRE/ – The 8-Hour Dream Endurance Race and Cat Nap 5K, one of CRRG Events' signature races and the largest endurance running event in Central Indiana, returns on Saturday, July 16 with a sold-out SOLO division for the third year in a row with registrants from 14 states and a record number in the Team division. The eighth annual event takes place in the shadows of Butler University's historic Hinkle Fieldhouse in Indianapolis, offering participants eight hours to run, walk or stroll as far as they can before celebrating with friends, food and music.
The unique format of the popular event offers long (3.1 miles) and short (1.89 miles) course loops on a combination of pavement and dirt towpath as well as "Bulldog's Revenge," an infamous hill on traditional trail surface. The course starts and ends at the tent village outside Hinkle Fieldhouse, allowing for participants to refuel as needed throughout the event. Spectators are welcome to cheer on racers and provide support throughout the eight hours. All events begin at 10 a.m., and the race finishes at 6 p.m. with award presentations, a complimentary cookout, and a live bluegrass band.
The participation categories include SOLO, Team and Cat Nap 5K. The Dream is scored based on the total distance covered during the eight-hour time frame. The Team category offers three divisions (female, male and coed) of three to four members and five to six members. In addition, the RC Cup will be awarded to the coed certified nonprofit running club team with the most miles at the end of the event. Participants chose which course to run each lap based on strategy against competition, course conditions and weather conditions, racking up laps throughout the eight-hour time frame.
"We're always amazed with the positive response and turnout for the longer distance events like the 8-Hour Dream Endurance Race," said Todd Oliver, race director and president of CRRG Events. "This race has the highest rate of returning participants of all of our events, despite the challenging format. It just shows runners and walkers are looking to set new goals, and we're pleased we can offer people a chance to test their limits in a fun and welcoming environment."
While the SOLO event is sold out, limited spots for the Team division and the Cat Nap 5K are still available. More information and registration can be found at 8HourDream.com.
– END –
About CRRG Events:
CRRG Events is an event management and production company with more than 20 years of producing successful running events. Based in Carmel, Indiana, CRRG Events has staged and managed events across 11 states ranging from a 1-mile football halftime race to ultramarathons. For more information, please visit CarmelRoadRacingGroup.com.