7th GFNY Colombia Bogota this Sunday
April 25, 2023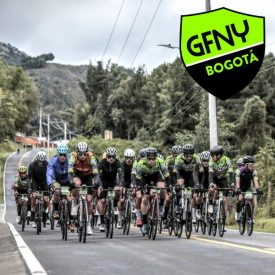 Riders will race above 3000m high
/ENDURACE SPORTSWIRE/ – This Sunday, GFNY Bogota offers riders a challenging 101.1 km race course with an elevation gain of 2321 m and a hilltop finish at iconic El Águila. GFNY Bogota starts from inside the famous salt mines of Zipaquirá, also known as the Salt Cathedral, at 2650 m above sea level.
"GFNY was the first mass participation race in Colombia and has become a staple since. We're very grateful for that because Colombians are aficionados of our sport," says GFNY CEO Uli Fluhme. "Colombians 'get' the sport like few other nations. A GFNY there guarantees to be hard fought and emotional – the two ingredients for a road race I like the most."
Race week activities will take place at Plaza de la Independencia. It includes the fun GFNY Bogota group ride on Saturday where riders get to do a relaxed ride together with friends and competitors
On Sunday, the first 20km of the race will be mostly flat combined with some rolling hills. The main challenge of the day will be the final climb of 15 km long at 3.3% with a total of 523m of elevation gain to the finish on top of iconic El Aguila. During the ascent, riders will race above 3000m over sea level.
Website: bogota.gfny.com
About GFNY Global Endurance Sports Series
GFNY Global Endurance Sports Series is a sports event company with three decades of experience in racing, planning and organizing events. The global endurance sports brand hosts multiple events throughout the year around the world on five continents.
Working with partners around the world to deliver a first-class experience, GFNY Global Endurance Sports Series puts its athletes first.
Cycling
30-plus events held around the world. View the latest calendar here
Riders get to BE A PRO FOR A DAY ® by competing against others, themselves and the clock in a personal endurance challenge.
Top 10% (20% at regional championships) of finishers in each age group qualify for the Elite Qualifier Corral at every GFNY World event.
GFNY World Championship NYC
The 11th annual GFNY World Championship New York will be held on May 21, 2023. The race features the world's most international peloton with riders from over 90 countries. Athletes take on a challenging route to compete against each other, the clock and themselves in a personal endurance challenge.
The official GFNY website is: www.gfny.com.
Further Material for Media Use
Official GFNY Bogota video: here
GFNY Press Images: here
GFNY Results: here
GFNY World calendar graphic: here
Previous GFNY press releases: here
Media Contact
Gran Fondo New York Inc.
Uli Fluhme, uli@gfny.com
Caroline Lindsay, caroline@gfny.com