6,000 Runners Ready to Race at 2023 Volvo Santa Monica Classic
September 8, 2023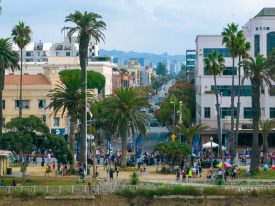 Sold-out Southern California Spectacle Returns this Weekend to the Santa Monica Oceanfront for 18th edition
SANTA MONICA, CA – September 08, 2023 /ENDURANCE SPORTSWIRE/ – The stage is set, registration is sold-out and an exhilarating day of running and breathtaking views are in store for more than 6,000 runners as the Volvo Santa Monica Classic presented by ASICS returns this Sunday, September 10.
Featuring three distances – 5K, 10K, and a Kids Run – the annual tradition promises runners a spectacular point-to-point course along the oceanfront streets of Santa Monica. Celebrating its 18th year, the Volvo Santa Monica Classic has become a beloved fixture in the local running scene, drawing participants from near and far to experience the unparalleled beauty of Santa Monica's coastline.
The race begins at 8:00am with the 5k, followed by the 10k start at 8:30am. Both routes feature a point-to-point course offering panoramic views of the ocean and ample opportunities for those coveted race-day selfies.
The Volvo Santa Monica Classic is a family-friendly event with the Kids Run for children ages 3 – 11 starting at 10:15am. All runners will finish on Ocean Blvd., just steps away from the Santa Monica Pier where the post-race finish line festival is located.
Aside from promoting fitness and fun, the Volvo Santa Monica Classic is a platform for the McCourt Foundation to drive broader health and wellness. Over 100 participants this weekend are running with purpose on Team TMF and raising funds to cure neurological diseases. The Santa Monica Classic also regularly partners with local charities and organizations, contributing to a spirit of giving back to the vibrant Santa Monica community and
through its title sponsorship of the Santa Monica Classic, Volvo Car USA will feature its annual support for Alex's Lemonade Stand Foundation (ALSF). ALSF first caught the attention of Volvo when Alexandra "Alex" Scott received an inaugural Volvo for Life award nomination in 2002. The award program honors hometown heroes doing extraordinary things in their communities.
For more information and race weekend details for the Volvo Santa Monica Classic presented by ASICS, visit santamonicaclassic.com. Further information about Volvo's work as a founding sponsor of ALSF is available here.
About Volvo Car USA:
Volvo Car USA LLC, (www.volvocars.com/us) is a subsidiary of Volvo Car Group of Gothenburg, Sweden. VCUSA provides marketing, sales, parts, service, technology and training support to Volvo automobile retailers in the United States. For more information, please refer to the VCUSA media website at: http://www.media.volvocars.com/us.
About The McCourt Foundation
The Volvo Santa Monica Classic presented by ASICS is operated by The McCourt Foundation.
The McCourt Foundation (TMF) empowers communities to build a healthier world through research, education, and events. TMF's mission is to cure neurological diseases while empowering communities to build a healthier world. TMF makes a difference by donating to neurology research, hosting educational forums, and using our events such as the Los Angeles Marathon, Rose Bowl Half Marathon & 5K, Santa Monica Classic, Boston Waterfront 5K, and Tour de South Shore, as platforms to raise funds for over 95 nonprofit charity partners. Since its inception, TMF has donated more than $6.3 million to neurology research and generated more than $66M for our nonprofit charity partners.
Established in 1992, TMF is a 501 (c)(3) with offices in Boston, MA and Los Angeles, CA.
Contact:
Dan Cruz, 619.925.7671
# # #