5X Baseball All-Star J.D. Martinez Signs Partnership Deal with Recovery Footwear Leader OOFOS
May 1, 2023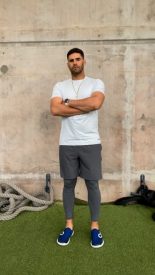 The LA Dodgers slugger emphasizes the importance of recovery in his professional career with the new collaboration
May 1, 2023 /ENDURANCE SPORTSWIRE/ – OOFOS, the global leader in Active Recovery footwear, has teamed up with former Boston Red Sox star and current Los Angeles Dodgers designated hitter and outfielder J.D. Martinez, highlighting how his focus on Active Recovery has been imperative to maintaining a long, successful career in baseball.
Growing up in South Florida, the veteran player fell in love with the game – for the history, legacy and play – at a very early age. Mentored by former big-leaguer Paul Casanova, Martinez would frequent his batting cages to take him one step closer to his dream of playing professional baseball. This diligence became the start of his superior work ethic that would build throughout his career and can still be seen in him today. With a packed practice and strengthening schedule, physical therapy, and constant mental and physical preparation on and off-season, having a thorough recovery plan is crucial to Martinez's success on the diamond.
"As soon as the game ends, it's put my OOFOS on, get into the ice tub, use the hyperbaric chamber – anything I can do to rehab my body to get all the soreness and inflammation out," says Martinez. "I've never felt anything like them. You're walking around, doing things, yet you're technically giving your body rest and letting it recover. It's the only foot recovery tool I've seen that actually makes a difference and helps your body feel better."
Martinez has always been dedicated to improving his game. His work ethic and drive to give more than 100% has contributed to his success on the field. He spends as much time preparing his body to play and recovering for the next game as he does in the gym and batting cage. The long baseball season can be a grind, so a commitment to constant recovery can separate those who continue to excel and those who face consistent injuries. That's where the value of OOFOS comes into play. OOFOS feature OOfoam™, a scientifically proven impact-absorbing technology, and are designed to accelerate recovery post-performance and help you feel better faster. OOFOS have become a vital recovery tool for many high-performance athletes from pro-football players to Olympic gold medallists and elite triathletes.
Martinez has learned over the years that Active Recovery footwear can provide an edge that many athletes have not yet discovered. As he becomes a veteran with more than ten years in the league, every day is an opportunity to discover more about his body, take steps to recover the right way, and find ways to come back stronger the next day. As his career continues, J.D. hopes to mentor younger athletes to find the same support through Active Recovery that he has found in OOFOS.
"As you get older, you start seeing those scenarios more and more where guys that don't spend their time on recovery tend to start getting hurt more often," adds Martinez. "Alleviating stress and pressure points on my body with OOFOS gives me the potential to continue playing into my late thirties."
Designed with proprietary OOfoam ™ technology, OOFOS absorb impact so your body doesn't have to. Combined with a patented footbed design, OOFOS cradle the heel and arches for the optimal combination of soft and stable support. OOfoam™ technology is proven to absorb 37% more impact than traditional foam materials, decrease load rates up to 88% and reduce energy exertion on the ankles by as much as 47% – all of this reducing load and stress, so you can recover faster.* The full line of OOFOS has received the APMA (American Podiatric Medical Association) Seal of Acceptance.
"Active Recovery has become more and more important for all athletes, whether they are just starting out in their career or they have a decade in the books," says Steve Gallo, President of OOFOS. "Adding J.D. to our OOcrew is an honor after seeing his rise in baseball over the years and admiring his intense focus to constantly improve his game. Active Recovery has become a staple process for him and has helped him become one of the best hitters in the game. It's our mission to help athletes feel better through Active Recovery, and we're thrilled to be J.D.'s partner as he not only continues on his path of success, but also mentors younger athletes as they follow in his footsteps."
*Based on a 2018 University of Virginia School of Medicine Speed Clinic.
OOFOS is the global leader in recovery footwear, founded by a team of industry veterans looking to help runners and fitness enthusiasts recover better from their workouts. Made with revolutionary OOfoam™ technology, OOFOS are designed to absorb 37% more impact than traditional footwear. They reduce stress on joints to keep anyone, of any activity level, feeling their best. From professional athletes to casual walkers, OOFOS footwear will make your hard-working feet and body feel better – all you have to do is feel the OO. For more information, go to www.oofos.com.
###