46th HAP Crim Festival of races
June 23, 2023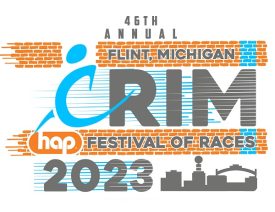 Flint, MI /ENDURANCE SPORTSWIRE/ – The HAP Crim Festival of Races, the signature event of the Crim Fitness Foundation, is returning to the historic bricks of downtown Flint for the 46th time August 25-26. The Festival, home to one of the nation's largest and oldest 10-mile races also has 5-Mile, 5K, and 1-Mile distances, as well as divisions for elites, para-athletes, and wheelers/hand cyclists.
"The Crim" as it has become known nationally, hosts runners from nearly every Michigan county, 40+ states, and more than 15 countries every year. Runners return for the scenic, yet challenging course, world-class course entertainment, enormous expo, and, of course the live music, pizza, and beer on the Crim's Festival Grounds.
While all of the same traditions will be in place, the Crim is also making upgrades to every aspect of the experience. Lauren Holaly-Zembo, Crim CEO, said, "My favorite thing about the Crim is that we have elite athletes running 46-minute 10-mile races out there with people who walk it in three hours. It is truly a race where there is something for everyone. The whole race is geared toward celebrating a healthy lifestyle." For those elite athletes, the Crim is excited to announce the return of a prize incentive, which has not been done since 2015.
For any man or woman who breaks the course record, they will go home $2,500 richer. The course record for men is 45:43, set in 1996 by Joseph Kamau. For women, the record set by Cathy O'Brien in 1989, still stands at 51:47.
For those not aiming to break the course record, there are still amazing incentives to run the race. All participants receive a 1987 Crim throwback medal, as each Crim medal for the next four years will honor a decade of Crim's history, leading up to the Crim50 to be held in 2027. Additionally, all participants get an ASICS race shirt, goodie bag, post-race food, and refreshments on the Festival Grounds. Kenny Krell, Director of Races and Training, said, "We have spent a lot of time this year making sure the events are a can't-miss experience. We have pulled out all the stops to make sure that this is a race that people won't soon forget."
The schedule of events is as follows:
August 24
2:00 – 7:00 PM – Crim Expo, presented by Planet Fitness
August 25
11:00 AM – 7:00 PM – Crim Expo
7:00 PM – Michigan Mile, presented by the University of Michigan-Flint
August 26
6:50 AM – Crim 10-Mile for Para-athletes, Wheelers/Hand Cyclists, presented by Smoothie King
7:00 AM – Historic Crim 10-Mile Run/Walk
9:00 AM – Crim 5-Mile Run/Walk, presented by Al Serra Auto Group
10:00 AM – Crim 5K Family Run/Walk, presented by Huntington Bank
12:00 AM – Crim Teddy Bear Trot, presented by Premier Security
For more information on the Crim Fitness Foundation and to access an FAQ please visit crim.org. For more information on events and to register, please visit crimraces.org.
The HAP Crim Festival of Races supports the work of the Crim Fitness Foundation, a 501c3 nonprofit organization, whose goal is to improve the health and wellness of the residents of Flint and Genesee County, MI. The organization impacts approximately 30,000 individuals each year through programs including: Crim Youth Sports and Youth Running Clubs; mental wellbeing, mindfulness and yoga; direct nutrition education and food policy; neighborhood impact, policy advocacy, and built environmental change; and more.
CRIM FITNESS FOUNDATION
The Crim works to cultivate accessible, vibrant communities in Flint and Genesee County that encourage people to lead a healthy lifestyle by integrating physical activity, healthy eating, and mindfulness into their daily lives. We mentor other communities to do the same. The Crim uses events, programs, policy, systems, and environmental change to transform the culture of health in the communities we serve.
Brandon Morgan
Director, External Relations
Crim Foundation
Email: bmorgan@crim.org