46th Crim 10-Mile Race Seeks Title Sponsor
June 29, 2023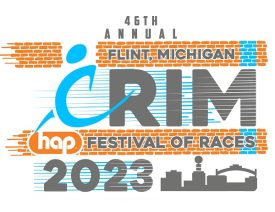 10 mile Title Sponsorship
Flint, MI /ENDURANCE SPORTSWIRE/ –The HAP Crim Festival of Races, the signature event of the Crim Fitness Foundation, is returning to the historic bricks of downtown Flint for the 46th time August 25-26. The Festival, home to one of the nation's largest and oldest 10-mile races, the "Crim," is seeking a Title Sponsor for the first time in nearly 40 years.
Brandon Morgan, Crim's Director of External Relations, said, "While the HAP Crim Festival of Races has dozens of sponsors and corporate partners, the Crim 10-Mile Title Sponsorship is our gold standard and has been held by the same organization for four decades. It is a rare and amazing opportunity for visibility and we are excited to find our next partner organization."
"The Crim" as it has become known nationally, hosts runners from nearly every Michigan county, 40+ states, and more than 15 countries every year. More than 9,000 Runners return for the scenic, yet challenging course, world-class course entertainment, enormous expo, and, of course the live music, free pizza, and free beer on the Crim's Festival Grounds.
"The Crim 10-Mile sponsor is at the center of everything we do and is an integral, year-round brand partner. For 52-weeks every year, we are talking about the companies who make our events, and the work of our foundation, possible," said Lauren Holaly-Zembo, Crim CEO. The benefits of this partnership are extensive and can be inquired about in their entirety by contacting Brandon Morgan at the Crim Fitness Foundation.
In brief, some of the major sponsor benefits include:
Name and/or logo incorporated into Crim 10-Mile name; i.e., Crim 10-Mile presented by Sponsor or Sponsor presents the Crim-10-Mile
Category exclusivity for 10-Mile race presenting sponsorship
Name/logo prominently displayed in all Crim 10-Mile materials (print, digital, web, social media)
Name/logo on all finisher medals (9,000) and race shirts for all racers (10,000+)
Name/logo on all 10-Mile race bibs (9,000)
Click-through logo on race registration site
Dedicated press campaign
Significant presence at any press conferences as well as all other VIP race week events
Name/logo prominently displayed on start and finish line banners
And, dozens more.
The schedule of events is as follows:
August 24
2:00 – 7:00 PM – Crim Expo, presented by Planet Fitness
August 25
11:00 AM – 7:00 PM – Crim Expo
7:00 PM – Michigan Mile, presented by the University of Michigan-Flint
August 26
6:50 AM – Crim 10-Mile for Para-athletes, Wheelers/Hand Cyclists, presented by Smoothie King
7:00 AM – Historic Crim 10-Mile Run/Walk
9:00 AM – Crim 5-Mile Run/Walk, presented by Al Serra Auto Group
10:00 AM – Crim 5K Family Run/Walk, presented by Huntington Bank
12:00 AM – Crim Teddy Bear Trot, presented by Premier Security
For more information on the Crim Fitness Foundation and to access an FAQ please visit crim.org. For more information on events and to register, please visit crimraces.org.
The HAP Crim Festival of Races supports the work of the Crim Fitness Foundation, a 501c3 nonprofit organization, whose goal is to improve the health and wellness of the residents of Flint and Genesee County, MI. The organization impacts approximately 30,000 individuals each year through programs including: Crim Youth Sports and Youth Running Clubs; mental wellbeing, mindfulness and yoga; direct nutrition education and food policy; neighborhood impact, policy advocacy, and built environmental change; and more.
CRIM FITNESS FOUNDATION
The Crim works to cultivate accessible, vibrant communities in Flint and Genesee County that encourage people to lead a healthy lifestyle by integrating physical activity, healthy eating, and mindfulness into their daily lives. We mentor other communities to do the same. The Crim uses events, programs, policy, systems, and environmental change to transform the culture of health in the communities we serve.