45 Years of IRONMAN; Iconic Triathlon Brand to Celebrate with a Global Sweepstakes
February 8, 2023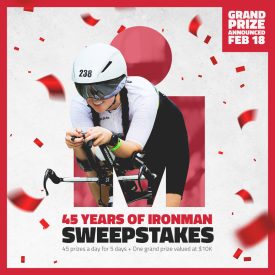 - IRONMAN celebrates 45th anniversary of first race that took place on February 18, 1978; Each day between Feb. 13-17, 45 prizes from brands such as EKOI, FulGaz, HOKA, Hyperice, Normatec, Nirvana, ROKA, Santini and Wahoo will be awarded to randomly drawn winners. - On Feb. 18, its anniversary, one grand prize winner will be randomly drawn and will receive a high value prize pack of products, services, and experiences, including a 2023 and 2024 IRONMAN or IRONMAN 70.3 triathlon race entry
TAMPA, Fla. (Feb. 8, 2023) /ENDURANCE SPORTSWIRE/ – On Saturday, February 18, IRONMAN® will celebrate the 45th anniversary of its very first triathlon event, which took place on the Island of O'ahu, Hawai`i in 1978. In celebration of this milestone anniversary, IRONMAN will be randomly selecting 45 daily prize winners over the course of the week of Feb. 13-17, which leads up to IRONMAN's birthday. One grand prize winner will be randomly selected on Feb. 18 to receive a high value prize pack of products, services and experiences including a 2023 and 2024 IRONMAN or IRONMAN® 70.3® triathlon entry. Athletes who are registered for any 2023 IRONMAN, IRONMAN 70.3, or 5150™ event, will be automatically entered to win; Register for more eligible races during the entry period to receive additional entries and opportunities to win. For more information, please visit, www.IRONMAN.com/IRONMAN-day.
"While we have come a long way since 1978, we still strive to bring the same fearless spirit that the athletes who took on the first IRONMAN race brought to the start line that day on O'ahu," said Suzanne Cohen, Chief Marketing Officer of The IRONMAN Group. "This is an important day in our company's history, and we want to continue to recognize the amazing individuals who have played an important part in our 45-year history. In doing so we also want to reward our dedicated and passionate athletes who create the countless unforgettable moments that continue to tell the IRONMAN story."
On February 18, 1978, 15 dreamers set out on the shores of O'ahu, Hawai`i, to complete what was thought to be the impossible – swimming 2.4 miles, biking 112 miles, and running 26.2 miles, totalling 140.6 miles in a single day, as they looked to put an end to the argument of who were the best athletes in the world – swimmers, cyclists, or runners. Established by co-founders John and Judy Collins, the achievement of the original 12 finishers, which included Mr. Collins, has led to not just the pinnacle event in endurance sports, but a lifestyle and an iconic brand. Hundreds of thousands of athletes fulfil their dreams at finish lines all over the world proving that "ANYTHING IS POSSIBLE®".
To celebrate the occasion, IRONMAN will be hosting a sweepstakes featuring Daily prizes from Monday, Feb. 13 through Friday, 17, 2023 featuring brands such as EKOI, FulGaz, HOKA, Hyperice, Normatec, Nirvana, ROKA, Santini and Wahoo, among others, to be awarded to randomly drawn winners. On Saturday, Feb. 18, one grand prize winner will be randomly drawn and will receive a high value prize pack of products, services, and experiences related to IRONMAN racing, including an IRONMAN or IRONMAN 70.3 triathlon race entry.
See the schedule of prizes below:
| | |
| --- | --- |
| Date | Daily Prizes |
| 2/13/2023 | Santini Tri Suit |
| 2/14/2023 | EKOI Aero 15 Helmet |
| 2/15/2023 | HOKA Rincon 3 Sneakers |
| 2/16/2023 | FulGaz One Year Membership |
| 2/17/2023 | 2023 IRONMAN/IRONMAN 70.3 Race Entry |
Date
Grand Prize
2/18/2023
Santini Kit
EKOI Aero 15 Helmet
HOKA Rincon 3 Sneakers
FulGaz One Year Membership
IRONMAN x ROKA Seaside Stripes Barton Sunglasses
Race entry to 2023 IRONMAN or IRONMAN 70.3 event
2023 VIP Passes for 2
Race entry to 2024 IRONMAN or IRONMAN 70.3 event
2024 VIP Passes for 2
Normatec 3 Boots
Hyperice Hypervolt 2 Pro
Nirvana VIP Package for 2
Wahoo KICKR
Santini Tri Suit signed by Gustav Iden
$1,000 IRONMAN Store Merchandise Pack
Athlete need only to register for any 2023 IRONMAN, IRONMAN 70.3 or 5150 triathlon event during the entry period to enter for a chance to win.
To learn more about 45 Years of IRONMAN and see a full list of prizes from IRONMAN partners, visit www.IRONMAN.com/IRONMAN-day.
For more information on IRONMAN and events in The IRONMAN Group portfolio, visit www.ironman.com. Media inquiries may be directed to press@ironman.com.
No Purchase Necessary. Restrictions apply. Visit www.IRONMAN.com/IRONMAN-day. for full rules, prize info, odds, entry method & other details. Void where prohibited.
###
About The IRONMAN Group
The IRONMAN Group operates a global portfolio of events that includes the IRONMAN® Triathlon Series, the IRONMAN® 70.3® Triathlon Series, 5150™ Triathlon Series, the Rock 'n' Roll® Running Series, IRONKIDS®, World Triathlon Championship Series, premier running events including the Standard Chartered Singapore Marathon™ and City2Surf®, UTMB® World Series events including the Canyons Endurance Runs, Tarawera Ultra and Ultra-Trail Australia™, Epic Series™ mountain bike races including the Absa Cape Epic®, road cycling events including Haute Route®, and other multisport races. The IRONMAN Group is the largest operator of mass participation sports in the world and provides more than a million participants annually the benefits of endurance sports through the company's vast offerings. Catering to the full athlete experience, the company portfolio also includes FulGaz® virtual cycling, the most realistic indoor riding experience connected fitness application aimed at preparing athletes for real-world events. Since the inception of the iconic IRONMAN® brand and its first event in 1978, athletes have proven that ANYTHING IS POSSIBLE® by crossing finish lines around the world. Beginning as a single race, The IRONMAN Group has grown to become a global sensation with hundreds of events across 55+ countries. The IRONMAN Group is owned by Advance, a private, family-owned business. For more information, visit www.ironman.com/about-ironman-group.
About Advance
Advance is a private, family-held business that owns and invests in companies across media, entertainment, technology, communications, education and other promising growth sectors. Our mission is to build the value of our companies over the long-term by fostering growth and innovation. Advance's portfolio includes Condé Nast, Advance Local, Stage Entertainment, The IRONMAN Group, American City Business Journals, Leaders Group, Turnitin, 1010data and Pop. Together these operating companies employ more than 17,000 people in 29 countries. Advance is also among the largest shareholders in Charter Communications, Warner Bros. Discovery and Reddit. For more information visit www.advance.com.