3rd annual GFNY Day this Sunday
August 18, 2022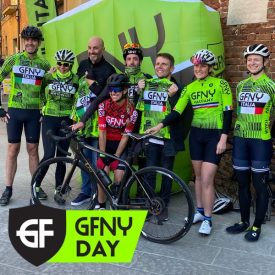 GFNY will hold group rides around the world and a virtual conference with several panels
New York City, August 18, 2022 /ENDURANCE SPORTSWIRE/ GFNY Day is an annual global celebration of GFNY and sport which will take place this Sunday August 21, 2022. GFNY invites all athletes to put on their GFNY gear to ride and run with their teams, clubs, groups or alone and tune into the afternoon GFNY Day Virtual Conference.
There will be 20+ organized morning group rides in locations around the world such as the USA, Mexico, Dominican Republic, Puerto Rico, Colombia, Ecuador, Peru, Belgium, France, Thailand, Malaysia, Indonesia and Philippines.
GFNY´s Chris Geiser and Luis Lemus will be the moderators of the GFNY Day Virtual Conference which will span the world from Asia to Europe and from North America to Latin America. There will be a variety of panels such as "My First GFNY" and "Travelling to GFNYs" with fantastic panelists full of great tips and advice: GFNY Champions Jill Patterson and León Santa María will talk about GFNY NYC, GFNY founders Lidia and Uli Fluhme will talk about the "GFNY World Calendar" and many local GFNY organizers will give an inside view of their races.
Mark your calendar for GFNY Day 2022 and register for free at gfny.com/gfny-day
About GFNY Global Endurance Sports Series
GFNY Global Endurance Sports Series is a sports event company with three decades of experience in racing, planning and organising events. The global endurance sports brand hosts multiple events throughout the year around the world on five continents.
Working with partners around the world to deliver a first-class experience, GFNY Global Endurance Sports Series puts their athletes first.
Cycling
30 plus events around the world. View the latest calendar here
Riders get to BE A PRO FOR A DAY ® by competing against others, themselves and the clock in a personal endurance challenge.
Top 10% (20% at regional championships) of finishers in each age group qualify for the Racer Corral at every GFNY World event.
GFNY World Championship NYC
The 11th annual GFNY World Championship New York will be held on May 21, 2023. The race features the world's most international peloton with riders from over 90 countries. Athletes take on a challenging 100-mile route from NYC to Bear Mountain to Fort Lee to compete against each other, the clock and themselves in a personal endurance challenge.
The official GFNY website is: www.gfny.com.
Further Material for Media Use
GFNY Press Images: here
GFNY Results: here
GFNY World calendar graphic: here
Previous GFNY press releases: here
Media Contact
Gran Fondo New York Inc.
Uli Fluhme, uli@gfny.com
Caroline Lindsay, caroline@gfny.com