3M Half Marathon Returns to Running in Downtown Austin
January 24, 2022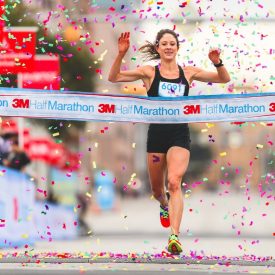 Participants enjoy perfect running conditions at 28th annual event
AUSTIN, Texas /ENDURANCE SPORTSWIRE/ – With start time temperature in the mid-40s and no noticeable wind, the 28th annual 3M Half Marathon presented by Under Armour made for ideal running conditions. Over 6000 runners from 48 states and 10 countries registered for the event that took place on Sunday, January 23rd. Participants ran Austin's streets on one of the fastest 13.1-mile courses in the country. The unforgettable day was highlighted by hundreds of PRs and an uplifting overall vibe from the running community.
"After the disappointing cancellation of the 2021 3M Half Marathon due to Covid restrictions, we were excited to bring this event back to the streets of Austin," said Dan Carroll, co-owner of High Five Events, producers of the event.  "The overwhelming feeling of the weekend was of gratefulness and support from the community."
Austinite Will Nation won the 2022 3M Half Marathon in 1:04:36. Samuel Doud of Washington DC, finished in second place (1:05:40). Wrapping up the men's podium with the third-place finish was John Rice of Austin (1:06:34). William Verheul of Austin was the male Master's champion (1:13:24).
Sarah Jackson of Austin was the female champion in 1:15:47, followed by second place Jaclyn Range of Westlake, Ohio (1:18:37), and Dianne Fisher of Rocky River, Ohio, who finished third (1:19:13). Austin's Julia Rhie was the top female Master's finisher (1:23:55).
"It's fun to be back at a world class running event in the heart of Austin," said Austinite Parash Shaw who crossed the finish line in 1:18:25. "It's exciting to see so many familiar faces out on this super fast course. I know it's a ton of work by High Five Events to make it happen."
For those planning ahead to January 22, 2023, next year's registration is open and set at the low price of $89. This amazing deal will be available until Tuesday, February 1st. Don't miss out on one of the fastest half marathon courses in the country and the world's most practical swag bag, full of useful 3M products. Participants can see their results on the 3M Half Marathon website and continue to share their memorable experiences on Facebook and Instagram. Runners can expect their FinisherPix race day photos and finisher videos to be ready in 24-48 hours after the race.
The 3M Half Marathon would like to thank the volunteers, spectators, and participants who made the race so special. In conjunction with the 2022 3M Half Marathon, 3Mgives will donate $55,000 to this year's beneficiary, Central Texas Food Bank. The following sponsors and partners made this successful race day possible: 3M, Under Armour, Ascension Seton, GU Energy Labs, Evamor, Fleet Feet Austin, Nuun Hydration, H-E-B, Favor, SPIbelt, Life Time, Austin Sports Commission, Dole Packaged Foods, Goodwill Austin, FinisherPix, Austin Police Department, Department of Public Safety, CapMetro, and Travis County EMS.
About High Five Events: Beginning with the launch of a single triathlon in 2003, High Five Events has grown to become one of the largest privately owned event production companies in the United States. High Five Events is a community-centric company based in Austin, Texas. Their staff has more than 100 years' combined experience organizing large events across different venue types in a variety of locations.