29th Annual 3M Half Marathon Ready to Run Austin's Roads
January 20, 2023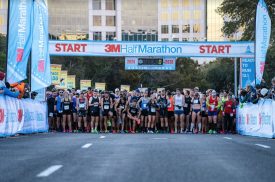 Thousands will chase their 13.1-mile PR on one of the country's fastest half marathon courses
AUSTIN, Texas, January 20, 2023 /ENDURANCE SPORTSWIRE/ – High Five Events, one of the largest privately owned event production companies in the United States, is putting the final touches on the 3M Half Marathon presented by Under Armour. More than 6000 participants have registered, with 46 states and 11 countries represented. The 29th annual 3M Half Marathon will take place on January 22, 2023 in Austin, Texas.
Participants will receive their 29th anniversary Under Armour participant shirt and world-famous swag bag filled with useful 3M products at the Expo & Packet Pick Up. Race day begins near The Domain in north Austin. Thousands will run the predominantly downhill course in search of their PR (Personal Record), cruising through beautiful Shoal Creek Blvd., historic Hyde Park neighborhood, and the world-renowned University of Texas at Austin before finishing near the Texas State Capitol in downtown Austin. The 3M Half Marathon's finish line festival will celebrate finishers and their efforts. They'll receive their customizable spinning finisher medal, post-race hydration from evamor, and snack bag featuring Dole fruit cups and H-E-B products. Super Coffee will also be on hand to help keep the positive energy flowing. Participants 21 years old and older can enjoy EIGHT beer and everyone can devour delicious food from several food trucks. Sponsors, vendors, volunteers and partners will populate the finish line festival, celebrating runners and their achievements.
"We're excited to have this event back in full force after a 2021 cancellation and a modified 2022 event," said Jack Murray Co-Owner of High Five Events. "The expo is sold out of exhibitor space, the EIGHT Beer Garden is going to be awesome, and the enthusiasm for running events like this continues to escalate."
The 3M Half Marathon boasts one of the fastest 13.1-mile courses in the country and will celebrate its 29th year running in 2023. Runners will enjoy a point-to-point course with mostly downhill running that showcases some of Austin's finest locations. Starting in north Austin and finishing near the Texas State Capitol, runners will appreciate a 306' net elevation drop. Participants can register on the website.
About High Five Events: Beginning with the launch of a single triathlon in 2003, High Five Events has grown to become one of the largest privately owned event production companies in the United States. In addition to the events it owns and produces, the Austin, Texas-based company offers consulting and event production services to dozens of additional events each year. High Five Events is community-centric and has more than 100 years' combined experience organizing large events across different venue types in a variety of locations.
# # #