23 National Champions Crowned At 2023 eSports National Championships
February 14, 2023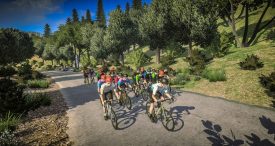 Athletes battled virtually this weekend during the second annual eSport National Championship.
February 14, 2023 COLORADO SPRINGS, Colo. /ENDURANCE SPORTSWIRE/ – The USA Cycling & Cycling Canada eSport National Championship presented by Wattbike took place this weekend. Contestants competed virtually through RGT Cycling. The races were packed full of exciting futuristic-feeling competition, with athletes from all over the United States competing virtually for the gold.
Racing kicked off Saturday morning for the age-group categories. In the Women's 40-44 category, Christie Tracy (Austin, TX; 3T / Q+M Cycling Team) finished strong with a win. Kelly LaLima (Ft. Lauderdale, Fla.; BMC – VOID CYCLING – USWE) took first in the Women's 45-49 race. Beth York (Pembroke, Mass.) finished in first for the Women's 50-54 category. In the Women's 55-59 category, Andi Smith (Bend, Ore.; Sunnyside Sports) had a fantastic race and took gold. Patricia Sacco (Reading, Vt.; Upper Valley Velo), Margaret Thompson (Clinton, N.Y.; Team Hammer Nutrition) and Wendy Skean (Nathrop, Colo.; Hammer Nutrition) all placed first in the Women's 60-64, 65-69 and 75-79 categories, respectively. Of the few younger female competitors, Natalie Rehklau (Billings, Mont.) took home the win for the Women's U17 race at 16-years-old.
At racing age 15, Cian Connolly (Baltimore, Md.; Baltimore Youth Cycling) took first in the Men's U17 division. Liam Adams (Stillwater, Minn.; Northstar Development) raced hard and won first in the men 17-18 division. Our Master's age groups were stacked. Dave Garguilo (Brooklyn, N.Y.; CRCA/Foundation) won the Men's 35-39 race. Brad Greenberg (Arlington, Va.; NeXT eSport p/b Enshored) outrode his competitors to take the win in the Men's 40-44 race and Brian Kellison (Turlock, Calif.; Pen Velo Racing/Summit Bicycles) came out on top in the Men's 45-49 race. In the Men's 50-54 category, Paul Lengermann (Bethesada, Md.; NeXT eSport p/b Enshored) walked away with the gold and in the Men 55-59 race, Joseph Meyer-Fuchs (Oakland, N.J.; SCS Guttenplan/ JGS) won. Kevin Metcalfe (Pleasant Hill, Calif.; Creative Blue Monster Racing) had a strong performance to take gold in the Men's 60-64 race. In the Men's 65-69 race, Jeffrey Moreton (San Gabriel, Calif.; SC Velo) finished on top. Finally, in our Men's 75-79 division, Scott Bulfinch (Lincoln, Neb.; Team KAOS) took home the gold.
Sunday brought the premier races with the Category 1/2 racers. With the 2023 UCI Cycling Esports World Championships next weekend, some of the Team USA athletes first battled it out at Nationals.
In the Women's race, two-time eSport Cycling Worlds competitor Jacqueline Godbe (Chicago, Ill.; Saris/ NoPinz) took first over Saturday's 40-44 National Champion Christie Tracy (Austin, TX; 3T / Q+M Cycling Team).
In the Men's race, Scott Catanzaro (Washington, D.C.; NeXT p/b Enshored) was victorious over Brad Bickley with Team USA Esports athlete Zach Nehr (Milwaukee, Wis.; NeXT p/b Enshored) taking the bronze.
Congratulations to all the participants! A full list of results can be found here.
The 2023 UCI Cycling Esports World Championships take place on Saturday, February 18. Meet the team, here.
Visit USACycling.org for more information on the athletes, events and membership programs, and follow @USACycling across all channels for the latest on Team USA.
For more information, contact Katherine Santos at ksantos@usacycling.org.
ABOUT USA CYCLING (usacycling.org)
USA Cycling is the national governing body for the sport of cycling and oversees the disciplines of road, track, mountain bike, cyclocross, and BMX. USA Cycling's mission is to grow participation and engagement with the sport of bicycle racing and achieve sustained international success across all cycling disciplines. USA Cycling supports cyclists of all levels and abilities, from those just beginning in the sport to international caliber athletes. The organization identifies, develops, and selects cyclists to represent the United States in international competition through the support of youth and interscholastic programs, amateur and grassroots bike racing events, athlete development programs, and operational support for cycling clubs, racing teams, and event organizers. USA Cycling has a membership of 80,000, sanctions over 2,500 events annually, and is a member of the Union Cycliste Internationale (UCI) and United States Olympic & Paralympic Committee (USOPC).