2023 VinFast IRONMAN 70.3 World Championship by the Numbers: Lahti, Finland Set to Host Top Triathletes from Around The Globe on August 26 & 27
August 22, 2023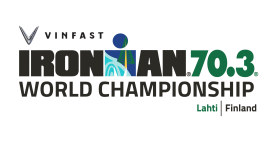 – More than 6,000 registered athletes from 115 countries, regions and territories will converge in Lahti, Finland for the 2023 VinFast IRONMAN 70.3 World Championship triathlon
– The United States of America is the most represented nation followed by France, Germany, United Kingdom, and Australia, with athletes also flying in from the likes of Nepal, Burundi, and Ghana
– Lahti, Finland is the first Nordic country to host the IRONMAN 70.3 World Championship triathlon, and third in Europe followed by Zell am See-Kaprun, Austria (2015) and Nice, France (2019)
LAHTI, Finland (August 22, 2023)/ENDURANCE SPORTSWIRE/ – On August 26 and 27, Lahti, Finland will take center stage of the triathlon world when it welcomes over 6,000 registered athletes to participate in two days of racing at the 2023 VinFast IRONMAN® 70.3® World Championship triathlon. Live race day coverage will be available on Outside Watch with race preview content available on all of IRONMAN's social media channels.
In 2017, the global rotation of the IRONMAN 70.3 World Championship triathlon began bringing this pinnacle event to world-class locations around the world. Due to the pandemic that rotation was paused, but begins again in 2023 as the VinFast IRONMAN 70.3 World Championship triathlon will return to Europe for the first time since 2019, marking the first time that Lahti, Finland and a Nordic country has hosted the event and the third time for Europe (previously, Zell am See, Austria in 2015 and Nice, France in 2019).
Regional representation at the 2023 VinFast IRONMAN 70.3 World Championship triathlon sees Europe lead the way with 52 percent* of athletes registered to race and North America with the second most, accounting for 22 percent of athletes. Latin America follows with 10 percent, while Oceania athletes made the long haul bringing in 5 percent. Asia added just over 4 percent to the field, and Africa and Middle East both brought nearly 4 percent to consist of the remaining athlete field for the 2023 edition of the event.
The United States of America is the most represented nation with 1,152 registered athletes, followed by France (517), Germany (515), United Kingdom (453), and Australia (250). Finland has a healthy hometown contingent with over 200 athletes. Other athletes from countries as far as Rwanda, Uzbekistan and Zambia are traveling from around the globe to race the 2023 VinFast IRONMAN 70.3 World Championship triathlon. Countries being represented for the first time include Armenia, Bulgaria, Burundi, Ghana, Nepal, Moldova, Rwanda, and Zambia.
This year's field boasts 11 age-group champions from the 2022 Intermountain Healthcare IRONMAN 70.3 World Championship presented by Utah Sports Commission that took place in St. George on Oct. 28 and 29, 2022. Returning to the IRONMAN 70.3 World Championship to try to keep their crown is, Germany's Kilian Bauer (M25-29) and Lina Völker (F25-29), France's Jean-Marie Buchot (PC/ID) and Michel Rolland (M80-84), American's Volker Fischer (M70-74), Beni Gras-Thompson (F50-54) and Missy Lestrange (F70-74), the United Kingdom's Paul Lunn (M50-54), Chris Standidge (M40-44) and Canada's Deborah Eckhouse (F35-39) and Solvenia's Natasa Nakrst (F60-64).
Other notable age-group athletes competing at the 2023 VinFast IRONMAN 70.3 World Championship include:
Peggy McDowell-Cramer (USA) will represent as the oldest female at 82-years young. While Bob Heins (USA) will be the oldest male competitor at the Vinfast IRONMAN 70.3 World Championship at 84 years young.
Chris Frost is a retired ITU Paratriathlete born without a left hand. Frost had successfully competed in multiple paratriathlon events including a third-place finish overall in the National Paratriathlon Championships in Ireland in 2012.
Sam Holness, also known as Super Sam, is a triathlete that just happens to have autism.' Through his journey to become the world's first openly autistic professional triathlete, Sam has helped to raise the awareness of Autism and neurodiversity by challenging stigmas and redefining limitations society imposes on people with autism. Sam made history by becoming the first openly autistic athlete to compete in the VinFast IRONMAN® World Championship triathlon in Kailua-Kona in 2022, earning him a Guinness World Record in the process. Sam is also thinking about shaking up his training plans by including more trail running and is targeting Ultra-Trail Snowdonia by UTMB in a big to get to the UTMB World Series Finals in Mont Blanc.
Tiencia James is a wife, mother of three, an emergency medical physician, black female triathlete, and endurance coach. She began running at a young age with her father. Her father had a passion for running. He had such a passion that it eventually strained the family. He would spend too much time running and not enough time with his family. Eventually, Tiencia's mother and father separated because of his running obsession. Tiencia used her father's love for running to spend more time with him. At a young age, Tiencia began going on short runs with her dad. These runs grew longer and longer and Tiencia eventually began to truly love running. She joined her high school cross country team and placed in the top three at the State level. In college, Tiencia ran on the Standford University track and cross-country team before quitting after 2 years to focus on her degree. Tiencia went on to receive her medical doctorate degree and work tirelessly through COVID-19 in the medical field. Tiencia began to run again to stay fit and healthy. She began training for an IRONMAN race and competed at the 2021 IRONMAN Tulsa triathlon, earning a qualifying slot for the IRONMAN World Championship in 2022. Tiencia continues her triathlon journey as she will again be racing with gratitude for her patients, fellow health care workers, for diversity, while still being the little girl who raced with her dad.
Zouheir Louhaichy is the head maître d' at Balthazar, a popular brasserie in midtown Manhattan. In between sending his boss reports of how the night before went and preparing for the day ahead, Zouheir manages to find time to train for his passion of IRONMAN racing. He also raises funds for the IRONMAN Foundation and has competed in four IRONMAN World Championship races for them. Zouheir is now training for the IRONMAN 70.3 World Championship in Finland and looks forward to the challenge.
Tuuli Petäjä-Sirén, ended her sports career last year. Petäjä-Sirén is a mother of two and won silver in the windsurfing RS:X category at the London Olympics in 2012. In January 2013, she was chosen as Finland's Athlete of the Year. At the Rio Olympics in 2016, Petäjä-Sirén received an honorary position and served as the Finnish team's flag bearer at the opening ceremony. The fourth Olympics of the Finn's career in Tokyo in 2021 were the last Olympics of the RS:X class. Petäjä-Sirén participated in a combination of sailing and wind surfing World Championships 17 years in a row. In 2012, she won EC bronze in Madeira.
Alexander Stubb served as Prime Minister, Finance Minister, Foreign Minister, Trade and European Minister of Finland (2008-2016) and will be running to be the next President of Finland. Alex is a keen IRONMAN triathlete who competed in the IRONMAN World Championship event in Kailua-Kona, Hawai'I in 2016, and came top in his age-group at the IRONMAN 70.3 Lahti triathlon earlier this year. He is very excited to compete in an IRONMAN 70.3 World Championship triathlon on his home-soil.
Arturo Yarasca is paratriathlon pioneer in his home country of Peru, a label that he carries with great pride and great responsibility. He acquired his disability, an amputation of the right upper limb below the elbow, due to the detonation of an explosive device during a confrontation with terrorist criminals in the line of duty as a member of the armed forces of Peru. His brave and selfless act saved the life of the other members of his patrol. As an army veteran, Arturo feels gratified to have contributed to his countries national defense and the fight to eradicate drug trafficking that prevails in the Valley of the Apurimac, Ene and Mantaro Rivers (VRAEM, Peru). After a period of physical rehabilitation, Arturo decided to continue serving his country, spreading the message of improvement and inclusion of people with disabilities in society through sport, and chose the triathlon as the ideal vehicle to do it for all the values that it embodies. Arturo's desire as a person with a disability is to leave a legacy in society, in future generations, in his family and in his son.
Ondřej Zmeškal is a blind athlete from the Czech Republic. He lost his sight suddenly when he was 20 years old and has used sports as a catalyst to live his best life. In 2016, Ondřej completed the Great Wall Marathon in China and auctioned off his earned medal to benefit a boy with muscular dystrophy. In 2018, he ran across Czech Republic with a group of friends to help visually impaired children. The route ran from west to east of the country, totaling 600km and by completing it he raised over 280 000 CZK for visually impaired child athletes in a public fundraiser. His next challenge was the Ultra Czech 515 Račice competition, a three-day extreme triathlon event that consisting of 10km of swimming and 145km of cycling on the first day, 276km of cycling on the second day and finally 84km of running on the last day. In this race Ondřej earned the title of world champion in Para. In 2021, he cycled the entire course of the Tour de France, on a tandem bike with a guide. The track totaled 3,414km and again used the ride as a charity fundraiser for visually impaired children. Ondřej's goal is to surpass himself and to show everybody that one can do a lot, despite the handicap and inspire handicapped and able-bodied people alike to live their best life.
The 2023 VinFast IRONMAN 70.3 World Championship race will kick off with the 1.2-mile (1.9km) ROKA Swim Course, which takes place in beautiful Lake Vesijärvi. A challenging 56-mile (91.3km) FULGAZ® Bike Course follows which will lead athletes through the stunning Finnish countryside passing through the small towns of Kärkölä and Hollola and culminating with a steep incline just before returning to transition at the Sport and Fair Centre. The 13.1-mile (21.1km) HOKA Run Course will take athletes on two loops beginning indoors at the Sport and Fair Centre, passing inside the Lahti Stadium and tackling a long climb up Salpausselkä ridge before making their way back towards Lake Vesijarvi. The run path will showcase beautiful water views and eclipse the Pikku-Vesijarvi before culminating in an exhilarating finish line experience just in sight of famous Salpausselka Ski Jumps.
Finland is a Nordic country in Northern Europe. It borders Sweden to the northwest, Norway to the north, and Russia to the east, with the Gulf of Bothnia to the west and the Gulf of Finland to the south, across from Estonia. Finland covers an area of 338,455 square kilometres (130,678 sq mi) with a population of 5.6 million. Helsinki is the capital and largest city. The vast majority of the population are ethnic Finns. Finnish and Swedish are the official languages, with Swedish being the native language of 5.2% of the population. Finland's climate varies from humid continental in the south to boreal in the north. The land cover is primarily a boreal forest biome, with more than 180,000 recorded lakes.
Additional historical facts and stats on the field competing in the 2023 VinFast IRONMAN 70.3 World Championship triathlon in Lahti, Finland:
Lahti is the 10th city in history to host the IRONMAN 70.3 World Championship following Clearwater, Fla. (USA) (2006-2009), Henderson, Nev. (USA) (2010-2013), Mont-Tremblant, Quebec (CAN) (2014), Zell am See-Kaprun, SalzburgerLand (AUT) (2015), Mooloolaba, Queensland (AUS) (2016), Chattanooga, Tenn. (USA) (2017), Nelson Mandela Bay, Eastern Cape (ZAF) (2018), Nice (FRA) (2019), St. George, Utah (USA) (2021-2022)
Bob Heins (USA) is the oldest male participant at 84, while Linus Hilfiker (CHE) is the youngest at 18
Peggy McDowell-Cramer (USA) is the oldest female participant at 82, while Lisa Shi (CHN) is the youngest at 18
37 percent of the registered field of participants are female and will race on Saturday
63 percent of the registered field of participants are male and will race on Sunday
42 is the average age of all registrants
37 athletes will be celebrating their birthdays on their respective race days
48 U.S. states are accounted for, with top five states in athlete count being, California, Florida, Texas, Colorado, and New York.
2,514 athletes racing in this year's VinFast IRONMAN 70.3 World Championship triathlon are IRONMAN All World Athletes™
21 new IRONMAN 70.3 race locations were added to the calendar in 2023
Approx. 1,500 volunteers will help make the 2023 VinFast IRONMAN 70.3 World Championship triathlon successful in 2023.
Enjoy live race-day coverage of the 2023 VinFast IRONMAN 70.3 World Championship triathlon globally via Outside Watch.
"A Fighting Chance"
Follow the @ironmantri social channels for a behind the scenes view of what it takes to have a chance at world-title glory. The 'A Fighting Chance' IRONMAN series will drop a new episode Wednesday – Friday of race week, giving audiences a glimpse of what it takes to prepare for race day, as well as the staging behind such an iconic event. Check out Outside Watch and IRONMAN social media for the latest episodes.
For more information about the 2023 VinFast IRONMAN 70.3 World Championship event, please visit www.ironman.com/im703-world-championship. To learn more about the IRONMAN and IRONMAN 70.3 brands and series of events, please visit www.ironman.com. Media inquiries may be directed to press@ironman.com.
*Percentages rounded, approximate
###
About the IRONMAN 70.3 World Championship
In 2006 the inaugural IRONMAN® 70.3® World Championship triathlon was held in Clearwater, Florida, becoming another test for the world's elite triathletes. Since that auspicious beginning, the IRONMAN 70.3 World Championship triathlon has grown in stature and popularity moving first to Henderson, Nevada in 2011, where athletes encountered a more challenging terrain and then to Mont-Tremblant, Quebec—its first stop on the new "global rotation" for the IRONMAN 70.3 World Championship race. The event reached European soil for the first time ever in 2015, with Zell am See, Austria, hosting an epic and memorable event. In 2016, the race moved from the mountains to the beaches of the Sunshine Coast in Queensland, Australia. In 2017, the race returned to the United States, taking place in Chattanooga, Tennessee where it became a two-day event for the first time. In 2018, the event reached the African continent for the first time and was hosted in Nelson Mandela Bay in South Africa. Continuing the rotation, 2019 saw the French Riviera and Nice, France play host to the ever-growing IRONMAN 70.3 World Championship event. After a year in which the event was not able to take place due to a global pandemic, the race returned in 2021 with over 3,500 athletes competing in St. George, Utah. The event again took place in St. George, Utah, returning to a two-day format on October 28-29, 2022, and now shifts to Lahti, Finland on August 26-27, 2023 and Taupō, New Zealand on December 14-15, 2024. Historically, more than 200,000 athletes have participated annually in a series of qualifying races, consisting of over 100 global events. Hosting more than 5,000 athletes from around the world, participants in the IRONMAN 70.3 World Championship triathlon have ranged in age from 18 to 85-plus. For more information, visit www.ironman.com/im703-world-championship.
About The IRONMAN Group
The IRONMAN Group operates a global portfolio of events that includes the IRONMAN® Triathlon Series, the IRONMAN® 70.3® Triathlon Series, 5150™ Triathlon Series, the Rock 'n' Roll® Running Series, IRONKIDS®, World Triathlon Championship Series, premier running events including the Standard Chartered Singapore Marathon™ and City2Surf®, UTMB® World Series trail-running events including the Canyons Endurance Runs™ by UTMB®, Tarawera Ultra by UTMB® and Ultra-Trail Australia™ by UTMB®, Epic Series™ mountain bike races including the Absa Cape Epic®, road cycling events including Haute Route®, and other multisport races. The IRONMAN Group is the largest operator of mass participation sports in the world and provides more than a million participants annually the benefits of endurance sports through the company's vast offerings. Catering to the full athlete experience, the company portfolio also includes FulGaz® virtual cycling, the most realistic indoor riding experience connected fitness application aimed at preparing athletes for real-world events. Since the inception of the iconic IRONMAN® brand and its first event in 1978, athletes have proven that ANYTHING IS POSSIBLE® by crossing finish lines around the world. Beginning as a single race, The IRONMAN Group has grown to become a global sensation with hundreds of events across 55+ countries. The IRONMAN Group is owned by Advance, a private, family-owned business, and Orkila Capital, a growth equity firm focused on building great brands. For more information, visit www.ironman.com/about-ironman-group.
About Advance 
Advance is a private, family-held business that owns and invests in companies across media, entertainment, technology, communications, education and other promising growth sectors. Our mission is to build the value of our companies over the long-term by fostering growth and innovation. Advance's portfolio includes Condé Nast, Advance Local, Stage Entertainment, The IRONMAN Group, American City Business Journals, Leaders Group, Turnitin, and Pop. Together these operating companies employ more than 17,000 people in 29 countries. Advance is also among the largest shareholders in Charter Communications, Warner Bros. Discovery and Reddit. For more information visit www.advance.com.