2023 USA Cycling Collegiate Mountain Bike National Championships Head to Ride Rock Creek
July 21, 2023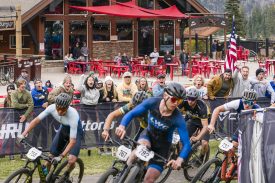 Ride Rock Creek in Zirconia, N.C. will host the Collegiate Mountain Bike National Championships October 12-15, 2023.
COLORADO SPRINGS, Colo. /ENDURANCE SPORTSWIRE/ – The 2023 USA Cycling Collegiate Mountain Bike National Championships will take place at Ride Rock Creek in Zirconia, N.C. on October 12-15, 2023.
The Collegiate Mountain Bike National Championship is the largest collegiate cycling event that USA Cycling hosts. The event will crown varsity and club National Champions in Cross-Country, Short Track, Downhill, Dual Slalom, and Team Relay. An Omnium National Title will also be awarded to the best overall varsity and club teams at the end of the weekend.
"For the past few years, Collegiate Mountain Bike Nationals has been out West, and now we're excited to bring Nationals to a strong collegiate cycling community like the Southeast, and at a national-caliber venue like Ride Rock Creek," said Kyle Knott, USA Cycling National Events Director.
Ride Rock Creek successfully hosted their first National Championship event July 12-16 holding the Downhill, Dual Slalom, and Enduro National Championship races for all Elite and Amateur categories. National Team athlete and professional downhill mountain bike racer, Neko Mulally, founded the park on the edge of DuPont State Forest and started building in 2022. The park is growing and currently features seven downhill-specific trails with a newly built National Championship Dual Slalom course.
Mulally said, "Rock Creek is excited to expand our venue to include endurance courses for Cross Country and Short Track. Collegiate Nationals is an awesome event with a lot of passion, and we're looking forward to hosting it here in North Carolina."
More details on the event will be coming soon. Visit the Event Page for more information.
Visit USACycling.org for more information on the athletes, events and membership programs, and follow @USACycling across all channels for the latest on Team USA.
For more information, contact Angelina Palermo at apalermo@usacycling.org.
ABOUT USA CYCLING (usacycling.org)
USA Cycling is the national governing body for the sport of cycling and oversees the disciplines of road, track, mountain bike, cyclocross, and BMX. USA Cycling's mission is to grow participation and engagement with the sport of bicycle racing and achieve sustained international success across all cycling disciplines. USA Cycling supports cyclists of all levels and abilities, from those just beginning in the sport to international caliber athletes. The organization identifies, develops, and selects cyclists to represent the United States in international competition through the support of youth and interscholastic programs, amateur and grassroots bike racing events, athlete development programs, and operational support for cycling clubs, racing teams, and event organizers. USA Cycling has a membership of 80,000, sanctions over 2,500 events annually, and is a member of the Union Cycliste Internationale (UCI) and United States Olympic & Paralympic Committee (USOPC).