2023 UCI Cycling Worlds Day 4: Downhill Top Ten Finishes, Unpredictable Road Races, Close Track Racing, and Postponed BMX Freestyle Qualifications
August 5, 2023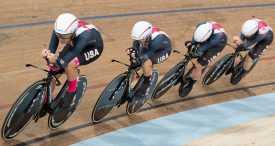 Anna Newkirk and Dakotah Norton place tenth in their respective events in Downhill. The Elite Women's Team Pursuit finishes sixth, just .159 seconds out of medal contention.
August 5, 2023, GLASGOW /ENDURANCE SPORTSWIRE/ – A rainy fourth day of racing at the 2023 UCI Cycling World Championships led to several adventitious results for Team USA. BMX Freestyle athletes saw delays during their qualifiers, but each of the road races and downhill events proceeded as planned. Racing stayed on track for the Women's Team Pursuit where the Americans earned sixth place.
Downhill Mountain Bike
On the final day of the Downhill Mountain Bike World Championships, eight elite American racers competed on the 2.82-kilometer track in Fort William. The Elite Women's crew was first on the hill, with classic Scottish overcast skies. National Champion, Anna Newkirk (Riehen, Switzerland; Beyond Racing) was the top American woman finishing tenth with a time of 5:12.843. She was 14.681 seconds behind Valentina Höll of Austria who took back-to-back wins. Abby Hogie (Heidelberg, Germany; Beyond Racing) finished in a time of 5:36.817, placing 27th.
Elite Women
1 – Valentina Höll (AUT)
2 – Camille Balanche (SUI)
3 – Marine Cabirou (FRA)
10 – Anna Newkirk (USA)
27 – Abby Hogie (USA)
The skies opened up in the middle of the Elite Men's race, bringing heavy rains to the already challenging track for about the top 30 riders. Dakotah Norton (Clinton, Tenn.; Intense Factory Racing) set the fastest time for Team USA, stopping the clock at 4:30.473, less than four seconds behind the winner earning him tenth. Next for the U.S. was Luca Shaw (Hendersonville, N.C.; Canyon Cllctv), who finished in 13th place with a time of 4:33.906. Austin Dooley (Yucaipa, Calif.; Commencal / Schwalbe) came down the track finishing 22nd. In 33rd place was Christopher Grice  (Brevard, N.C.; Generation Specialized), finishing in 4:40.637. In his first international race after breaking his hip early in the season, Neko Mulally (Pisgah Forest, N.C.; Frameworks Racing) placed 52nd. After a crash in the woods section, Dante Silva (Chula Vista, Calif.; Canyon Cllctv) placed 61st.
Elite Men
1 – Charlie Hatton (GBR)
2 – Andreas Kolb (AUT)
3 – Laurie Greenland (GBR)
10 – Dakotah Norton (USA)
13 – Luca Shaw (USA)
22 – Austin Dooley (USA)
33 – Christopher Grice (USA)
52 – Neko Mulally (USA)
61 – Dante Silva (USA)
Track
The Women's Team Pursuit squad of Olivia Cummins (Fort Collins, Colo.; DNA Cycling), Chloé Dygert (Brownsburg, Ind.; CANYON//SRAM Racing), Jennifer Valente (San Diego; TWENTY24 Pro Cycling), and Lily Williams (Tallahassee, Fla.; Human Powered Health) lined up to tackle Round 1 of their competition. As the third fastest team from qualifying, the Americans went up against the second fastest team, New Zealand. The team improved upon their performance from qualifications, shaving two seconds off their time, for a 4:12.684. The team missed out racing for the bronze by just .159 seconds. They placed sixth overall in the event.
Women's Team Pursuit
1 – Great Britian 4:08.771
2 – New Zealand 4:13.313
3 – France 4:13.059
6 – Team USA 4:12.684
Road Race
The Junior Women's Road Race kicked off in George's Square on Saturday to officially commence the road events at the World Championships. Ella Brenneman (York, Pa.; Kelly Benefits Strategies Cycling), Makala Jaramillo (Monument, Colo.; Sonic Boom Racing), Ella Sabo (Redlands, Calif.; Virginia's Blue Ridge TWENTY24 DEVO), and Samantha Scott (Boise, Idaho; CompEdge Racing) were the four athletes that raced for the United States.
The Junior Women completed a total five laps of the Glasgow City Circuit. With each lap having a significant amount of climbing, it was a race of attrition, as the pack whittled down the number of riders on each climb. Scott was the only American to make it into the lead group heading into the penultimate lap. At 22 kilometers to go, France put in a big attack and shattered what was left of the main group. French rider, Jule Bego stayed away to earn gold. Scott, who managed to stay at the front for most of the race, was involved in a race ending crash at four kilometers to go. The top finisher from the U.S. was Jaramillo who finished 43rd.
Junior Women
1 – Julie Bego (FRA)
2 – Cat Ferguson (GBR)
3 – Fleur Moors (BEL)
43 – Makala Jaramillo (USA)
55 – Ella Sabo (USA)
59 – Ella Brenneman (USA)
DNF – Samantha Scott (USA)
The Junior Men were the next group to take on the 51-corner Glasgow City Circuit. Racers had nine laps around the city. Representing Team USA was Luke Fetzer (Laguna Beach, Calif.; Hot Tubes Development Cycling Team), Henry Neff (Arlington, Va.; Kelly Benefits Strategies Cycling), Darren Parham (Yucaipa, Calif.; Hot Tubes Development Cycling Team), and David Thompson (New Canaan, Conn.; Hot Tubes Development Cycling Team). AJ (Andrew) August  (Pittsford, N.Y.; Hot Tubes Development Cycling Team), who was originally named to the road team, sat out today's event due to illness. Attacks happened early and often in the race. Riders from Germany, Norway, and Denmark managed to create a substantial lead over the peloton. It ultimately came down to a solo finish with Albert Philipsen (DEN) earning the gold medal. Neff had the ride of the day, rolling across the line as the highest-placed U.S. rider in the Junior Men's race.
Junior Men
1 – Albert Philipsen (DEN)
2 – Paul Fietzke (GER)
3 – Felix Orn-Kristoff (NOR)
31 – Henry Neff (USA)
39 – Luke Fetzer (USA)
DNF – Darren Parham (USA)
DNF – David Thompson (USA)
DNS – AJ August (USA)
BMX Freestyle
In was a gloomy, rainy morning for the BMX Freestyle qualifying rounds at Glasgow Green. Qualifying rounds take the average score of two runs, rather than the rest of the competition where only the best of two runs count. 66 men were on the start list, with 24 making the semi-finals, and then 12 advancing to the final round on Monday.
Nick Bruce (Youngstown, Ohio; DK Bicycles), who is coming back from injury, competed in the early qualifying groups. Being the first rider to drop for Team USA, he threw down two impressive runs, scoring 86.50 which slotted him into first. Bryce Tryon (Lodi, Calif.; Free Agent Bikes) was the last rider to drop before the event was postponed. He scored 67.50 which puts him in eighth.
After it started to drizzle the event was put on hold for the afternoon. Later, the competition organization decided to postpone everything until tomorrow. Three men still need to do their second qualifying runs, and 18 riders still need to do their first drop. The women's qualification rounds were also moved to tomorrow since they are not slated to have semi-finals.
Daniel Sandoval (Corona, Calif.; Free Agent Bikes), Jacob Thiem (Kennard, Neb.; Free Agent Bikes), Brian Fox (Commerce, Ga.; Woodward Camp), Justin Dowell (Virginia Beach, Va.; Hyper BMX), Hannah Roberts (Buchanan, Mich.; Hyper BMX), Angie Marino (Buffalo, N.Y.; Cult Crew), and Bethany Hedrick (Ft. Mitchell, Ky.; GT Bicycles) will complete their qualifying runs tomorrow.
Up Next
On Sunday, the Elite Men's Road Race will be the focal point. American rider Neilson Powless (Roseville, Calif.; EF Education-EasyPost) will lead a five-man team into battle. Back at the Sir Chris Hoy Velodrome, Gavin Hoover  (Manhattan Beach, Calif.; L39ion of Los Angeles) will take on the Men's Omnium and Valente will race the Women's Elimination Race. At Glasgow Green, the BMX Freestyle squad goes into the rest of the qualification rounds and semi-finals, ahead of finals on Monday. The mountain bike team will now shift its focus to the endurance side, with the Marathon Mountain Bike racers competing in Glentress Forest.
Visit USACycling.org for more information on the athletes, events and membership programs, and follow @USACycling across all channels for the latest on Team USA.
For more information, contact Angelina Palermo at apalermo@usacycling.org.
ABOUT USA CYCLING (usacycling.org)
USA Cycling is the national governing body for the sport of cycling and oversees the disciplines of road, track, mountain bike, cyclocross, and BMX. USA Cycling's mission is to grow participation and engagement with the sport of bicycle racing and achieve sustained international success across all cycling disciplines. USA Cycling supports cyclists of all levels and abilities, from those just beginning in the sport to international caliber athletes. The organization identifies, develops, and selects cyclists to represent the United States in international competition through the support of youth and interscholastic programs, amateur and grassroots bike racing events, athlete development programs, and operational support for cycling clubs, racing teams, and event organizers. USA Cycling has a membership of 80,000, sanctions over 2,500 events annually, and is a member of the Union Cycliste Internationale (UCI) and United States Olympic & Paralympic Committee (USOPC).