2023 Lake Sonoma 55K Creates a "First-Timer Friendly" Ultra Experience
March 7, 2023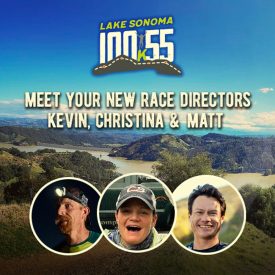 /ENDURANCE SPORTSWIRE/ – Most trail and ultra-races are designed to test the limits of human performance. Hot weather, challenging courses and strict cutoff times provide a framework for athletes to push themselves to the limit. While this is great for grizzled trail veterans, it can make the sport seem inaccessible to newer runners who want to test themselves. The Lake Sonoma 50 Mile is a selection race for the USATF national mountain racing team. The Lake Sonoma 100K is a Western States qualifying race. But the all-new Lake Sonoma 55K in October has a different athlete in mind. This race was designed from the ground up with first time ultrarunners in mind.
New race directors Matt Ho and Christina Baudis have created the ultimate "first-timer friendly" ultra. Baudis designed a new course that, despite Lake Sonoma's relentless hills, won't be soul-crushing for prepared athletes looking to make the jump. The course will be loaded with fully stocked aid stations and has an easier downhill finish that will allow newbies to enjoy the final miles. They also won't have to worry too much about time, as the race will share the 100K's twenty-hour cutoff time on their way to a raucous finishing line hosted by the Healdsburg Running Ladies training group.
LSRS Director Skip Brand discussed the inspiration for the new event:
"It's all about creating a positive first experience for runners who want to run an ultra, but are daunted by bigger, front of the pack focused events. This race will provide a challenging experience, while avoiding the intimidation factor for first timers."
Co-race director and Coach Matt Ho will be available for race-specific first ultra-training sessions, while Healdsburg Running Company will host focused training runs through the summer and early fall. The sponsors and vendors for the event are all tailored to first time ultra competitors as is the start and finish line festival, and available camping for those anticipating later finish times. Matt feels "as an Ultra Runner and HRC staff member my goal is to help the first time 55K runners complete their first ultra marathon successfully. There will be multiple training runs held on Saturdays with HRC staff runners where first time entrants can get "on-trail" coaching and tips to run successful race."
Christina, who is new to ultra running and has done a few races, they are worth every minute of training. If you are thinking about exploring the trails, new to trail running and need a challenge or goal to work towards. "Just sign up!" Whatever your situation this 55K at Lake Sonoma this Fall is the race you want to experience as a new runner. The views are beautiful, no tight time cut offs, supportive and experienced people along the way, and of course a huge feeling of accomplishment at the end. Christina says, "I promise you if you need encouragement or new experience this race is worth it!
Kevin Deutsche, Lake Sonoma 100K Race Director states, "the new 55K is the perfect companion to the 100K to continue to grow the ultra community by strengthening the opportunities and offerings. Education and training is the key for inclusion, diversity and equality in our sport with races made just for first timers and those interested in Ultras that being a beginner is celebrated!" Wine country is October is not a bad place to be after the race to celebrate mentions Kevin.
For any first timers looking to take the plunge (or veterans looking for a fun fall event) the registration for the Lake Sonoma 100K & 55K are open at Ultrasignup.
About the Lake Sonoma Race Series
Founded in 2008, the iconic Lake Sonoma 50 Mile is known for having one of most competitive fields in the United States according to UltraRunning magazine. The beautiful wine country 50-miler consists of nearly 90 percent single-track trails weaving through relentless rolling hills, testing runners with three big climbs and traversing more than a dozen creek crossings. Ultrarunners travel to Sonoma from over 20 countries to experience one of the globe's most popular and distinctive ultrarunning events, one that includes a trail movie festival, gourmet athlete dinner, multiple industry panels and a lively finish line celebration featuring award-winning wine country chefs, multiple breweries and celebrated wine from Wilson Artisan Wineries. Participants as well as their families and friends enjoy Lake Sonoma and Healdsburg's small-town charm at an event where a portion of the proceeds support the Children of Vineyard Workers Scholarship Fund, which expands educational opportunities for local students. In 2022, the LSRS expanded to include a Marathon, while the 2023 edition introduces the Trail Sisters Women's Half-Marathon, sponsored by The North Face.
In 2021, the Lake Sonoma 100K became part of the Lake Sonoma Race Series as a response to demand for a longer event in line with the needs of runners hoping to qualify for the Western States Endurance Run and other 100-mile events. The 100K race takes the best of the LS50 and adds another 12 miles of exciting single track with nearly 3,000 feet of climbing and spectacular views. For those seeking a shorter challenge, a 55K, which completes a full loop of one arm of Lake Sonoma, is available. The 55K and 100K races' October date leverages Lake Sonoma's ideal racing conditions – average high temperatures in the 70s and cool mornings – and offers participants an opportunity to celebrate Sonoma Wine Country in the harvest season with on-site camping, a race village and partnerships with local food, wineries and breweries.
The Lake Sonoma Race Series (LSRS) Board of Directors is guided by a group of seasoned trail runners, including former Lake Sonoma 100K race director Keira Henninger, LSRS director Skip Brand and LS50 founder and Western States board member Tropical John Medinger. The LSRS board also includes Brandelle Macintosh from the Santa Rosa Press Democrat and course director Jorma Gates.
Contact: Skip Brand, Director: Lake Sonoma Race Series, skip@lakesonoma50.com