2022 KINeSYS Champion Applications Now Open
April 13, 2022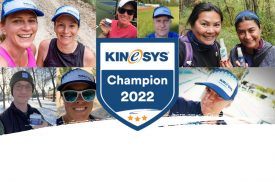 Successful Brand Ambassador Program Continues to Grow
/ENDURANCE SPORTSWIRE/ – KINeSYS Performance Sunscreen has opened applications for its 2022 Brand Ambassador Program. Now in its fourth year, the hugely successful program will once again be growing the Champion community, this year featuring over 80 Ambassadors. KINeSYS is inviting individuals from Canada and the USA who are passionate about living an active outdoor lifestyle, and who embody the KINeSYS brand ideal, 'However You Perform' to apply.
Unlike similar brand ambassador programs, KINeSYS Champions hail from all walks of life. A mix of professional athletes and keen amateur sporting enthusiasts, the program aims to highlight the importance of sun protection for those who are passionate about keeping active in the outdoors.
"We want our Champions to represent the diverse range of athletes and outdoor enthusiasts that make up the KINeSYS community. Maybe you are a triathlete who is training hard, pushing boundaries, and achieving podium finishes. Or you could be a busy mother who loves family days by the lake and sneaking away for a solitary run. KINeSYS really is about 'However you perform' and our Champions represent that ideal." says Lisa Heggie, KINeSYS CEO.
Among other perks, ambassadors are privileged to social media coverage, a coveted ambassador profile page on the KINeSYS website, product discounts, and an exclusive KINeSYS Champion Pack. In return, Champions will spread the message of sun-safe outdoor play and performance; across their own social media accounts, within their community, and through social media engagement with the greater KINeSYS community.
"KINeSYS has always been a big believer in helping people understand the importance of sun protection and supporting our community. With the growth in participation rates of outdoor activities in the past two year, KINeSYS Champions are more important than ever," says KINeSYS Co-Owner, Wade Heggie.
Applications for the KINeSYS Champion Program are open between the 10th – 24th April 2022. KINeSYS is very excited to receive another round of inspiring and diverse entries, and are inviting both new and past Champions to apply. For more information about the 2022 KINeSYS Champion Program or to apply, visit our website.
About KINeSYS Performance Sunscreen
KINeSYS Performance Sunscreen is a leading sunscreen manufacturer based in Vancouver, Canada. For 25+ years the brand has been developing and distributing high-performance sunscreens around the globe, helping to spread the message of sun safety for all outdoor enthusiasts. KINeSYS is for the busy parents, the sporty types, the skin cancer survivors, and those with sensitive skin. Available through specialty Retail Partners in the USA, Australia and Canada; and online at www.kinesysactive.com, www.kinesysactive.com.au and www.kinesyactive.ca.
Media Contact
Lisa Heggie
CEO / WILC Healthcare Inc.
1.888.546.3797 ext. 710
lisa@kinesysactive.com