2021 Intermountain Healthcare IRONMAN World Championship Presented By Utah Sports Commission Expected To Create Total Economic Impact Of More Than $35m Dollars
May 6, 2022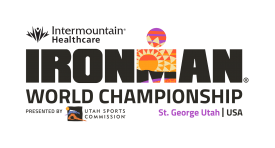 - More than 15,000 athletes, family, friends, volunteers, partners, and staff are expected in Greater Zion for the first full-distance IRONMAN World Championship event in over two years, and the very first outside of the state of Hawai`i - Athletes and their family and friends lodge for more than six nights on average at the IRONMAN World Championship host city, boosting tourism numbers for Southern Utah
ST. GEORGE, Utah / TAMPA, Fla. /ENDURANCE SPORTSWIRE/ – Following the postponed IRONMAN World Championship events due to the COVID-19 pandemic, the 2021 Intermountain Healthcare IRONMAN® World Championship presented by Utah Sports Commission will take place on Saturday, May 7, 2022 in St. George, Utah, United States. This marks a historic transition for The IRONMAN Group, as St. George will become the first location to host the IRONMAN World Championship event outside of the state of Hawai`i since its origins in 1978. As the most iconic single-day endurance event in the world, athletes from around the globe will have the opportunity to enjoy a week full of festivities and celebratory events before racing among the world's best and vying for a World Championship title at a one-of-a-kind course in the Land of Endurance and State of Sport.
Athletes, their family, and friends, will also be able to enjoy all that the local community and Greater Zion region has to offer during their stay. Greater Zion's breathtaking scenery and views of the surrounding red rock canyons have made the region an ideal destination for athletes for years. With a million-year geologic history and a desert location at the edge of the Pine Valley Mountains and Zion National Park, St. George is the poster child of the American Southwest. With more than 65 miles of urban trails and easy-to-navigate size, St. George is as welcoming and warm as it is striking and seductive. St. George has that unique blend of small-town feel with big-city energy and amenities – nestled in the heart of all the adventure and scenery you can possibly imagine.
"We are thrilled to have athletes, families, friends, fans, volunteers, partners, and staff members joining us to celebrate the return of our IRONMAN World Championship within St. George's striking landscape," said Andrew Messick, President and Chief Executive Officer of The IRONMAN Group. "It is an honor to partner with the Utah Sports Commission to help showcase why Utah is the State of Sport and Greater Zion is the Land of Endurance. We are grateful to their teams for their collaboration and long-term partnership to bring back world championship racing for our athletes all over the world after a two-year hiatus. We have full confidence that athletes and their families will enjoy the stunning geological scenery and local community support, along with the national parks and local businesses, and anticipate that many will return well after race week is over."
Taking in all the sights and the sounds, those in town for the event are projected to generate a total economic impact of more than $35M for the host city and Greater Zion region. Historically, IRONMAN World Championship events are attended by more than 15,000 participating athletes, their family, supporters, and fans of the sport, who book their stays for a minimum of six nights. During those stays, athletes have demonstrated to seek premium accommodations and a range of activities to occupy themselves and their families prior to the event and after race day, increasing the overall economic impact within the region.
"It is an honor to host such a prestigious event in a place that personifies the greatest attributes in human effort and success. This is a land of inspiration and endurance," said Kevin Lewis, Director of Tourism for The Greater Zion Convention & Tourism Office. "Our communities resonate with optimism, and enthusiasm, our heritage is filled with determination and strength, and we're thrilled to share those qualities with the world. Events like the IRONMAN World Championship strengthen our economic foundation and ensure the long-term viability of our communities. At a time when there are so many negative influences in the world we are thrilled to move forward with optimism and purpose."
Since 2010, St. George has hosted 12 IRONMAN and IRONMAN 70.3 events and over 30,000 athletes from around the world throughout its beautiful and scenic Southwestern regions, including Hurricane, Washington City, Santa Clara, and Ivins. The areas captivating red rock canyons, inclusive of Snow Canyon State Park, Sand Hollow State Park, and Zion National Park, create an ideal backdrop for IRONMAN athletes and visitors alike who enjoy striking views and adventurous destination. Heading downtown, fans and athletes will enjoy coffee shops, restaurants, and other boutique local shopping opportunities that deliver support for athletes, their family, and friends.
"We are extremely excited to welcome the world to Utah to host the iconic IRONMAN World Championship," said Jeff Robbins, President and CEO of the Utah Sports Commission. "The event will generate tremendous economic impact and provide significant media exposure showcasing Utah to a global audience."
Since 2002, the Utah Sports Commission has partnered on or provided funding to over 900 sporting events throughout the state with a calendar filled throughout the year for amateur, professional, and Olympic-related events. Utah has attracted some of the world's largest and most prestigious events, particularly in endurance and action sports, inclusive of Tony Hawk's Vert Alert, Red Bull Rampage, Monster Energy Supercross, as well as past IRONMAN Group events. Additionally, the Utah Sports Commission has also partnered on and hosted numerous Olympic World Championships, World Cups and hundreds of Olympic related events over the last 20-plus years. To date these efforts have generated approximately $2.8 billion of economic impact to the state and the current projection is to hit $3 billion with the 2021 Intermountain Healthcare IRONMN World Championship presented by Utah Sports Commission, 2022 Intermountain Healthcare IRONMAN 70.3 World Championship presented by Utah Sports Commission, the 2023 Rock 'n' Roll Running Series Salt Lake City event and 2023 NBA All-Star Game. Along with the economic impact hundreds of millions in media value have been driven to the state, helping to brand Utah as The State of Sport.
At the 2021 Intermountain Healthcare IRONMAN World Championship presented by Utah Sports Commission, both the female and male professional triathlons will have live race-day coverage globally via IRONMAN Now™ available on Facebook Watch as well as on NBC's streaming service, Peacock. The live coverage will offer millions of fans around the world digital access to the event activities, with the ability to follow along and support their favorite athletes in action, while witnessing the breathtaking views of Southwestern Utah, USA via computers and mobile devices.
For more information about the 2021 Intermountain Healthcare IRONMAN World Championship presented by Utah Sports Commission event, please visit www.ironman.com/im-word-championship-2021.
For more information on the IRONMAN and IRONMAN brands and global event series, visit www.ironman.com. Media may contact press@ironman.com.
###
About Intermountain Healthcare
Located in Utah, Idaho, and Nevada, Intermountain Healthcare is a nonprofit system of 25 hospitals, 225 clinics, the Intermountain Medical Group with some 2,700 employed physicians and advanced care practitioners, a health plans division called SelectHealth, Homecare, and other health services. Helping people live the healthiest lives possible, Intermountain is committed to improving community health and is widely recognized as a leader in transforming healthcare by using evidence-based best practices to consistently deliver high-quality outcomes and sustainable costs.
About Utah Sports Commission
The Utah Sports Commission was created to be a catalyst for Utah in its Olympic legacy efforts and to help enhance Utah's economy, image, and quality of life through the attraction, promotion, and development of national and international sports. Since the 2002 Olympics and Paralympics, the Utah Sports Commission has attracted nearly 900 major events to the state. The Sports Commission works closely with communities, sports entities, and organizations to provide event services ranging from the bid process, on-site logistics, volunteer coordination, sponsorships and promotional opportunities, and other related services. It is a not-for-profit 501(c)(3) business league and Utah Sports Commission Foundation, a not-for-profit 501c3 charitable organization, is governed by an all-volunteer Board of Trustees consisting of statewide sports, business, community, and government leaders. For more information, visit www.utahsportscommission.com and follow us on Twitter, Instagram and Facebook.
About the IRONMAN World Championship
Since its inception in 1978 on the Island of O`ahu, the IRONMAN World Championship has etched its name in history through stellar performances, inspirational participants and emotional memories. In 1981, the race moved from the tranquil shores of Waikīkī to the barren lava fields of Kona on the Island of Hawai`i where it continues to take place to this day. The race now sees over 2,500 athletes embark on a 140.6-mile journey that presents the ultimate test of body, mind, and spirit to earn the title of IRONMAN World Champion. The most iconic one-day sporting event in the world is the culmination of 40 global IRONMAN events with over 94,000 athletes around the world striving for one of the coveted qualifying slots. The 2021 edition of the event will take place in St. George, Utah in May 2022, becoming the first location to host the event outside of Hawai`i since its origins in 1978. After a two-year hiatus from Kona due to COVID, the race will return to Kona and take place as a two-day event in October for the 2022 edition of the World Championship. For more information, visit www.ironman.com/im-world-championship.
About The IRONMAN Group
The IRONMAN Group operates a global portfolio of events that includes the IRONMAN® Triathlon Series, the IRONMAN® 70.3® Triathlon Series, the IRONMAN® Virtual Racing™ (VR™) Series, 5150™ Triathlon Series, the Rock 'n' Roll® Running Series, the Rock 'n' Roll Virtual Running™ Series, IRONKIDS®, World Triathlon Championship Series, premier running events including the Standard Chartered Singapore Marathon™ and The Sun-Herald City2Surf®, UTMB® World Series events including Tarawera Ultra and Ultra-Trail Australia™, Epic Series™ mountain bike races including the Absa Cape Epic®, road cycling events including Haute Route®, and other multisport races. The IRONMAN Group is the largest operator of mass participation sports in the world and provides more than a million participants annually the benefits of endurance sports through the company's vast offerings. Since the inception of the iconic IRONMAN® brand and its first event in 1978, athletes have proven that ANYTHING IS POSSIBLE® by crossing finish lines around the world. Beginning as a single race, The IRONMAN Group has grown to become a global sensation with hundreds of events across 55+ countries. The IRONMAN Group is owned by Advance, a private, family-owned business. For more information, visit www.ironman.com/about-ironman-group.
About Advance 
Advance is a private, family-held business that owns and invests in companies across media, entertainment, technology, communications, education and other promising growth sectors. Our mission is to build the value of our companies over the long-term by fostering growth and innovation. Advance's portfolio includes Condé Nast, Advance Local, Stage Entertainment, The IRONMAN Group, American City Business Journals, Leaders Group, Turnitin, 1010data and Pop. Together these operating companies employ more than 17,000 people in 29 countries. Advance is also among the largest shareholders in Charter Communications, Discovery and Reddit. For more information visit www.advance.com.