18th Cap2Cap Returns to the Virginia Capital Trail on May 12th & 13th
March 28, 2023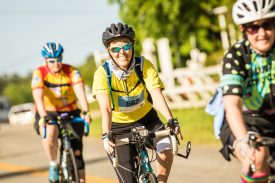 A unique and diverse cycling experience for all skill levels.
RICHMOND, Va /ENDURANCE SPORTSWIRE/ – One of the region's biggest cycling events, the Virginia Credit Union Cap2Cap presented by Dominion Energy, is back for its 18th year on May 12 and 13. Participants will enjoy breathtaking views on a fully supported course as they roll along the scenic Virginia Capital Trail, a 51.7-mile paved trail stretching from Williamsburg to Richmond. With multiple distances ranging from a 7–mile family fun ride to 100+ miles, the event is perfect for any age or fitness level. Other features include furnished rest stops, SAG and tech support, party zones, and 2-day, virtual and shuttle options.
"We are honored to work alongside Virginia Credit Union, Dominion Energy and other partners to introduce new offerings this year, while continuing to create a unique experience for our riders that showcases the beauty of the Virginia Capital Trail and brings the whole community together," shares Cat Anthony, Executive Director of the Virginia Capital Trail Foundation.
The family friendly event also features a flexible open start format, course support, restrooms, sample ride itineraries, and on-site packet pick-ups. A post-ride celebration will take place at Chickahominy Riverfront Park in Williamsburg on Friday, May 12, and at Dorey Park on Saturday, May 13. There will be food, beverages, music, games, and local vendors. Cyclists can customize their ride by selecting their own starting and ending locations, route, and ride day. Additional registration perks include an event bib, t-shirt, lunch, beverage tickets, and Cap2Cap SWAG bag.

New features include a shuttle package for half century riders, specialty rest stops (featuring Ukrop's cookies, Pickle Juice, & Breez-In potato wedges), and group ride information with local cycling organizations. The distance options are the Cap Trail Century Ride, WM Half Century, Allianz Partners Quarter Century, Sentara Family Fun Ride, and a Redmond Asset Management 2-Day Challenge. Register before the price bump on April 4, 2023. Event proceeds support the work of the Virginia Capital Trail Foundation.
For registration, vendor information, and event details, please click here. You can also follow the event on Facebook.
________________________________
Established in 2005, the Virginia Capital Trail Foundation exists to protect, promote, and enhance the Virginia Capital Trail, and to serve as a resource, community builder, and connector to other trails throughout the Commonwealth. For more information visit virginiacapitaltrail.org or follow us on Facebook, Instagram, Twitter, and LinkedIn.
###