18,000 Runners Rejoice with Return of Life Time Miami Marathon 20th Anniversary on Feb. 6
February 6, 2022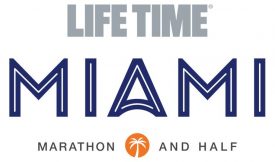 Marathon female winner Martha Akeno shatters previous record by 5+ minutes
MIAMI, Feb 6, 2022 /ENDURANCE SPORTSWIRE/ – Life Time (NYSE: LTH) played host to more than 18,000 athletes in Miami during the 20th annual Life Time Miami Marathon, Half Marathon & Tropical 5K this weekend. Of the many great performances in the illustrious 20-year history of the iconic event, few have matched what Kenya's Martha Akeno pulled off Sunday – shattering the female record by five minutes and 11 seconds with a finishing time of 2:29:00.
"Getting people back on the streets of Miami—after more than 700+ days away—made for an absolutely incredible weekend for athletes, spectators, the City of Miami and Life Time," said Frankie Ruiz, Chief Running Officer at Life Time and co-founder of the event. "It was the best way to celebrate the 20th anniversary of the iconic Life Time Miami Marathon."
Fellow Kenyan Jackson Limo cruised to the overall victory in the Men's Marathon with a time of 2:21:33, nearly three minutes faster than Ethiopian Birhanu Dare Kemal. It was his seventh career marathon victory.
In the half marathon distance, Costa Rican Cesar Lizano, who finished with a time of 1:10:14, won his first Miami half-marathon following three previous starts and Miami proved to be the Magic City for 34-year-old Canadian Lisa Brooking, who finished at 1:20:19.
The sold-out field of 18,000 runners across all three distances came from all 50 states and nearly 70 countries – generating upwards of $50 million in economic impact to the Miami community.
Colombia led a wave of Latino runners, with almost 1,700 competing in Miami. Additionally, 76 runners completed their 20th Miami Marathon, having participated every year since the event was founded.
The drama of Akeno's finish was the talk of the day. The Kenyan took the race lead at the Marathon's 3K mark and finished more than 13 minutes ahead of second place Palmenia Agudelo Berrio of Colombia (2:42:30), and 22 minutes in front of Russian Nina Zarina (2:51:50).
Totally spent from the physical grind of her achievement, the diminutive 28-year-old fell to the ground in exhaustion and disbelief before being shuttled off to the medical tent to re-hydrate.
Thirty minutes and a lot of fluids later, she emerged fresh and bubbly as if she were ready to go run Miami again, noting, "I feel really happy – this is a new life for me in running." Hiromi Ominami of Japan set the previous record of 2:34:11 16 years ago. Akeno said she will take the $4,500 winner's check, along with a $2,000 course record bonus that Life Time added to honor her achievement and use it to help her family who raise camels and sheep. Akeno said she also will carve out a portion to give to an orphanage in Eldoret (Kenya).
"My heart feels it," Akeno said.  "When I run a race and get something, I always give to other people."
Akenko suffered a hip injury at the Berlin marathon in 2021, but she made her first appearance in Miami fully healthy.
"With no injury, I knew this was my opportunity," she said. "I had to use it well. Miami will allow me to get into bigger races."
Limo also had plans for his winner's purse. He has a business back home in Kenya that sells construction and roofing materials. He even was nursing an injury from getting poked in the eye loading sheet metal earlier in the week.
"I'm going to use prize money for my business," Limo said. "I'm trying to make my business strong."
Limo, 34, finished Miami's signature running event more than three minutes ahead of Birhanu Dare Kemal of Ethiopia (2:24:26) and Jordan Tropf (2:26:11), a US Naval Academy graduate and orthopedic resident at Walter Reed Medical Center.
Seven runners were in contention for the first 10K of the marathon, but Limo took off and never looked back.
"The course was good. The bridges were very hard because of the slope," said Limo, 38, who is married and has two children. "It was very hard to run alone. I need someone to compete with. I was thinking about how I could push to improve my time, but I was getting tired. When you're running alone, you don't know if you're going fast or slow."
The USTAF-certified and Boston-qualifying course showcased the best views of Miami's cityscape and waterways throughout the 26.2-mile distance. The single-loop, predominately flat marathon began in front of downtown Miami's FTX Arena before heading past the cruise ships at the Port of Miami and down to South Beach and back via the McArthur Causeway. Runners then headed south through the lush Coconut Grove community before turning north through the Brickell Avenue financial district and crossing the finish line at Bayfront Park.
"The scenery was very nice," said the 39-year-old Lizano who was cheered on over the 13.1-mile route by nearly 35 Costa Rican "fans", including his wife and two children who made the trip to Miami.  "I loved the mix between night and day, starting at night and seeing how it changed with the sunrise."
The former Olympian has become one of the most decorated half-marathoners in Miami's 20 years of hosting the race – the win was his fourth Top-5 finish. Lizano was 3rd in 2014, 4th, in 2012 and 5th in 2015. On Sunday he crossed the finish line more than a minute ahead of Sufa Chala Damessa (1:11:37) and Britain's Andrew Penney (1:11:43).
Brooking's first-place finish in the women's half marathon came over Alyssa McElheny (1:22:12) of Grand Rapids, Mich. and Denmark's Victoria Roseburg (1:28:22), who were second and third, respectively.
The win was a complete surprise to the Canadian, who had planned a 10-day Miami/Key West vacation and entered the race as an after-thought.
"Because of COVID, my last half marathon was three years ago," said Brooking, a health-care company CEO.  "Canada has been in lockdown. I ran one cross country race (10K) last fall in Victoria, B.C. but other than that we haven't been racing. I'm not in any competitive shape right now so I am surprised to win. It was a great way to kick off 2022.
"It just all worked out perfectly. The race, the volunteers, this is magical. I love the vibe, so positive. Miami knows how to deliver. The whole city is involved. I heard the mayor was here, you see first responders, you see volunteers, and people all along the course. The city really gets behind the race and that's unique."
But for Brooking the sore muscles were a small part of the story.
"I love to run and I just miss running with people – I think COVID has taught us to not take anything for granted," she said. "For me, I'm doing something I love with other people that enjoy the sport. So that's what makes it just wonderful."
All information about the Life Time Miami Marathon can be found at www.themiamimarathon.com. Follow along on social media: Facebook.com/RunMiami,  Instagram.com/TheMiamiMarathon, Twitter.com/RunMiami.
The Miami Marathon is owned and produced by Life Time, the premier healthy lifestyle brand. It is among more than 30 premier athletic events owned by the company including the Verizon New York City Triathlon, Leadville Race Series and Garmin UNBOUND Gravel. To view and learn more about Life Time athletic events, visit: lifetime.life/athletic-events.
Life Time opened its Goral Gables village, complete with its premium athletic resort, Life Time Work, and Life Time Stay facilities in August 2021 and is set to open athletic resort destinations in Palm Beach Gardens in Spring 2022 and Miami at the Falls in 2023.
About Life Time, Inc.
Over nearly 30 years, Life Time (NYSE: LTH) has reshaped the way consumers approach their health through omnichannel, healthy way of life communities that address all aspects of healthy living, healthy aging and healthy entertainment. More than 30,000 Life Time professionals are dedicated to providing the best programs and experiences at more than 150 Life Time athletic resort destinations in the United States and Canada, and via a complementary, comprehensive digital platform and portfolio of iconic athletic events – all with the objective of inspiring healthier, happier lives. For more information visit lifetime.life.
# # #
Media Contacts:
Gary Ferman | 954-558-5203 | garyferman@bellsouth.net
Jordan Titus | 218-780-6161 | jtitus@lt.life
Downloadable images & b-roll HERE