150 Local Businesses Participate in The ADP Corporate 5K to Celebrate Corporate Wellness
June 21, 2022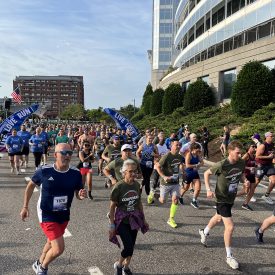 June 21, 2022 – NORFOLK, VIRGINIA –  Over 150 local businesses came together to celebrate corporate wellness at the ADP Corporate 5K presented by Bon Secours. Over 2,000 race participants enjoyed a running tour of Downtown Norfolk with an exciting finish in Town Point Park. Upon completion of the race, coworkers were all invited to the post-race outdoor office party, where they were encouraged to celebrate their accomplishments with their colleagues.
"We are thrilled to have so many local businesses come out to support corporate wellness with us at the ADP Corporate 5K," said Jerry Frostick, co-owner of J&A Racing. "Seeing so many teams come together and have some fun outside of the office is what this event is all about. We passionately believe that movement is a key ingredient to overall wellness, and to see our local business community recognize the importance of physical activity as a part of overall health is incredible. We are honored to be able to offer up something that promotes both fun and fitness and look forward to doing it again in 2023!"
Title sponsor ADP said "We love everything going on in this city and we love the collaboration with all the companies in the area."
Jillian Lewis of Senior Services of Southeastern Virginia said "It definitely strengthens the team bond and it's great to get to know the people you work with on a more personal level.
John Michael Barstow of Virginia Beach, Virginia, won the ADP Corporate 5K with a finish time of 15:34. The winner of the 5K on the women's side was Marissa L Coombs also of Virginia Beach. She broke the tape in 18:43.
Unique to this event is the Boss Challenge, which allows local decision makers to toe the line. Alex McDaniel Crenshaw, Ware & Martin, PLC, won the title of First Place – Male Boss at the ADP Corporate 5K with a finish time of 20:02. The winner of the Female Boss category of the 5K was Cathleen Brown of ADP. She broke the tape in 22:24.
Photo Credit: J&A Racing.
__
About J&A Racing
J&A Racing is a nationally recognized race management company based in Virginia Beach, Virginia. With a portfolio of seven events, J&A Racing's mission is to promote and support healthy lifestyles and the sport of running through all stages of life. Since 2003 when J&A Racing owners, Amy and Jerry Frostick, took over the Shamrock Sportsfest, the Yuengling Shamrock Marathon Weekend has become one of the most popular running events in the country growing from 3,000 participants to a record 30,000 in 2015. Additionally, J&A Racing organizes the Old Point National Bank Wicked 10K; the MSP Design Group Big Blue 5K; the BayPort Credit Union Surf-N-Santa 5 Miler; the BayPort Foundation Crawlin' Crab Half Marathon & 5K; the Chartway Norfolk Harbor Half Marathon, 10K & We Promise Foundation Norfolk Harbor 5K; and the ADP Corporate 5K. For more information on J&A Racing's events, visit jandaracing.com.
###