10th GFNY World Championship NYC on May 15, 2022
May 10, 2022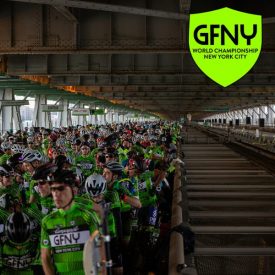 Professional, elite and 5000 weekend warriors from over 90 countries set to race the GFNY World Championship from George Washington Bridge in New York City
NEW YORK CITY, May 10, 2022/ENDURANCE SPORTSWIRE/ – The 10th GFNY World Championship NYC represents the pinnacle of GFNY Endurance Sports Series and its 37 races in 2022.
Get the official GFNY NYC 2022 Media Guide now.
RACE PREVIEW
GFNY is where everyone gets to Be a Pro For a Day®. On Sunday, May 15, riders will take on a challenging 100-mile route with 8,500 feet of climbing starting on the iconic George Washington Bridge at 7 a.m. and wind along the course in New Jersey and New York State that extends up to New York's Bear Mountain State Park, with the finish line in Fort Lee, NJ.
20% of the field takes on the non-competitive 50-mile GFNY BEAR, a test that many riders use as a stepping-stone for tackling the GFNY 100 the following year.
"This year's race for the GFNY World Championship crown is set to be the most competitive in GFNY's 12-year history," said Uli Fluhme, CEO of GFNY. "Several pros and elite riders from around the world and a host of local elite teams will make this Sunday a very exciting day of racing. Being able to offer a live broadcast at gfny.com will make sure anyone can follow the show."
For the 10th edition of the GFNY World Championship, more riders than ever are registered to race. The ever expanding GFNY World calendar which now consists of almost 40 races per year, means that GFNY champions from all corners of the globe are keen to show their prowess and are ready to take the world championship crown.
Female race
Defending champion Jill Patterson (USA) has been busy racing GFNYs on several continents, bringing home a win from GFNY Ecuador and several podium finishes.
German pro Hannah Fandel dominated the 2020 GFNY Europe Championship on the legendary French Col de la Croix de Fer and is ready to get her climbing legs on at Bear Mountain and the feared hills after that.
2021 and 2022 North America Champions Ana Maria Hernandez Delgado (MEX) and Alejandra Echeverri (USA) may have won on the flat Florida and Cozumel courses but are no slouches on lumpier courses either.
Male Race
2017 GFNY World Champion and 2018 & 2019 runner-up Ricardo Pichetta (Italy), returns to NYC and might well be the man to beat for the GFNY World Championship crown.
Another Italian to look out for will be Francesco Manuel Bongiorno who just last year ended his 10-year career as a pro in teams such as Bardiani and Neri Sottoli. With a pedigree of four Giro d'Italia finishes and several top 10s in semi classics like Tre Valli Varesine, Coppi-Bartali and GP Larciano, he sure knows his way around any course thrown at him.
But no GFNY is won easily when Luis Enrique Lemus Davila is in the field. The former World Tour pro, Mexican champion and yes, 2016 Olympian is a fighter and offensive rider. Working at the pre-race expo in his role as GFNY Gruppo show host will be rough on his legs but he'll use his experience to make it forget as soon as the gun goes off.
Flavio de Luna is another Mexican to watch. He is a staple in the GFNY peloton, has won several GFNYs in the past and is keen to finally turn yet another hard attack at GFNY NYC into a win.
2-time GFNY Florida champion Leon Santamaria (Colombia) finally gets his chance to show that he's not just a rider for flat and fast Floridian racing but also punchy climbs.
Argentinian pro Omar Salim Azzem has shown at GFNYs in Uruguay who's the boss in Southern LatAm. We're keen to see how he fares against the stacked field of the GFNY World Championship.
There are lots of national and international top riders keen to win – but they first have to get past the NYC locals led by Ben Gorodetsky (CRCA/Blue Ribbon Cycling). Locals know best how to navigate the tricky GFNY World Championship course and will use that to their advantage.
RACE DAY COVERAGE
A professional crew is working to deliver a high-level race day broadcast starting at 6am ET on GFNY.COM, Facebook and Youtube. Four fixed and four moto cameras will be running to capture the race and bring the action to fans around the world.
ENSURING A FAIR RACE
Since 2012, GFNY administers in- and out of competition doping controls that ensure a fair competition. GFNY was the first mass participation event to hold out-of-competition controls (=not on race day). These controls are critical to serve the element of surprise.
GFNY will also conduct checks for motors on bikes at the start and have a parc ferme at the finish to test bikes of the top finishers.
GFNY WELCOME ZONE
The GFNY Welcome Zone & Café will serve as a gathering place for riders before or after a ride on the GFNY course during GFNY Race Week. It will be open from Wednesday, May 11 to Saturday, May 14 from 8am – 3pm each day at the GFNY Finish Village in Fort Lee (PIP Park, Fort Lee NJ).
The GFNY Café and Welcome Zone will also be open on race day, Sunday, May 15 from 8am – 7pm to welcome spectators, and families and friends of GFNY cyclists.
NYC BIKE EXPO
The tenth New York City Bike Expo is also held in PIP Park Fort Lee, NJ from May 13-14, 2022, opening hours are 10am – 6.30pm.
GFNY World events, GFNY Apparel shop, GFNY Sunglasses, GFNY Watches, race sponsors and other vendors will be on hand to showcase their latest offerings. The expo is a stand-alone event organized by GFNY that is open to the public and draws over 10,000 visitors.
GFNY CYCLING APPAREL
Produced in the world's leading cycling apparel factory using fabrics that react to your body and wick away moisture from your skin. GFNY apparel is 100% Made in Italy and Designed in NYC.
GFNY HELMETS
The GFNY helmet "Air" is a brand new addition to GFNY's offering. The "Air" is following the proprietary SLVS concept: safe, lightweight, ventilated and stylish.
While easily surpassing all major safety standards, it remains at a low weight of under 250g for the US version and under 210g for the EU version so riders benefit from the "barely there" feel.
Its name "air" is no coincidence: large ventilation holes provide necessary cooling in hot weather. Lastly, the contemporary style and choice between black or white completes any rider's outfit.
GFNY SUNGLASSES
GFNY Sunglasses are 100% Made in Italy, handcrafted with every detail and technical innovation in mind. GFNY Sunglasses are available with mirrored, dark, photochromic and clear lenses in various colors with matching frames that are entirely interchangeable.
GFNY WATCHES
After two years of development, GFNY is launching the automatic watch made specifically for bike racing: GFNY Passista Professional 300 in titanium, hardened with Diamond Like Carbon (DLC) and a Swiss movement with Incabloc shock resistance.
Meanwhile the GFNY Passista 200 in steel is your daily all-rounder watch, from shower to office to after work drinks. Made in the same shape as the Passista Professional 300, the Passista 200 comes with different specs that make it stand out in your daily life.
GFNY 3x AND 10x MEDALS
GFNY now offers two types of Multi-Finisher medals. The first is a '3-timer 2022' medal that awards riders who finish three GFNYs in 2022.
The second is an "All-Time" medal that awards riders who have accumulated 10, 20, 30, and 40 GFNY finishes, ever. Each medal has a letter of GFNY and upon completing 40 GFNYs, a rider can complete the set of G-F-N-Y. The multi-medal series also contains GFNY's slogan: "Be a Pro For a Day".
GFNY COFFEE
GFNY Coffee is made only with 100% prime grade pure Colombian beans, roasted, and steel cut ground in a way that honors Colombia's rich coffee heritage. GFNY Coffee will be available for purchase and to try at the NYC Bike Expo and at the GFNY Welcome Zone.
GFNY RIDER TECH PLATFORM
The GFNY technology platform with rider accounts allows riders to create or claim their GFNY account, see past GFNY results, and check progress to multi-finisher medals like the 10x medal or the 3×2018 medal. They can also check qualification status for the front corrals at GFNYs and register for any and every GFNY World race. Registration is available in 30 languages.
About GFNY Global Endurance Sports Series
GFNY Global Endurance Sports Series is a sports event company with three decades of experience in racing, planning and organizing events. The global endurance sports brand hosts multiple events throughout the year around the world on five continents.
Working with partners around the world to deliver a first-class experience, GFNY Global Endurance Sports Series puts their athletes first.
Cycling
30 plus events around the world. View the 2022 calendar here
Riders get to BE A PRO FOR A DAY ® by competing against others, themselves and the clock in a personal endurance challenge.
Top 10% (20% at regional championships) of finishers in each age group qualify for the Racer Corral at every GFNY World event.
GFNY World Championship NYC
The 10th annual GFNY World Championship New York will be held on May 15, 2022. The race features the world's most international peloton with riders from over 90 countries. Athletes take on a challenging 100-mile route from NYC to Bear Mountain to Fort Lee to compete against each other, the clock and themselves in a personal endurance challenge.
The official GFNY website is: www.gfny.com.
Further Material for Media Use
GFNY NYC 2022 Media Guide: here
GFNY Videos: here
GFNY Press Images: here
GFNY World calendar graphic: here
Previous GFNY press releases: here
Media Contact
Gran Fondo New York Inc.
Uli Fluhme, uli@gfny.com
Caroline Lindsay, caroline@gfny.com