100% Triathlete Gustav Iden Crowned in Kona as the 2022 IRONMAN® World Champion — Shattering The Course Record
October 11, 2022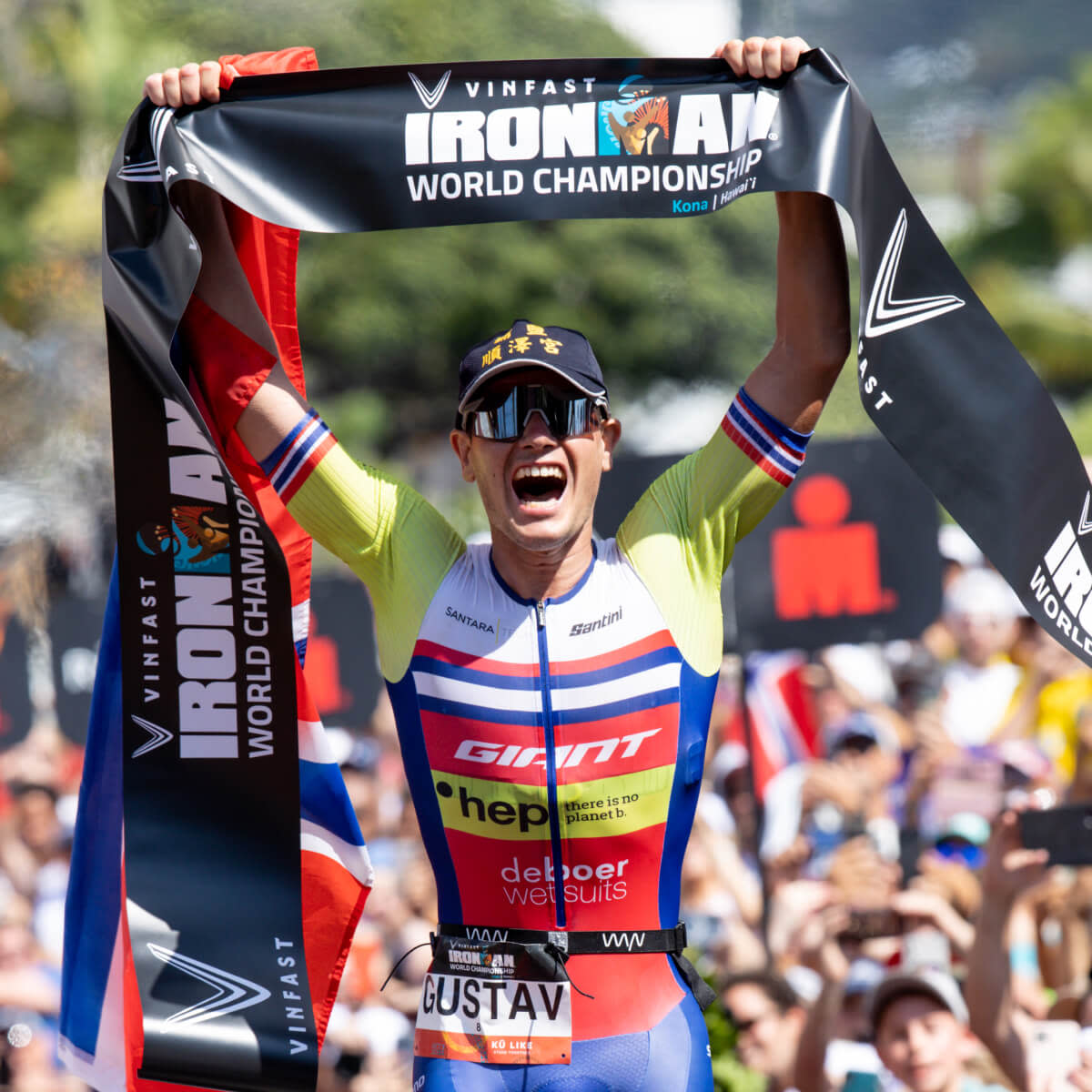 SAN DIEGO, Calif. – October 10, 2022 /ENDURANCE SPORTSWIRE/ – 100%®, the San Diego-based sports performance company today congratulated Norway's Gustav Iden on his historic record-breaking achievement at the 2022 VinFast IRONMAN® World Championship in Kona this past weekend. The 26-year-old Iden conquered Kona with a remarkable time of 7:40.24 and becomes the first male rookie to win the most grueling human challenge ever.
Gustav raced most of the event with good friend and fellow world champion and countryman, Kristian Blummenfelt. However, at "The Energy Lab" in the Marathon, Iden pulled away from Blummenfelt and set Sam Laidlow squarely in his sights. At mile 22 of the Marathon, Iden caught up to Laidlow, and being the true sportsman that Gustav is, he gave a pat on Sam's back then followed by a "thumbs up" and a "high-five," to show massive respect for the 23-year-old and his valiant efforts. After passing Laidlow, Gustav would set his pace and finish the World Championship event in first place.
"We are incredibly proud of Gustav with his extraordinary win in Kona," said Gwen van Lingen, VP of Global Sales & Marketing. "Gustav is a once-in-a generation athlete and he's just getting started. As he continues to push boundaries, we cannot wait to see all he accomplishes in his sport that weren't thought possible."
Prior to the race, Iden heard repeatedly that you cannot win Kona as a rookie. When Iden spoke with the media about his big win, he addresses this belief, "Kristian pushed coming out of the Energy Lab, and I waited until the wind switched," said Gustav Iden "I think it was a good strategy for a rookie."
Earlier this year, Iden stressed the importance of aligning with brands that reflect his personal values of giving 100% effort in everything he does. "I look forward to competing in eyewear that performs as good as it looks," continued Iden, "I also look forward to a long future with 100% and its family of athletes."
We are honored that Gustav chose to partner with 100% – a true sportsman and a calculated athlete, who defines what it means to give 100%. During the race in Kona, Gustav wore 100% frameless Hypercraft® sunglasses featuring UltraCarbon™ technology, making it the lightest, strongest and most dynamic performance shield on the market. Gustav's Matte Stone Grey frame Hypercraft was matched with HiPER® Crimson Silver Mirror Lenses, an optimal tint for the demanding conditions in Kona.
Follow 100% on Facebook, Twitter, Instagram, YouTube. For more information about all 100% products and athletes, visit us online at 100%.
About 100%®:
100%, based in San Diego, California, is an independent premium sports brand with a focus in performance eyewear, technical apparel, and sports protection. 100% empowers the most demanding athletes with the performance technologies and gear they need to compete at the top of a wide variety of sports.
The roots of 100% date back to 1982 when the superstars of Motocross wore the original 100% logo as a badge of honor on their race gear and helmets. Today, 100% is inspiring a whole new generation of athletes in various disciplines of sport, and asking them the original tagline: "How much effort do you give?"
The 100% brand boasts an impressive roster of athletes including seven-time Tour de France Green Jersey winner, and three-time road cycling World Champ, Peter Sagan; two-time 450 AMA Supercross champion Cooper Webb; Olympic Gold Medalist, UCI cross-country mountain bike world, and European Champ Jolanda Neff; Five-time UCI downhill world champ Loïc Bruni; #1 ranked long-course Triathlete in the World, Gustav Iden; Olympic Gold Medalist and X-Games Champion snowboard superstar Zoi Sadowski-Synnott; Olympic Gold Medalist Freestyle Skier Nico Porteous; four-time Olympic Gold medaling biathlon sensation, Johannes Thingnes Boe; MLB All Star Atlanta Braves Ronald Acuña Jr.
#