100% and MLB All-Star Fernando Tatis, Jr. Debut 2022 Limited-Edition Sport Performance Eyewear Collection
May 25, 2022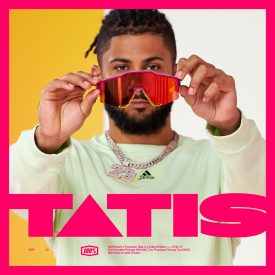 Tatis Jr.'s electrifying style of play transcends into the newest Tatis 23 LE Collection
SAN DIEGO, Calif. – May 25, 2022/ENDURANCE SPORTSWIRE/ – 100%®, the San Diego-based sports performance company, professional baseball All-Star and MVP Sports Group client, Fernando Tatis, Jr. have once again joined forces for their 2nd limited edition eyewear collaboration.
Like Tatis, the 2022 100% x Tatis 23 Limited-Edition Eyewear Collection is sure to turn heads — featuring the energizing pinks and glowing yellows, colors that El Niño is well-known for wearing on and off the field.
The new range of sport performance eyewear is available in some of the most popular 100% frames, such as SPEEDCRAFT® and S3. And new for the 2022 collaboration, this collection boasts the game-changing performance of HYPERCRAFT®, which features UltraCarbon technology, and is lighter, stronger, and more dynamic than any performance shield on the market.  Also, for the smaller faces and younger athletes the collection offers SPEEDCRAFT® XS.  Never miss a play with 100%'s HiPER Lens technology which ramps up contrast and enhances detail for depth-defining vision.
"I shared my vision and favorite colors with the 100% design team for this year's collaboration," said Fernando Tatis, Jr. "Ever since I was in the minor leagues, I wore a pink wristband to pay tribute to my mom. In bringing that same pink color to my sunglasses, I'm able to honor my mom and have a little fun with the design."
"We pride ourselves on working with athletes who have exemplary character, and who believe in always giving 100%" says VP of Global Marketing and Sales for 100%, Gwen van Lingen. "Fernando fits that mold and embodies the essence of our brand as a true collaborative partner. We couldn't be more excited to be able to witness his electrifying style of play right here in our backyard in San Diego."
The Collection is available starting today, May 25th, 2022 at selected 100% Authorized Global Eyewear and Sporting Goods retailers as well as 100percent.com.
The 2022 Fernando Tatis Jr. x 100% Collaboration frame features are as follows:
Tatis 23 LE SPEEDCRAFT Unapologetic styling, premium lens clarity, and coverage as good as any design on the market. The bold peripheral field of view and premiere protection allows baseball players to see clearly on sunny afternoons, or under the bright lights of night games. The SPEEDCRAFT temple arm scoops to manage moisture with adjustable temple tips for the perfect fit.
Tatis 23 LE S3 blends form and function. The superb peripheral field of view, great protection and an uncompromising fit makes the S3 an important part of every baseball player's essential gear.
Tatis 23 LE HYPERCRAFT features carbon-infused frames that are lighter, stronger and more dynamic than anything on the market.
Tatis 23 LE SPEEDCRAFT XS Packed with all the bold-iconic style of SPEEDCRAFT, the small-scale frame SPEEDCRAFT XS is designed for smaller faces, especially young athletes that demand the same excellent line of sight and brashness of the original SPEEDCRAFT.
Tatis is joined by an impressive roster of MLB players that rely on 100% Sport Performance Sunglasses, including Ronald Acuña Jr. of the Atlanta Braves, Bryce Harper of the Philadelphia Phillies, Carlos Correa, and Pete Alonso of the New York Mets, Bo Bichette of the Toronto Blue Jays, and many more.
Follow 100% on Facebook, Twitter, Instagram, TikTok and YouTube, follow Fernando Tatis Jr. on Instagram and Twitter.
For more information about all 100% products and athletes, visit us online at 100%.
About 100%®:
100%, based in San Diego, California, is an independent premium sports brand with a focus in performance eyewear, technical apparel, and sports protection. 100% empowers the most demanding athletes with the performance technologies and gear they need to compete at the top of a wide variety of sports.
The roots of 100% date back to 1982 when the superstars of Motocross wore the original 100% logo as a badge of honor on their race gear and helmets. Today, 100% is inspiring a whole new generation of athletes in various disciplines of sport, and asking them the original tagline: "How much effort do you give?"
The 100% brand boasts an impressive roster of athletes including seven-time Tour de France Green Jersey winner, and three-time road cycling World Champ, Peter Sagan; two-time 450 AMA Supercross champion Cooper Webb; Olympic Gold Medalist, UCI cross-country mountain bike world, and European Champ Jolanda Neff; Five-time UCI downhill world champ Loïc Bruni; #1 ranked long-course Triathlete in the World, Gustav Iden; Olympic Gold Medalist and X-Games Champion snowboard superstar Zoi Sadowski-Synnott; four-time Olympic Gold medaling biathlon sensation, Johannes Thingnes Boe; MLB All Stars Atlanta Braves Ronald Acuña Jr. and San Diego Padres shortstop sensation Fernando Tatis Jr.
Follow us on Facebook, Twitter, and Instagram.  www.100percent.com.
###