"Ohhhhh, yeah!" IGNITE SwimRun Signs Deal with the New Official Voice of the IGNITE SwimRun Series
January 30, 2019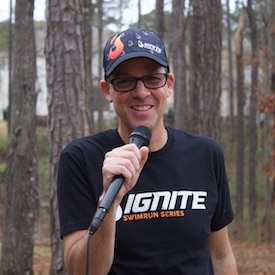 Richmond, Va. (January 30, 2019) – IGNITE SwimRun, LLC has agreed to terms with veteran announcer and creator of the popular "SimplyStu" podcast, Stu Joannes, to be the Official Voice of the IGNITE SwimRun Series. 
With well over 650,000 downloads to date, the "SimplyStu" podcast covers all things related to endurance sports and beyond. Joannes, who started the podcast a decade ago, will be the exclusive voice for the IGNITE SwimRun Series serving as the lead announcer at all IGNITE events in 2019. His background as an event announcer stretches back to 2008 with the Rev3 Triathlon Series where he did color commentary and race announcing for some of the biggest names in the sport of triathlon.  
"When we were looking for someone to become the voice of our series, we knew we had to talk to Stu," said IGNITE Co-Founder Jay Peluso. "He brings endless energy to every event. He truly cares about each and every athlete and wants to be sure they have the absolute best experience possible. We could not be happier to have him on our team."
"I am so intrigued by the sport of SwimRun," added Joannes. "The camaraderie, the passion, the willingness of the athletes to get outside of their comfort zone; it all really resonates with me. The team at IGNITE is one of the best. I've been fortunate to work with many of them in the past and I can't wait to call the first race of the season in Maryland this May."
The IGNITE SwimRun Series runs from May through October and will hit five states in 2019:  
IGNITE Maryland: May 11, 2019

   

IGNITE Knoxville, TN: June 30, 2019

 

IGNITE Minnesota: August 10, 2019

 

IGNITE Rhode Island: September 14, 2019

 

IGNITE Virginia, which also serves as the National SwimRun Championship: October 19, 2019
For more information about IGNITE SwimRun visit www.igniteswimrun.com.
For more information about the SimplyStu podcast visit www.simplystu.com.
About IGNITE SwimRun
IGNITE SwimRun, LLC is a race production company specializing in SwimRun endurance events and is owned and operated by Jay Peluso and Danny Serpico. 
Jay Peluso 
Jay is a certified USA Triathlon race director and the former National Race Director for Rev3 Triathlon. He is also the owner of Peluso Open Water, the largest single USMS program in the Virginia LMSC, which focuses on open water training and racing. Jay has over 16 years of experience directing large scale events and has been the race director for SwimRun VA since its inaugural season in 2016
Danny Serpico
Danny is a certified USA Triathlon race director. He is the owner and race director of Rip It Events, a Mid-Atlantic region running and multi-sport race production company based in Columbia, Maryland. Danny has over 13 years of experience directing large scale events in the endurance racing, non-profit and federal spaces.
Media Contact: 
Jay Peluso
[email protected]
804-677-6006