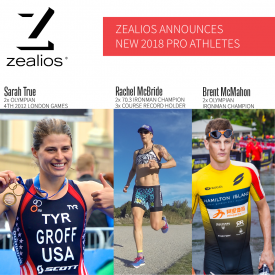 Rachel McBride, Sarah True & Brent McMahon join other Zealios top pros Jesse Thomas, Heather Jackson & more!
(Bend, OR.) — Zealios, a leader in performance body care products for athletes, announces 3 new additions for 2018 to their growing list of professional triathletes – Sarah True, Rachel McBride and Brent McMahon.
These 3 join the company of pro triathletes & Ironman champions Heather Jackson, Jesse Thomas, Linsey Corbin, Haley Chura, Jesse Vondracek, Helle Frederiksen, Joe Gambles & Sarah Piampiano. As Zealios continues to grow into a triathlon household name, more and more athletes continue to trust and rely on their products for their personal care needs.
Sarah True is a lifelong east coaster currently living and training in New Hampshire. True is a 2x Triathlon Olympian taking 4th at the 2012 London games. Sarah recently made the transition from ITU triathlon to 70.3 distance and is looking to build off of an awesome 4th place finish in the 2017 Ironman 70.3 World Championships as she continues her push into the longer distances. For more info visit facebook.com/sgroffy/.
Rachel McBride also known as "Purple Tiger" lives and trains in Vancouver, BC. McBride is a 2x 70.3 Ironman champion and she really likes the bike, holding many bike course split records. Out of the triathlon world, Rachel, who some deem "the most interesting women in triathlon," holds two graduate degrees in genetics, is an accomplished cellist and works in sexual health education. For more info visit rachelmcbride.com.
Brent McMahon lives in Victoria, BC and seeks warmer training in Maui multiple months out of the year. McMahon is a 2x Olympian & Ironman Champion and has clocked the 3rd fastest Ironman time in history at the 2016 Brazil Ironman. For more info visit brentmcmahon.com.
"We are extremely excited and honored to have such a talented, driven and fun group of professional athletes to work with for the 2018 season," said Kevin Fuller, Zealios Co-Founder. "Our products are designed and tested for endurance athletes, allowing them to focus on their performance, so having such an accomplished group of athletes' support is very rewarding."
Kevin added, "We're stoked for the season to kick off and can't wait to get out to the events to cheer each of them on and ensure they're protected from the extreme elements when training and racing. We look forward to seeing everyone out there."
About Zealios
Zealios was founded in 2009 when a group of health-conscious endurance athletes realized that we simply could not find high quality skincare products that performed on race day. As outdoor-loving souls, we also understood the importance of protecting ourselves against the potentially harmful effects of direct sunlight, high altitudes, and salty swims.
We set out to create performance-based body care products formulated specifically with athletes in mind. After years of testing and development with endurance junkies across the world, we have now successfully created a line of products to serve an athletes' every need–from training day, to race day, to recovery & prevention. We design our product formulas to enrich performance, cleansing, and restorative needs of athletes everywhere, because performance matters. For more information visit teamzealios.com.
We're social! Follow us @zealiosskincare
# # #