Yuengling Shamrock Marathon Weekend Brings Over $21 Million Dollars To Local Economy
July 22, 2019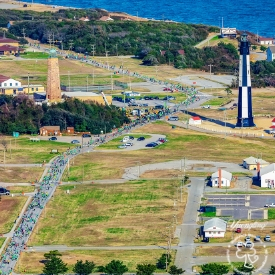 July 22, 2019 – The 2019 Yuengling Shamrock Marathon Weekend generated a total impact of over $21 million for the local Virginia Beach economy according to a recent economic impact report. The figures include more than $13 million in direct spending in the City of Virginia Beach.
The 2019 Yuengling Shamrock Marathon Weekend was hosted in Virginia Beach on March 15-17. The Yuengling Shamrock Marathon, Anthem Shamrock ½ Marathon, TowneBank Shamrock 8K, and Operation Smile Shamrock Final Mile welcomed participants from all 50 states and multiple countries. In total, there were over 45,000 runners, walkers and spectators that took part in the festivities.
"Events such as the Shamrock Marathon Weekend drive visitation to Virginia Beach during our shoulder season and boosts the local economy considerably while raising awareness that Virginia Beach is a year-round destination with many activities and experiences to enjoy," said Brad Van Dommelen, Director of the Virginia Beach Convention & Visitors Bureau.
The economic study conducted by San Diego State University also determined that the event created over 14,000 total hotel room nights. It also generated $800,000 in taxes and fees and contributed $150,000 for its charity partners.
"Absolutely hands down the best race weekend ever! From the start til the after party, well organized! Our group of 20 will definitely be back," said a 2019 participant.
The Yuengling Shamrock Marathon Weekend returns for its 48th running on March 20-22, 2020. To learn more, visit shamrockmarathon.com.
About J&A Racing
J&A Racing is a nationally recognized race management company based in Virginia Beach, Virginia. With a portfolio of seven events and training programs, J&A Racing's mission is to promote and support healthy lifestyles and the sport of running through all stages of life. Since 2003 when J&A Racing owners, Amy and Jerry Frostick, took over the Shamrock Sportsfest, the Yuengling Shamrock Marathon Weekend has become one of the most popular running events in the country growing from 3,000 participants to a record 30,000 in 2015. Additionally, J&A Racing organizes the Anthem Wicked 10K; the MSP Design Group Big Blue 5K; the Surf-N-Santa 5 Miler; The Neighborhood Harvest Crawlin' Crab Half Marathon & 5K; the Chartway Norfolk Harbor Half Marathon. 10K & We Promise Foundation 5K; and the ADP Corporate 5K. For more information on J&A Racing's events, visit jandaracing.com.
###