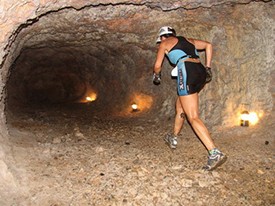 Stop No. 5 of the Asia-Pacific Tour takes XTERRA to the beautiful island of Saipan in the Northern Marianas – the sports original exotic destination. "There's no place like it," said XTERRA managing director Dave Nicholas. "This is a hallmark race and the allure of this island is really not possible to describe – but the pull is here."
Honolulu, HI (April 3, 2014) – Bring on the Crown Jewel! Stop No. 5 of the Asia-Pacific Tour takes XTERRA to the beautiful island of Saipan in the Northern Marianas – the sports original exotic destination.
"There's no place like it," said XTERRA managing director Dave Nicholas.  "This is a hallmark race and the allure of this island is really not possible to describe – but the pull is here."
XTERRA first ventured to Saipan in 2002, and 13-years later is still taking racers through caves where Japanese soldiers hid and fought from during the Battle of Saipan in 1944.
Some of the sports' best all-time stories originated in Saipan, from an exploding neighbor island volcano that painted the sky black with ash during the middle of the day to the tsunami threat following the 2011 Tohoku earthquake that played tricks with the ocean currents.
"The impact it had on Saipan was a pushing and pulling current typical of the phenomena," explained Nicholas.  "Just before the race, swimmers came in asking the course be changed from counter clockwise to clockwise as there was a big current.  We changed the direction but it was not just a simple current but the after-effects of the tsunami.  As swimmers hit the outside buoy, the current changed to pushing in and everyone nearly stopped!  Then the current sucked the water away from the beach and many were walking."
Saipan is where XTERRA Hall-of-Famer Jamie "J-Dawg" Whitmore got her career kick-started in 2002.  It's where Aussie Jason "Chalks" Chalker became a living-legend with an extraordinaire string of epic crashes.  Three-time Olympian Olivier Marceau made using Saipan as a base-camp for early season training and racing a popular decision.   Renata Bucher has a long-standing love-affair with the island and its people, saying it's "not an XTERRA season without a stay in Saipan."
Triathlete Magazine called it one of the 'World's Best" races in 2011.  Richard "Doc" Wall saved a man's life in the middle of the race one year.  New York Times bestselling author Marty Dugard wrote about his adventures at XTERRA Saipan in his book, To Be A Runner.
At XTERRA Saipan, the race starts on the same beach where Marines launched their attack in '44, then the bike course traverses nearly every inch of the island where the battles took place. At the American Memorial Park Museum, many who visit watch a heart-wrenching video on how it all went down, and then walk somberly through the interactive displays.
There are a lot of reasons to love Saipan – the people, history, and adventurous course are a few, however, the most recurring comment you'll hear when talking to alumni, "it's so much fun."
A worthy international elite field is in Saipan to experience that fun along with Saturday's championship event, highlighted by Dan Hugo and Ben Allen for the men; Renata Bucher and Jacqui Slack for the women.
Hugo has been on fire in 2014, winning all three majors he raced at – South Africa (Feb. 23), Philippines (March 15), and Guam (March 29).  Allen is fresh off a W at his home country race – the XTERRA Great Ocean Road off-road tri in Australia – and won this race each of the last two years.
Other contenders for the men include 4x Saipan Champ Olivier Marceau representing Switzerland, South Africans Bradley Weiss (2nd in Guam) and Nico Sterk (4th in Guam), Kiwis Olly Shaw (3rd in Guam) and Mark Leishman, Markus Benesch from Austria, Michal Bucek from Slovakia, and Charlie Epperson from the U.S.
In the women's race Bucher is shooting for her 8th Saipan title in 10 years but will have to contend with defending champ Jacqui Slack from Great Britain – who just won in Australia last weekend, along with Carina Wasle from Austria and former Saipan resident Mieko Carey.
Read what some of the pros had to say in this preview from Roselyn Monroyo of the Saipan Tribune.
XTERRA SAIPAN ALL-TIME PRO WINNERS
Year
Men
Women
2002
Mike Vine
Jamie Whitmore
2003
Jason Chalker
Jamie Whitmore
2004
Olivier Marceau
Jamie Whitmore
2005
Olivier Marceau
Renata Bucher
2006
Olivier Marceau
Renata Bucher
2007
Olivier Marceau
Renata Bucher
2008
Andrew Noble
Renata Bucher
2009
Sam Gardner
Renata Bucher
2010
Sam Gardner
Renata Bucher
2011
Sam Gardner
Shonny Vanlandingham
2012
Ben Allen
Renata Bucher
2013
Ben Allen
Jacqui Slack
ALL-TIME XTERRA SAIPAN PRO LIST (SINCE 2002)
Ben Allen (AUS) 2012-13
Jude Baker (Guam) 2003
Renata Bucher (Switzerland) 2005-13
Jens Buder (GER) 2012
Mieko Carey (Japan) 2008-13
Jason Chalker (Australia) 2002-05, 2010
Paul Chetwynd (Canada) 2011
Caroline Colonna (USA) 2011
Fabiola Corona (Mexico) 2006
Ryan DeCook (USA) 2006
Julie Dibens (United Kingdom) 2007-09
Rory Downie (Great Britain)
Anke Erlank (South Africa) 2002
Denilson Freitas (Brazil) 2011
Hideo Fukui (Japan) 2002, 2005
Sam Gardner (United Kingdom) 2007, 2009-11, 13
Dominic Gillen (USA) 2004
David Henestrosa (Spain) 2004
Michael Hiscott (Great Britain) 2010
Misaki Hosoya (Japan) 2003, 2004
Haruna Hosoya (Japan) 2003
Dan Hugo (South Africa) 2013
Noiaki Ito (Japan) 2006
Uli Katzer (Austria) 2009
Will Kelsay (USA) 2012
Cedric Lassonde (FRA) 2012
Arland Macasieb (Philippines) 2009
Gary Mandy (South Africa) 2002
Olivier Marceau (France) 2004-07, 2012-13 S
ibylle Matter (Switzerland) 2007
Jim McConnel (Great Britain) 2009
Josiah Middaugh (USA) 2004
Jody Mielke (Australia) 2002
Yasuko Miyazaki (Japan) '02, '04, '05, '07, '13
Makoto Nagatome (Japan) 2003
Andrew Noble (Australia) 2007, 2008-09
Misa Nonaka (Japan) 2005
Takahiro Ogasawara (Japan) 2008-13
Haruna Ouchi (Japan) 2002
Darelle Parker (Great Britain) 2010-11, 13
Kaley Parkinson (USA) 2002, 2003
Brandyn Rakita (USA) 2012
Pedro Ribeiro (Brazil) 2002
Ingrid Rolles (South Africa) 2005
Mami Saito (Japan) 2005-07
Ingrid Sala (Spain) 2004
Yuko Sasaki (Japan) 2005, 2006
Monique Sawicki (USA) 2006
Taro Shirato (Japan) 2002-10
Jacqui Slack (GBR) 2012-13
Emma Ruth Smith (Great Britain) 2010
Suzie Snyder (USA) 2011
Butch Sublemente (Saipan) 2013
Kyosuke Takei (Japan) 2005, 2007
Margus Tamm (Estonia) 2006, 2007
Melissa Thomas (USA) 2003
Richard Thomas (France) 2007
Jim Vance (USA) 2008
Shonny Vanlandingham (USA) 2009-11
Mike Vine (Canada) 2002, 2009-10
Graham Wadsworth (GBR) 2012
Carina Wasle (AUT) 2011-13
Bradley Weiss (South Africa) 2013
Jamie Whitmore (USA) 2002-07
Sascha Wingenfeld (Germany) 2009
Adam York (USA) 2011
Yu Yumoto (Japan) 2002-03, 2005-06
Note: Saipan is located in the middle of the Western Pacific Ocean – 1,300 miles south of Tokyo, 1,400 miles east of Manila, 3,200 miles west of Honolulu, and 2,900 miles north of Sydney. It offers up azure colored water, a powder blue sky, light island breezes, and tropical 85-degree days prevail year-round providing the perfect venue for XTERRA.  The race consists of a 1.5-kilometer ocean swim, a 30km mountain bike that climbs 1,500 feet to the highest point on the island, and an epic 12km trail run that weaves through heavy jungle and into caves used during World War II.