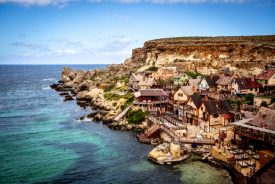 The XTERRA Pan American Pro Series touches down in the U.S. for the first time this season at its familiar stomping grounds in the forests of Oak Mountain State Park in Shelby County, Alabama while the third stop on the XTERRA European Tour takes competitors to Malta this Saturday, May 18, 2019.
The XTERRA Pan American Pro Series touches down in the U.S. for the first time this season at its familiar stomping grounds in the forests of Oak Mountain State Park in Shelby County, Alabama while the third stop on the XTERRA European Tour takes competitors to Malta this Saturday, May 18, 2019.
The 14th annual XTERRA Oak Mountain off-road triathlon is the fourth of 10 events in the international racing series, and the first championship event in the U.S.
In the men's elite race all eyes are on the showdown between two-time XTERRA Pan American Tour Champion Josiah Middaugh, two-time XTERRA Asia-Pacific Tour Champion Sam Osborne, and the reigning Pan Am Tour Champ Kieran McPherson.
Middaugh, the 2015 XTERRA World Champion from Colorado, is kicking off his 19th season of XTERRA racing this Saturday, and at 40-years-old, seems only to be getting stronger.  As proof, he posted the fastest bike split at the ITU Cross Tri World Championship two weeks ago in Spain, besting 50 other elite men, all younger.
"I think I've raced here at Oak Mountain every year, so I've seen everything this course has and it's nice to have that experience, but you know, you're never too old gain experience," said Middaugh, a Suunto Multisport Team racer.  "I've been doing this a long time, and I've learned something from every race along the way, so I feel like everything I've done my whole life has prepared me for this event.  And I don't feel like I'm slowing down yet."
His goals haven't softened either, as Middaugh said he's gunning to win not only this race, but the XTERRA Pan American Tour title as well.
"I definitely want to come out on top, but I'll be hard-pressed to do it," said Middaugh, who has won here five of the last six years.  "Every year there's somebody that brings me up to another level, and that guy could be Sam Osborne this year.  He's been on fire. He beat me at Worlds the last two years, and I've seen him improve leaps and bounds. He's going to be hard to beat."
As for his strategy, Middaugh says that's a secret, but anybody that knows his game knows his plan.
"Throttle the bike on Saturday, that's my strategy, but don't tell anybody," joked Middaugh, who added the trails at Oak Mountain are as good as they get.  "These trails are one of a kind, the best mountain bike trails I've seen probably anywhere in the country.  They are well built, well maintained, and they have a little bit of everything from flowing single track to rock features, long climbs and long descents, and even a little Midwest component with hardwood forests and racing through the trees."
Osborne, 27, from Rotorua, New Zealand, is one of the sports' most promising young stars.  He finished third at XTERRA Worlds last year and is fresh off a win at XTERRA Brazil last weekend, but he's not looking past Middaugh or anyone else.
"Josiah has raced this circuit for a long time," said Osborne.  "His experience on this course counts for a lot.  And yeah, he's getting on in age, but he still puts out monster watts on the bike and can run super quick. Plus, I'm sure it's not just myself and Josiah, there's a whole raft of guys that are keen to mix it up on Saturday."
One of those guys is Kieran McPherson, who won races at XTERRA Argentina, Brazil, and Victoria (Canada) in 2018 and had the fastest run split to finish fifth at Oak Mountain last year. Another is Brian Smith, a veteran from Colorado, who finished third here a year ago.
"This year I have had less events in which to prepare myself for Oak Mountain but feel my fitness is still there from ski events this past winter," said Smith, a former XTERRA Winter Worlds Champion.
Branden Rakita, aka the "Mitch Man", is back for his 13th season of XTERRA.
"Really looking forward to getting the Pan Am Tour kicked off this year and at one of my favorite venues," said Rakita.  "The water and trails at Oak Mountain are awesome and it's really a must do race.  It is going to be fast and hot but thankfully the humidity won't be too high like some years.  Josiah, Sam and Brian are the guys to look at but there are some unknowns on the start list so it will be interesting.  All in all, I'm feeling ready to go and want to really make them work for it."
ELITE MEN'S START LIST
2019 Pan Am Tour Rank/2018 Rank – Name, Nationality
5/1 – Kieran McPherson, NZL
6/NR – Sam Osborne, NZL
NR/2 – Josiah Middaugh, USA
NR/4 – Branden Rakita, USA
NR/6 – Brian Smith, USA
NR/9 – Ian King, USA
NR/11 – Will Kelsay, USA
NR/16 – Walter Schafer, USA
NR/NR – Ryan Ignatz, USA
NR/NR – Sean Kickbush, USA
NR/NR – Elliot Bach, USA
NR/NR – Evan Pardi, USA
NR/NR – Zach Winter, USA
Three-time XTERRA World Champion Lesley Paterson highlights the women's elite race. The "Scottish Rocket" has won this race four times, including in 2012 when XTERRA hosted the ITU Cross Tri World Champs at Oak Mountain.
"I love it here, the course is gorgeous, it's green and pretty, and the people are super friendly," said Paterson, who won XTERRA Greece last month in her first race since winning worlds.  "I've been coming here for 11 years and staying with the same home stay I do every year, and really that's the best part.  For me and my husband Simon, coming here isn't just about racing, it's about the community."
Suzie Snyder, the reigning XTERRA USA Champion and two-time XTERRA Pan American Tour Champion, won this race in 2016 and 2017 and said she's happy to kick off her season at Oak Mountain.
"I feel good. I know I still have some early season weaknesses, but I've also had some very positive key workouts which are encouraging," said Snyder.  "I don't have high expectations, since it will be my first race of the season. It's more of a test effort to identify strengths and weaknesses and get back into the swing of racing. Besides, I always perform better when I focus on the process, not the product.  And I love Oak Mountain for the warm, fast lake swim, east coast single track and shady run course. It's a fun and challenging course which makes it very enjoyable."
Julie Baker, who was second to Paterson last year at Oak Mountain, is on the start list as is Samantha Kingsford, the Kiwi who won at XTERRA Brazil last weekend.
"I'm really excited to be here, it's my first time to Alabama, and the course is great.  There aren't many courses on the World Tour on proper mountain biking trails like this," said Kingsford.  "For me, it's just my second-year racing elite with XTERRA, so this race is about the experience and if I get on the podium it's a bonus."
Jessie Koltz, who was fifth last year, is happy to take a break from the books to jump back into racing.
"I'm feeling great, ready to rock and roll after my first year in my doctorate program," said Koltz, who is working towards a PhD in counseling at the University of Nevada, Reno.  "I might not be back next year at Oak Mtn. because of dissertation research so this year is it! I'm happy to be done with classes and studying for the next week, and having fun being back on the bike at Oak Mountain."
Amanda Felder said she's also happy to be back, healthy and fit enough to race again after two years away from competition, as is XTERRA veteran Maia Ignatz.
Another highlight for the women's field is the elite debut of Deanna McCurdy, who has been winning everything the amateur for years now.
"I may not finish first, or even make the elite podium for that matter on Saturday, but I feel like I've already won by being able to share my love of the sport and hopefully inspire others to step out of their comfort zone and be brave enough to try something new," said McCurdy, whose daughter Hailey in competing in the Xticer race on Saturday, her first triathlon.
"The best part of training so far this year has been getting to swim, bike and run with Hailey. I think I am more nervous for her than for my race, and I cannot wait to see her at the finish line."
ELITE WOMEN'S START LIST
2019 Rank/2018 Rank – Name, Nationality
3/NR – Samantha Kingsford, NZL
NR/3 – Kelli Montgomery, USA
NR/4 – Lesley Paterson, GBR
NR/6 – Julie Baker, USA
NR/9 – Jessie Koltz, USA
NR/10 – Suzie Snyder, USA
NR/NR – Allison Arensman, USA
NR/NR – Amanda Felder, USA
NR/NR – Maia Ignatz, USA
NR/NR – Deanna McCurdy, USA
NR/NR – Brittany Oliver, USA
Find elite race updates on twitter @xterraoffroad this Saturday, May 18, starting at 8:30am CDT, and login to Facebook for photos and videos.
All-time XTERRA Oak Mountain Elite Champions
Year – Men's Winner/Women's Winner
2006 – Brent McMahan/Melanie McQuaid
2007 – Conrad Stoltz/Jamie Whitmore
2008 – Conrad Stoltz/Shonny Vanlandingham
2009 – Conrad Stoltz/Melanie McQuaid
2010 – Conrad Stoltz/Shonny Vanlandingham
2011 – Conrad Stoltz/Melanie McQuaid
2012 – Conrad Stoltz/Lesley Paterson
2013 – Josiah Middaugh/Lesley Paterson
2014 – Josiah Middaugh/Flora Duffy
2015 – Braden Currie/Lesley Paterson
2016 – Josiah Middaugh/Suzie Snyder
2017 – Josiah Middaugh/Suzie Snyder
2018 – Josiah Middaugh/Lesley Paterson
Euro Tour's Best in Action at XTERRA Malta this Saturday
The XTERRA European Tour gets back in action at XTERRA Malta this Saturday, which is the first of five races over the next five weeks. After Malta comes XTERRA Lake Garda (Italy) on May 26, XTERRA Portugal on June 1, XTERRA Belgium on June 8, and XTERRA Denmark on June 16.
Reigning XTERRA European Tour men's elite champion Francois Carloni from France highlights the men's field.
"I feel like I've recovered from the Cape Epic MTB race and I'm ready to race XTERRA properly," said Carloni.  "After racing ITU Cross Triathlon Worlds (11th), I took one easy week and now the sensations are good. I'm very excited to be back in Malta, this is my third time here. I like this race, especially the mountain bike loop."
Carloni finished 4th in Malta last year, and later won XTERRA Belgium and the Tour title, so he knows that if his winter training pays off, he has a serious chance to win this race.
The Frenchman will not have an easy day, however, as Maximilian Sasserath from Germany finished in front of him in Malta last year and was also better in Greece just three weeks ago.
"After finishing second and third in Malta over the last few years my goal is to finish on the podium again," said Sasserath.  "After a solid race in Greece, a good ITU race 10 days later (12th) and then a local team race on the road last Sunday, I am looking forward to another good performance. Maybe it will be good enough to claim the top step. This year, staying healthy is as important as a result because I had to finish my season after last year's race here due to injury."
Other top contenders for the top step include Geert Lauryssen from Belgium and Jens Roth from Germany.
"It's nice to be back with my XTERRA family, I can't wait to race with my friends again," said Roth.  "This winter I changed my weekly routine and I've done 25 consistent weeks including a training camp on Gran Canaria with the Ironman World Champion, Patrick Lange."
Roth is one of the sports best swimmers and will likely lead the swim with as much as a 60-second advantage and look to keep this lead as long as possible.
For Lauryssen, it's all about the bike.  He has previously posted the fastest bike split in Malta, so will be confident he can ride to the front before the second lap and make his move.
Samuel Jud from Switzerland, who is currently third in the European Tour standings after two solid races in Cyprus and Greece, has the opportunity to take the lead in the series with a good performance.
Portugal's Rui Dolores is also in the mix. He finished 6th last year on the Tour and on a good day will find his way into the top five. The XTERRA Malta run loop is difficult and will suit him well.
"This is my second time in beautiful Malta. The course is demanding but fun to race," said Dolores.  "Lots of rocks, long descents and technical uphills make for a great challenge. I started my winter training a bit later this season and as a result, I felt far from my best in Cyprus. I've trained well in the last couple of weeks and I feel the improvement already, so I hope to have a good performance and have fun in Malta."
Peter Lehmann from Germany, who was 3rd last year in the final tour standings, has been traveling the world with his girlfriend and creating great memories.  He's hoping all those good times will lead to a podium performance on Saturday.
ELITE MEN
2019 XTERRA Euro Tour Rank/2018 Malta Place – Name, NAT
3/NR – Samuel Jud, CHE
7/6 – Geert Lauryssen, BEL
9/13 – Andrea Giuseppe Zanega, ITA
11/3 – Maximilian Sasserath, DEU
12/4 – François Carloni,FRA
17/9 – Rui Dolores, PRT
NR/10 – Peter Lehmann, DEU
NR/NR – Jens Roth, DEU
In the women's elite race Carina Wasle, who is currently second in the Euro Tour standings following a win at XTERRA Cyprus, hopes she has recovered from the knee injury she suffered during a bike crash at XTERRA Greece.
"During the last three weeks, I've tried everything to recover as quickly as possible," said Wasle, the reigning XTERRA European Tour Champion. "The good news is I can swim and bike again, the bad news is I can't run at all. But I will be in Malta and try to do my best."
Even though she is carrying an injury, we are quite certain that with a solid swim and bike, if Wasle can run she will win this race and take the lead in the European Tour standings.
Her competition comes from Maria Doring of Germany. Doring finished 10th at XTERRA Cyprus this year and an excellent 8th at the 2018 European Champs. She may well believe Saturday could be her day given Wasle's unknown condition.
Other contenders include Adriana Klimkova from the Czech Republic. Malta will be the first race in the elite division for this young athlete, so she brings in a bit of the unknown to the women's race.
Find images and race updates on Facebook.com/XTERRAEurope.
ELITE WOMEN
2019 XTERRA Euro Tour Rank/2018 Malta Place – Name, NAT
2/2 – Carina Wasle, AUT
13/NR – Maria Doring, DEU
NR/NR – Adriana Klimkova, CZE
Learn more at xterraplanet.com/malta