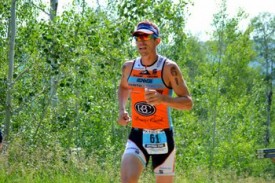 The XTERRA World Tour looks to the Colorado Rockies for the 7th annual XTERRA Mountain Championship race at Beaver Creek Resort in Avon on Saturday
July 16, 2015 (Avon, CO) – Colorado's high country during the summer time is something to behold with its big blue skies, white aspens, majestic mountain ranges and cool, fresh air.   It's simply beautiful and Beaver Creek Resort in Avon, host to the XTERRA Mountain Championship since 2009, enhances the experience with world-class facilities and people. Then there is the course itself, which is an absolute beast.
It starts with a mile swim in the cold waters of Nottingham Lake situated at 7,400-feet elevation. Nottingham is just big enough to get a full mile swim with 2 laps, and Buck Creek flows into the reservoir so even though the lake is small, the water temp rarely tops 70 degrees.
The next step involves roughly 15 miles of mountain biking that climbs 3,500-feet into the thin air of the Rockies.   The bike course peaks out at above 9,400 feet above the Arrowhead and Bachelor Gulch ski slopes, then turns into some well-maintained single track that switches through the aspen trees and works its way to the village-to-village trail and down to Beaver Creek Village.
The final piece of resistance is a calf-burning, six-mile trail run which breaks down into essentially two challenging climbs that each have over 500 vertical feet of climbing (1,300 for the course).
Appropriately, America's best XTERRA athlete Josiah "Beast Mode" Middaugh calls this place home, and has won three of the last four races here.
"Love having XTERRA here and the opportunity to showcase my backyard," said Middaugh, the reigning XTERRA U.S. Pro Series Champion. "The whole reason I do XTERRA is because of the training grounds I have access to, 90% of which are right out my front door and up Beaver Creek.  To me this place is what XTERRA is all about, the mountain lifestyle."
As an athlete and coach Middaugh has personally exposed that lifestyle to a whole new generation of athletes in the valley and says he can see it taking hold.
"I think having XTERRA here has created a triathlon community, which is really cool for me to see. Kids are getting into it, adults are getting into it.  We have a lot of swim teams, and open water swims in Nottingham Lake, which didn't use to happen before.  It's the perfect place for it."
So much so that Men's Journal Magazine recently named it "one of nine scenic triathlons that are worth the trip."
While Saturday's is in Middaugh's backyard – and on a course he helped design –that hasn't stopped some of the sports best off-roader's from heading up to the Rockies for a crack at the title.  He may be the favorite, but there are two guys in the line-up who have defeated Middaugh already this year.
Costa Rican Rom Akerson, who upset Middaugh to win the XTERRA Costa Rica Championship back in March, is on the start list and so is Kiwi Braden Currie, who won a thriller against Middaugh at the Southeast Championship in May.
The list of contenders doesn't stop there.  Ben Hoffman is up for "a little mid-summer fun" and he's proven to be as much of a force off-road as on.  He was second last year at this race and placed third the two previous years.  Brian Smith, another legendary mountain man, is jumping back into the fray as is the famous Chris Legh.
Chris Ganter, who is ranked 2nd in the Pro Series, is looking to build on his early-season success, and Branden Rakita, 3rd in the Series, had one of his best-ever races here two years ago when he placed 2nd.  Ryan Ignatz is fresh off a 3rd place showing in Richmond last month, Alex Modestou was 5th here last year, and Brad Zoller lives here.  Add Chris Foster and Thomas Spannring to the mix and you've got a worthy elite field gathered to take on one of the sports toughest challenges.
No. – Name – Age, Hometown
1 – Josiah Middaugh – 36, Eagle-Vail, CO
2 – Chris Ganter – 36, Boise, ID
3 – Branden Rakita – 34, Colorado Springs, CO
4 – Braden Currie – 29, Wanaka, NZL
6 – Ryan Ignatz – 36, Boulder, CO
7 – Alex Modestou – 28, Durham, NC
8 – Brad Zoller – 37, Avon, CO
13 – Chris Foster – 32, Redondo Beach, CA
18 – James Hadley – 35, Longmont, CO (GBR)
19 – Jimmy Archer – 42, Denver, CO
NR – Rom Akerson – 30, Tambor, Costa Rica
NR – Eli Hemming – 20, Kiowa, CO
NR – Ben Hoffman – 31, Boulder, CO
NR – Chris Legh – 42, Lyons, CO (AUS)
NR – Brian Smith – 39, Gunnison, CO
NR – Thomas Spannring – 39, Longmont, CO
NR – Benjamin Torvik – 29, Boulder, CO
NR – Noah Wright – 41, Austin, TX
No. = Rank in the XTERRA U.S. Pro Series / NR = Not Ranked
The women's race is just as sweet with the return of reigning XTERRA World Champion Flora Duffy.  Although she said she'd never do another XTERRA after suffering to a sixth-place finish at Beaver Creek two years ago – she is a radically different racer now having won 10 of the last 11 XTERRA Championship races she's entered since the start of 2014 (the lone "loss" was a 2nd-place showing to Kathrin Mueller at XTERRA Germany last year).
Duffy will be reunited with some familiar faces on the U.S. circuit in Emma Garrard and Suzie Snyder.  Snyder won the East Championship last month, her second major of the year, and Garrard has finished runner-up in all three regional championships so far this year.
Swim superstar Sara McLarty and Debby Sullivan are also in the mix, alongside a lot of fast riders from Colorado like Maia Ignatz, Sara Schuler, Rebecca Blatt, Jaime Brede and Jennifer Gersbach. Kara LaPoint twisted her ankle really bad in Richmond last month and is questionable to start, as is Solana Kline due to injury.
As the last of four regionals prior to Nationals, the Mountain Championship is a great opportunity for elites to move up in the points standings before the ultimate showdown in Utah on Sept. 19.  For amateurs it's one of only two races left where they can qualify for the 20th edition of XTERRA Worlds, and score big points towards winning their region.
No. – Name – Age, Hometown
2 – Emma Garrard – 33, Park City, UT
3 – Suzie Snyder – 33, Fredericksburg, VA
4 – Maia Ignatz – 34, Boulder, CO
7 – Sara McLarty – 32, Clermont, FL
8 – Debby Sullivan – 33, Rocklin, CA
10 – Sara Schuler – 34, Boulder, CO
11 – Rebecca Blatt – 35, Lakewood, CO
16 – Jaime Brede – 38, Breckenridge, CO
NR – Caroline Colonna – 51, Taos, NM
NR – Tamara Donelson – 39, Edwards, CO (NZL)
NR – Flora Duffy – 27, Devonshire, Bermuda
NR – Jennifer Gersbach – 35, Durango, CO
No. = Rank in the XTERRA U.S. Pro Series / NR = Not Ranked
Learn more at www.xterrabeavercreek.com
About TEAM Unlimited/XTERRA
TEAM Unlimited is a Hawaii-based television events and marketing company, founded in 1988.  It owns and produces XTERRA and in 2015 will offer more than 300 XTERRA off-road triathlon and trail running races in 25+ countries worldwide. In addition, TEAM TV has produced more than 300 adventure television shows resulting in three Emmy's and 42 Telly Awards for production excellence since 1990.  View samples at www.xterra.tv, and learn more at xterraplanet.com, xterratrailrun.com, xterraeurope.com, and xterraasia.com.