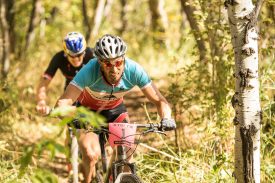 It's long been said that XTERRA is more than just a race, it's a lifestyle. Perhaps nowhere is that more evident than in Ogden, Utah where the Mayor, Mike Caldwell, was the founder and race director for the first XTERRA Ogden race back in 2004.
HONOLULU, HI – It's long been said that XTERRA is more than just a race, it's a lifestyle. Perhaps nowhere is that more evident than in Ogden, Utah where the Mayor, Mike Caldwell, was the founder and race director for the first XTERRA Ogden race back in 2004.
Mayor Caldwell and a collection of the most welcoming locals to be found anywhere rallied the entire community to bring off-road triathlon to their hometown more than a decade ago and are themselves everyday XTERRA people. They swim, bike, and run in the mountains, have fun, eat well, laugh, and unpretentiously perpetuate the sports' motto to "Live More".
"XTERRA is a unique event for our community that has grown and progressed into a world class event," said Caldwell.  "It is a huge part of our community's DNA.  These athletes and race organizers have become part of our family providing an opportunity for us to form lasting friendships with people from all over the world. Not only do I enjoy the homecoming feel the event brings, it also has great economic impact for Ogden. Our hotels sell out and our restaurants fill up. It is the perfect fit for Ogden, and I look forward to this weekend every year."
Athletes also look forward to this event every year, and more than one-thousand of the very best amateur and professional triathletes and trail runners have traveled to the Beehive State to battle for the title of XTERRA Champion.
"We love bringing the XTERRA Tribe together in Utah, the energy level is just incredible," said Janet Clark, president of XTERRA. "Ogden and Snowbasin are simply the best – between the facilities at Snowbasin, the great restaurants and atmosphere along Historic 25th Street in Ogden, and the unbelievably supportive community – we can't ask for a better venue."
The main event, the XTERRA Pan America / USA Championship triathlon is the culmination of a series of off-road triathlons spanning South and Central America, Mexico, the Caribbean, Canada, and the U.S.
It starts with a one-mile swim in Pineview Reservoir (4,900-feet elevation), follows with an 18-mile mountain bike leg that climbs more than 3,000-feet to the top of Sardine Peak (7,300-feet elevation), and culminates with a 7-mile trail run featuring another 600-feet of climbing on trails around Snowbasin Resort in the Wasatch Range.   There is also a half-distance sprint off-road triathlon and relay-team options.
This year, for the first-time ever, what has historically been an invite-only race just for U.S. citizens racing in the America Tour is now an open to one-and-all.  So sign-up and see what XTERRA is all about!
The fastest racers in each five-year age group will be honored as the XTERRA Pan American Champion, and the fastest American in each of those divisions will be celebrated as XTERRA's U.S. National Champion.
Opening up the race to all comers means one can expect some of the fastest off-roaders from Canada, and all over the world for that matter, to converge on Ogden for a shot at the crown and a chance to race on one of the World Tour's most challenging and scenic courses.  Snowbasin is an ideal spot for off-road tri in the summer time and when the fall colors turn the mountain landscape into a kaleidoscope of colors, it's spectacular.
Pros will be competing for $80,000 in prize money, and dozens of cameramen will position themselves around Wheeler Canyon and the Wasatch Range to capture all the action for a nationally syndicated one-hour TV show that exposes the beauty of northern Utah to the masses.  (Note: The award-winning XTERRA Adventures TV series, XTERRA USA and World Championship broadcasts are available as a video subscription for Prime members on Amazon Video via the Amazon Video app for TV, connected devices including Fire TV, mobile devices and online at Amazon.com/XTERRA).
The triathlons are Saturday, September 17 and on Sunday it's the trail runners turn on the mountain.
The XTERRA Trail Run National Championship half-marathon features scenic views, technical trails, and big climbs.  The half-marathon, plus the 5K and 10K trail runs are open to everyone, and it's important to note that you don't have to be fast to join in the fun.  For some, it's just about finishing and that's okay as XTERRA is all about perpetuating the healthy, active, outdoors lifestyle.
In addition to the races XTERRA will host an expo in downtown Ogden on Friday with free kids races, vendor booths, the Compex recovery trailer, Outrigger Pavilion featuring prize drawings for free Hawaii stays, Hawaii-themed treats and kukui nut bracelet making, and of course the traditional Paul Mitchell hair cut-a-thon for charity.
There is great entertainment to be found at Snowbasin Resort as well highlighted by the spontaneous, ecstatic, and sometimes tear-jerking displays of emotion at the finish line for the races.
This year, experience it for yourself.  Have a look at the schedule for places and times, and whether you race or not – join in the fun and excitement of XTERRA.  For more info and links to registration visit www.xterrautah.com, or call toll-free to 877-751-8880.  Live More!
PRO RACE
The elite's racing at the XTERRA Pan America Championship are among the best off-road triathletes in the world.  The men's race features reigning XTERRA World Champion Josiah Middaugh from Eagle-Vail, Colorado, Canada's best off-roader Karsten Madsen, Great Britain's Karl Shaw, last year's XTERRA USA and World Championship race runner-up Braden Currie of New Zealand, and Costa Rican great Rom Akerson.
The women's race is highlighted by American XTERRA Warrior Suzie Snyder, winner of four Pan Am Tour races this season.  She will have plenty of competition from the likes of XTERRA Asia-Pacific Tour Champion Lizzie Orchard of New Zealand, Brazilian star Sabrina Gobbo, French stand-out Myriam Guillot-Boisset, rookie pro sensation Julie Baker of the U.S., and nine of the top 10 ranked women in the XTERRA Pan Am Pro Series.
Follow the elite race live on twitter @xterraoffroad starting at 9am on Sept. 17.
XTERRA PAN AM CHAMPIONSHIP ELITE START LIST
MEN
Bib #/Pan Am Pro Series Rank – Name, NAT
1/1 – Josiah Middaugh – 38 – Vail, Colorado
2/2 – Rom Akerson – 32 – Tambor, Costa Rica
3/3 – Karsten Madsen – 24 – Guelph, Ontario, Canada
4/4 – Kieran McPherson – 24, Matamata, New Zealand
5/5 – Branden Rakita – 35 – Colorado Springs, Colorado
6/6 – Chris Ganter – 37 – Boise, Idaho
7/7 – Ian King – 26 – Virginia Beach, Virginia
8/9 – Sam Long – 20 – Boulder, Colorado
9/10 – Thomas Spannring – 40 – Longmont, Colorado
10/12 – Cody Waite – 38, Lakewood, Colorado
11/16 – Karl Shaw – 36, Great Britain
12/21 – Ryan Ignatz – 37, Boulder, Colorado
14/37 – Brad Zoller – 39, Avon, Colorado
15/45 – Dan Molnar – Bismark, North Dakota
16/46 – Brian Smith – 41, Gunnison, Colorado
17/47 – Michael Nunez – 35, Salt Lake City, Utah
18/56 – Eduardo Marcolino – 36 – Sao Paulo, Brazil
19/62 – Patrick McKeon – 27, Philadelphia, Penn.
20/NR – Rodrigo Acevedo – 30 – Bogota, Colombia
21/NR – Felipe Barraza – 24 – Santiago, Chile
22/NR – Barret Fishner – 33, Blodgett, Oregon
23/NR – Matt Lieto – 37, Bend, Oregon
24/NR – Alex Martinek – 24 – Durango, Colorado
25/NR – Alex Modestou – 29, Durham, North Carolina
26/NR – Cameron Paul – 26 – Taupo, New Zealand
27/NR – Jean-Philippe Thibodeau – 25 – Quebec, Canada
28/NR – Walter Schafer – 25 – Centennial, Colorado
29/NR – Braden Currie – 29, Wanaka, New Zealand
30/NR – Alex Roberts – 26, Taupo, New Zealand
WOMEN
Race #/Pan Am Pro Series Rank – Name – Age – Hometown
51/1 – Suzie Snyder – 34 – Reno, Nevada
52/2 – Myriam Guillot-Boisset – 37 – Brindas, France
53/3 – Maia Ignatz – 36 – Boulder, Colorado
54/4 – Kara LaPoint – 29 – Truckee, California
55/5 – Sabrina Gobbo – 39 – Sao Paulo, Brazil
56/7 – Katharine Carter – 29 – North Vancouver, BC, Canada
57/8 – Debby Sullivan – 35 – Stafford, Virginia
58/9 – Caroline Colonna – 52 – Taos, New Mexico
59/10 – Rebecca Blatt – 36, Lakewood, Colorado
60/12 – Sarah Graves – 39 – Ballantine, Montana
61/13 – Julie Baker – 40, Sonora, California
62/17 – Liz Gruber – 27, Colorado Springs, Colorado
63/28 – Lisa Leonard – 28 – Las Vegas, Nevada
64/36 – Amanda Felder – 34, Del Mar, California
65/NR – Elizabeth Orchard – 31 – Auckland, New Zealand
66/NR – Annie Bergen – Kelowna, B.C., Canada
NR = Not Ranked in Pan Am Pro Series
The 2016 XTERRA Pan America Championship weekend is presented by Paul Mitchell, the Utah Sports Commission, and XTERRA TV at Amazon Video. Sponsors include the GOAL Foundation, Snowbasin Resort, Hub 801, Utah Media Group, Outrigger Resorts, Gatorade, PowerBar, XTERRA Travel, U.S. Forest Service, XTERRA Wetsuits, Muscle Milk, XTERRA Fitness, Compex, Optic Nerve Sunglasses, Greenlayer, and XTERRA Boards.
About TEAM Unlimited/XTERRA
TEAM Unlimited LLC, founded in 1988, is the Hawaii-based television, events, and marketing company that brought off-road triathlon and trail running to the world under the brand name XTERRA.  From a one-off race held on the most remote island chain in the world XTERRA evolved into an endurance sports lifestyle with worldwide appeal. Over the past 20 years XTERRA transcended its status as 'just a race' to become a bona-fide way of life for thousands of intrepid athletes as well as an emerging brand in the outdoor industry.  In 2016 XTERRA will offer more than 200 off-road triathlons and trail running events in 30+ countries worldwide and produce 10 adventure television shows for international distribution.  Learn more at xterrautah.com, xterraplanet.com and xterracontent.com.
XTERRA Pan America Championship and XTERRA Trail Run Nationals Event Schedule
Sept 16-18, 2016 // Ogden/Snowbasin, UT
Friday, September 16
Opening Festivities in downtown Ogden @ Ogden's Amphitheater Park (corner 25th/Grant)
10-6pm – Expo and XTERRA Kids Zone Challenge Stations Open
10-6pm – Registration and Packet Pick-up (All events)
12-5pm – Paul Mitchell Cut-a-thon, benefit for the Challenged Athlete Foundation
3:00pm – XTERRA Regional Champion Introduction
4pm – XTERRA Kids Bike Race (free)
5pm – XTERRA Kids Sprint (free)
5-6pm – XTERRA University, presented by Paul Mitchell – Art of XTERRA
6:00pm – XTERRA Race Briefing (mandatory for Pan American Championship triathletes)
Saturday, September 17
XTERRA TRIATHLON at Snowbasin Resort
6:30am – Shuttle operating from Snowbasin to Port Ramp Marina, Pineview Reservoir
Late packet pickup at Port Ramp Marina, Pineview Reservoir (no registration)
T1 & body marking open for set-up at Port Ramp Marina/T2 open for Set-up at Snowbasin
8:20am – Last shuttle from Snowbasin to Port Ramp Marina
9:00am – XTERRA Pan American Championship Start at Port Ramp Marina (1.5k swim, 29k mtb, 10k trail run)           
9:45am – XTERRA Utah Start – Sprint Course at Port Ramp Marina (750m swim, 19k mtb, 5k trail run)
10am-2pm – Expo area open at Snowbasin – exhibits, food service
10am-3pm – Registration and packet pickup for XTERRA Trail Runs – Nationals, 10K and 5K
10:30-2:30 – Paul Mitchell Cut-a-thon – benefit for the Challenged Athletes Foundation
10:40am – XTERRA Utah Sprint winner expected at Snowbasin
11:30am – Athlete Post-Race meal served in Earl's Lodge
11:20/11:50am – XTERRA Pan American Championship Male/Female Winner Expected
12:00pm – XTERRA University, presented by Paul Mitchell – Trail Running
2pm – XTERRA Pan American Championship/XTERRA USA Championship/XTERRA Utah Awards Ceremony
2:20pm – XTERRA Cut-off at T2
6:30pm – XTERRA Dinner and After Party @ Hub801 (3525 Riverdale Road, Ogden).  Complimentary entry to XTERRA Pan Am Championship athletes.  XTERRA Utah athletes, friends, family welcome.  Admission $25.
7:30pm – XTERRA Pan American/USA Championship introduction of Champions and race highlight video
Sunday, September 18
XTERRA TRAIL RUNNING at Snowbasin Resort
7:00-8:00am – Late Registration and packet pickup
9:00am – Paul Mitchell XTERRA Trail Running National Championship Half Marathon Start
9:05am – Paul Mitchell XTERRA 5km and 10km Trail Run starts
9:00a-2:00pm – Paul Mitchell Cut-a-Thon, a benefit for the Challenged Athletes Foundation
9:20am/9:40a – 5km/10km winners expected
10:06/10:19am – Men's and Women's National Championship male/female winners expected
11:00am – XTERRA Kids Sprint (free)
11am/11:45am – XTERRA 5km and 10km awards ceremony / XTERRA National Championship race awards ceremony
12-5pm – "Blues, Brews and BBQ" at Earl's Lodge with Folk Hogan (12:30pm) and Jon Wayne & the Pain (4pm)
6:00pm – XTERRA After Party at Union Grill in downtown Ogden with Video Highlights