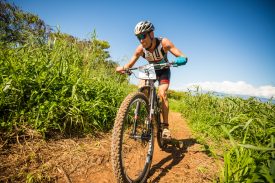 An awesome early season showdown between America's best off-roader, Josiah Middaugh, Canada's fastest man, Karsten Madsen, and Costa Rican star Rom Akerson will take place Sunday at Playa Reserva Conchal in Costa Rica's northwest province of Guanacaste.
An awesome early season showdown between America's best off-roader, Josiah Middaugh, Canada's fastest man, Karsten Madsen, and Costa Rican star Rom Akerson will take place Sunday at Playa Reserva Conchal in Costa Rica's northwest province of Guanacaste.
"Rom and Karsten will be very strong in this race," said Middaugh, the reigning Pan Am Tour Champion who enters his 18th season of XTERRA racing this weekend. "Rom won here a couple years ago and is motivated after missing most of last season due to injury. He has the local's advantage with the terrain and climate. It will be great to catch up with him. I also think this course suits Karsten well and he was very close to me in Alabama last year. So, I'll try to tire him out on the pre-ride."
Those three power-houses will be joined in the elite men's race by Sebastian Neef from Germany, who is the reigning German long-distance national champion, home country favorite Andres Zuniga, and Americans Will Kelsay, who was 5th in the XTERRA Asia-Pacific Tour last year, Ian King, who was a top 20 performer on the Pan Am Tour last season, and Humberto Rivera, who will be making his elite debut.
"This is a tough race because of the climate which is such a contrast to the mountains of Colorado in March," explained Middaugh. "The bike course has a steep climb in the beginning and then follows some fast jeep roads where you can draft. A couple years ago there was a lead pack of four guys who got out of the water ahead of me and they were working well together so it took a tremendous effort to make the catch."
Middaugh won this race last year, his first XTERRA Costa Rica title in four tries following three straight runner-up performances. "Hey, that's better than 15 tries," he said after the race, referencing the 2015 XTERRA World Championship he won on his 15th attempt.
"I am always pumped to travel to my first race of the year, especially when it is in Costa Rica," added Middaugh. "This year I am traveling with my whole family, so it will be a memorable trip regardless of how the race plays out. And yeah, 18 years now. Time flies when you are having fun. And I think the fact that my stoke level remains high after all this time says a lot for the sport of XTERRA."
Middaugh added that his goal this year is simply to be "the best version of myself. I have years of experience behind me and physically I feel great. It takes a huge commitment and daily drive to achieve the pinnacle of this sport and I am still motivated to put in the work. As for Sunday, we'll see. I have only had one day on the dirt so far this year, but I feel very strong and fit from my indoor training at the Westin Riverfront in Avon."
Another man coming in hot is Madsen.
"I'm coming to Costa Rica to race the best," he said. "I know Josiah and Rom will be there, two guys I've never beat. The goal is simple, and it'll be the same theme all year, I want to win. I've changed a lot in my life to respect a statement like that."
Madsen had a rough swim at XTERRA Worlds last year, felt shaky early on the bike and pulled. The DNF haunted him in the days and weeks to follow.
"After another unsuccessful race in Maui last year, and a December that had me contemplating retirement, I knew I needed to make some major changes," said Madsen, the reigning and two-time XTERRA Victoria Champ. "I got accepted back into training with the Canadian National team program coached by Jono Hall and I got new training mates that race ITU WTS level events to push me. This year is about getting back to turning over every stone and doing the sport the way I know it needs to be done … along with having fun again."
Madsen has been training in Phoenix, Arizona since early January, which should serve him well in the heat and humidity of Guanacaste.
"With the new training program, I've found myself back to doing a lot more top end quality work," he said. "I've been working out at a consistency like never before. I've run my biggest run weeks ever this year and with a small body mass drop all that should help me on the bike and up the steep climbs. Thanks to my support team and sponsors, this year is my most ambitious yet with a whole lot of racing and travel, and I'm looking forward to having another crack at the XTERRA Pan Am Tour."
In the women's race local standout Adilia Jimenez, who won the overall amateur title at XTERRA Costa Rica last year and most recently finished 4th elite female at the Central American Games in Nicaragua, is hoping to take the top step in front of her family and friends.
Americans Rebecca Blatt, who placed sixth at this race two years ago, and Jessie Koltz, who finished 11th on the XTERRA Pan Am Tour in 2017, are also in contention for the title.
Learn more at www.xterraplanet.com.
All-Time XTERRA Costa Rica Champions
2014 – Leonardo Chacon/Shonny Vanlandingham
2015 – Rom Akerson/Lesley Paterson
2016 – Karl Shaw/Myriam Guillot-Boisset
2017 – Josiah Middaugh/Suzie Snyder
XTERRA ARGENTINA SATURDAY IN SAN JUAN
Two-time Olympian Gonzalo Tellechea is back to defend his XTERRA Argentina title in front of family and friends at Dique Ullum this Saturday.
Tellechea, who hails from San Juan, had a great back-and-forth battle with fellow countryman Maxi Morales on the run before squeaking out the win by 25-seconds last year.
Morales is also back to give it another go, and joins Kieran McPherson (NZL), Branden Rakita (USA), and Rafael Juriti (BRA) who all raced at XTERRA Chile last weekend.
"I am looking forward to the battle with Gonzalo, Kieran, and Maxi," said Rakita, who was the runner-up on the Pan Am Tour last year. "I had a nice confidence boost from the race in Chile and look forward to putting it all together here as well.  It isn't really a secret, but I hope to build a gap in the swim and keep it all the way to the finish.  All these guys are very strong bikers and runners, so I will have to really give it everything to stay ahead of them."
XTERRA Argentina, now in its third year, is the second of 12 stops on the 2018 XTERRA Pan America Tour.
It starts with 1.5-kilometer swim in a dam full of warm water that looks out towards the snowcapped Andes in Chile, where the tour stopped last weekend.
"The venue for XTERRA Argentina is unique and fun, but also demanding," said Rakita, who was fourth here last year. "The swim is in a beautiful lake and my guess is the water is right around 70-degrees and a great way to cool off with the warm days leading up to the race. The bike is very different from XTERRA Chile which had long grinding climbs. Here they are short and punchy. Most of the track moto's ride on and so there are a lot of whoop sections you are pumping the bike through and it twists and turns through the valleys and dry river and creek beds."
Rakita added that this year's course has a lot more loose sand compared to last year and it can quickly grab your tire and sink if you are not paying attention.
"It's really fun to ride, and the run is a brute. It is very exposed and is a gradual slog running up a rocky river bed for 5k then run down a different one that is a choose your own adventure as you are just trying to pick the fast line while spotting the red markers."
The women's elite race will be a rematch from last week with Allison Baca shooting for two wins in two weeks, while Fabiola Corona, Carolina Nieva, and Anne-Sophie Marechal – who finished 2nd thru 4th last week – all try to move up a spot or two.
Learn more at www.xterraplanet.com.
ALL-TIME XTERRA ARGENTINA ELITE CHAMPIONS
2016 – Josiah Middaugh / Myriam Guillot-Boisset
2017 – Gonzalo Tellechea / Suzie Snyder
XTERRA AMERICA TOUR STARTS THIS WEEKEND
While there are many reasons to love the beginning of spring, there is no doubt that for the XTERRA Tribe, the best part is that it signifies the start of XTERRA racing in the U.S.
This Saturday, XTERRA Bluebonnet in Bryan, Texas and XTERRA REAL in Granite Bay, California serve as the first chance for South Central and West region athletes to begin earning points in pursuit of a regional championship (and the Maui spot that goes with it).
"XTERRA REAL is the reason I own a hoody and booties," said XTERRA Pan Am age group Champ, Janet Soule, in anticipation of the chilly water she has a date with this weekend. "The swim is followed by two super fun bike loops on a hilly, curvy trail, and the run is all trail and really fast. It's a great course with the typical warm and friendly XTERRA vibe."
On April 22nd, as the weather heats up in the southern states, the XTERRA Southeast region will kick into gear with XTERRA Myrtle Beach while the Atlantic region will follow on May 6th with XTERRA Jersey Devil in Barnegat, New Jersey. The XTERRA Northeast region joins the mix on June 6th with XTERRA French River in Oxford, Massachusetts, where the nation's hardiest athletes show what they are made of after months of training through snow and ice. The Midwest region gets underway June 10th at Illinois Wilds in Hanna City while the much beloved XTERRA Lory announces the arrival of Mountain region racing on June 16th in Bellvue, Colorado.
The season keeps rolling until the XTERRA USA/Pan America Championship in Ogden, Utah on September 15th and is punctuated by two championship races. XTERRA Oak Mountain in Pelham, Alabama on May 19th and XTERRA Beaver Creek in Avon, Colorado on July 21st feature some of the best trails in the country. Even better, they attract some of the best XTERRA athletes from all over the world.
We know this season will go quickly, as it does every year, and we can't wait to see what will unfold. We look forward to watching the races for regional championship titles and to see who earns a ticket to Maui by being the fastest on a given day at XTERRA Oak Mountain, XTERRA Beaver Creek, and XTERRA Nationals.
However, the best part of the tour belongs to the athletes. Whether it's the quiet fortitude of the Northeast warriors, the rambunctious shenanigans of the Southeast athletes, or the diehards in Texas, who eat points for breakfast, we salute the men and women who will bravely toe the line, suffer well, and finish strong in 2018. We have no doubt they will inspire us with their courage, grace under pressure – and because this is XTERRA – their camaraderie and kindness.
LiveMore at www.xterraplanet.com.  #XTERRAADVENTURES