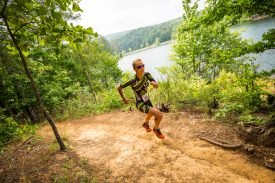 More than 600 off-road triathletes and trail runners from 35 states and 12 countries took to the twisting trail at Oak Mountain State Park in Shelby County, Alabama on May 19-20, 2018. Two-time XTERRA World Champion Lesley Paterson from Scotland had a particlulary impressive weekend, winning both the off-road tri elite title and the 20K trail run the next day.
Josiah Middaugh and Lesley Paterson captured the 13th annual XTERRA Oak Mountain off-road triathlon elite titles on a beautiful day at Oak Mountain State Park in Shelby County, Alabama on Saturday, May 19, 2018.
It's the third straight year Middaugh has won this race and his fifth win in six years on this course.  For Paterson, it's her fourth victory here since 2012, and for both, their first big XTERRA win of 2018.
In the men's race Ian King was first man out of the water in 21:11, followed closely by Karsten Madsen, Branden Rakita, Rom Akerson, and Victor Arenas.  Middaugh came of the 1.5-kilometer swim in 23:56, nearly three-minutes behind the leaders, and quickly went to work on the bike.
"I had quite a deficit out of the swim and had to remind myself to just keep pushing all the time," said the reigning XTERRA Pan Am Tour Champ, who posted the fastest 30km bike split of the day in 1:20:56.  "For me to get to the front, it's max effort every chance I get."
Middaugh was able to pass six of the eight guys ahead of him by the end of the bike, all but race leader Rom Akerson and Karsten Madsen.
"Toward the end of the bike, I was hearing I was within one-minute but I still couldn't see anybody, and then I heard I was 35 seconds behind but still couldn't see anybody, and then finally I saw Karsten at the very end there," said Middaugh.  "I thought Rom must have been another minute up the trail, but when I came out of the bike-to-run transition we were all in there together, 1,2, 3."
When Middaugh speaks of Max effort, the final quarter-mile of the bike was a perfect example, as he reeled-in 10-15 seconds by hammering the final stretch.
"You have take time whenever you can," he said.  "Coming in on the road, I saw Karsten starting to take his shoes off and I thought, I'm going hard for another 10 seconds."
At the start of the two-lap 10km trail run around Double Oak Lake it was an exciting three-man chase and then another all-out effort by Middaugh propelled him into the lead about half-mile into it.
"Right away on the run we were all pushing hard but I was able to take the lead just before the start of the single track. Karsten and I were pretty much sprinting to that spot," he said.  "I was thinking if I can get in first then I can hit all those little rollers and start working the hills and just hope to wear him down. So, it worked. I wanted to put a gap on him early because when you're feeling good, you don't know how long it's going to last. You can go from feeling real good to real bad, real quick."
Middaugh crushed the run in 39:04.  The only other sub 40-minute run came from XTERRA Pan Am Pro Series leader Kieran McPherson, who had the best split of the day in 38:50 and ultimately finished 5th.
His winning time was 2:23:56, more than one-minute ahead of Madsen who finished in second for the second straight year behind Middaugh.
"That was by far the worst I've felt all through a race, but I persevered," said Madsen, who won XTERRA Uruguay two weeks ago and was second to Kieran McPerson at XTERRA Brazil last week.  "Three races in three weeks is just about one of the hardest things I've done. All this week I could barely train because my legs were so sore and tired, but this course gives me confidence and I used the ability I have in single track riding to keep in contention. I was trying to best Josiah today but he's such a veteran racer and he found that extra gear."
Madsen, who sits in second on the Pan Am Pro Series after six events, added that the bump-n-grind style of racing at the park today was a thrill … "That's XTERRA," he said. "When it's close and competitive like that, it's absolutely phenomenal."
The battle for third was equally amazing. Rom Akerson, who beat Josiah and Karsten to win XTERRA Costa Rica in March, was in position to finish third but went the wrong way for a few strides just before the finish chute and ended up in a sprint finish with Brian Smith.
"Rom and I were pretty close together all the way around until we got a quarter of a mile into the single track on the second lap," said Smith. "He went by me and I said, "Great job, go ahead," and I thought it was all over at that point. Then we got to the dam and he stopped to get water and I was close again, but he was still 10 seconds ahead. The finish wasn't even going to be close, but he went left and had to run back towards me to get back on course and we ended up together down the finish chute. I gave it everything I could and got it by a lean at the line."
Akerson, who was the first man into the bike-to-run transition, felt like he let one slip away today.
"I came off the bike and into transition first and then went out on the run and Josiah and Karsten caught me and they were running hard, but nothing I can't normally keep up with. It was a fast pace, but nothing too hard, and then a couple hundred meters before the end of the first lap I got this pain in my chest, like a cramp or something.  I had to stop and sit down and put water on my head. I couldn't even breath," Akerson explained.  "I started running again and then Brian caught me and we ran together and ultimately he beat me over the line at the end there. It was a race I should have won today. I had it in my pocket."
McPherson, who won at XTERRA Brazil last week, finished just 21-seconds behind in fifth. Watch the Highlights / Full results / Photo Gallery
In the women's race Erin Storie, who was competing in her first-ever XTERRA, posted the fastest women's swim of the day in 21:26, better than all but five elite men. Fabiola Corona, Jessie Koltz, and Julie Baker were next, a little over two minutes back, then Paterson in fifth.
It didn't take long for the two-time XTERRA World Champ to get into the mix upfront.
"I got out there and felt really good and I had a lot of fight in me today," said Paterson, who was second to Jacqui Allen at XTERRA Tahiti last week.  "I caught up to Julie Baker who had the lead at the top of the climb and then we went back and forth on a bunch of the trail until we got to the road and I put in an attack down Johnson Mountain trail and kind of managed to get 30 seconds coming into transition."
Paterson added to her lead by posting the fastest run split of the day and finished in 2:47:50, more than three minutes ahead of Baker.
"I tried to give Lesley a little race," smiled Baker.  "We traded a bit on the bike but she was really strong, and had a super run. I just do the best I can.  But ya know, it's fun.  It's like a vacation coming here, I just felt great as soon as I got here."
Paterson was quick to agree, adding that "It's so beautiful, the terrain is amazing, the people are amazing. It's just an incredible place."
Corona, a four-time XTERRA Mexico Champ, went back-and-forth with Kara LaPoint on the run and was able to pull away to take third by about 30 seconds. She was ecstatic with the result.
"It was amazing, I love this course, the bike is awesome," she exclaimed.  "Kara passed me on the first lap of the run and I was like, OK, I'm in 4th place, but then I thought, no, all my family is here and they spent too much for the hotel and the flights for me to finish fourth. Fourth place is like a chocolate medal for me, not bronze. So, I caught a second wind and caught Kara then threw down a big sprint. For me, third place here is like first place, like gold."
With the win Corona moves into third place in the Pan Am Pro Series behind Carito Nieva and Kelli Montgomery with six races to go.
LaPoint had a great race and gave it everything she had to finish in fourth, while Jessie Koltz finished in fifth.
McPherson, Nieva lead XTERRA Pan America Tour
At the midway point in the XTERRA Pan America Pro Series Kieran McPherson holds a 62-point lead on Karsten Madsen, with Branden Rakita in third, Rafael Juriti from Brazil in fourth, and Middaugh jumping up to fifth with the women.
For the women it's still Nieva in the pole position, with Kelli Montgomery 31-points back in second, the Corona, LaPoint, and Laura Mira Dias.
Up next: XTERRA Dominican Republic —
Then on Sunday, May 20, 2018, Richard Kimani from Kenya and Lesley Paterson from Scotland captured the XTERRA Oak Mountain 20K titles on a hot and humid morning.
It's the second win in a row at Oak Mountain for Kimani and the second time Paterson, who captured the grueling XTERRA Oak Mountain off-road triathlon elite title less than 24 hours earlier, has won two races in two days here (she did the same thing in 2013).
"I wanted to come back to XTERRA Oak Mountain because I love the course and the challenge of it," said Kimani after he crossed the finish line. "It was definitely hard out there today and so very warm. I had to watch my feet because of the roots and the sharp stones and tight turns."
Kimani finished the race in 1:22:04, which equates to 6:37 pace per mile. His time was about 10 minutes slower than his time the previous year when the weather was cloudy and almost 10 degrees cooler. All runners commented on the heat, which they agreed was the most brutal opponent of the day.
Kimani was born and raised in Kijaido, Kenya where running and coaching became a big part of his life. He spent five years training with elite marathoners in the Ngong Hills and in Eldoret, Kenya, which is about 7000 feet above sea level. He has a personal best of 2:18 in the marathon and a half marathon PR of 1:03, which is the same as three-time XTERRA Trail Run World Champ Joseph Gray's PR in the same event. Kimani currently resides in Homewood, Alabama, where he trains on the roads and trails of nearby Red Mountain.
Andy Lee, who was the first amateur finisher at the XTERRA Oak Mountain off-road triathlon the previous day, was second in the 20K today in 1:33:35. Will Kelsay, who finished eighth among the elites at XTERRA Oak Mountain yesterday, was third in 1:38:16.
"These are great trails," said Lee, who is a firefighter in Austin, Texas. "I ran by myself all morning and felt good despite the heat. I knew I couldn't match Richard, so when he took off at the start, I let him go."
Paterson showed her trademark grit on the two-lap, 20K run which challenged all competitors with its switchbacks, stones, and exposed roots. She was challenged by 17-year old high school running phenom, McKenzie Hogue and had to call up her famous alter ego, Paddy McGinty.
"I woke up this morning feeling so trashed," said Paterson after her race yesterday which included a 1.5K swim, a 30K mountain bike ride, and a 10K run on the same course as the XTERRA Oak Mountain 20K Trail Run.
"I thought that maybe I could just head out on the run, but there were some strong girls out there. Paddy was not there at the start, but when McKenzie caught up to me at the end of the first lap, Paddy came out. I put in a big effort on the road and just plugged away. I wish I could say it was fun, but it was brutal."
Paterson finished the run in 1:43:21, which is 8:19 pace per mile. McKenzie Hogue came in less than two minutes behind in 1:45 flat, while last year's XTERRA Oak Mountain 20K Champ, Jennifer McGranahan was third in 1:49:39.
McKenzie Hogue may only be a teenager, but she has been competing in triathlons since she was 11. This year, running for Thompson High School in Alabaster, Alabama, Hogue won the Shelby County Cross Country Championship in the fall. This winter, she won both the 1600 and 3200 meter runs at the AHSAA Indoor Track and Field Championship and then did it again at the AHSAA Outdoor Track and Field Championship this spring.
The run at XTERRA Oak Mountain was Hogue's first 20K ever.
"Oh my goodness, I love it out here. It's amazing," said Hogue after the race. "This was my first 20K and I wasn't sure exactly how to run it. I tried to stay with the first two girls on the first lap and I moved into second place on the second lap. Then it got so hard, I tanked. It was a lot harder than I anticipated but I kept trying to push through."
Jennifer McGranahan was visibly disappointed in her third-place finish, but displayed her trademark sportsmanship and love for running.
"I'm a little perplexed," said McGranahan about her performance. "I thought I was in better shape than that, but I felt like I hit a brick wall out there today. I kept reminding myself that we were all hurting out there, so don't throw in the towel. Ultimately, you can only do your best on the day. The course was beautiful as always and everyone was so great."
In true XTERRA fashion, McGranahan was encouraged by a fellow runner, Justin McDonald, who finished seventh overall, but ran with McGranahan for most of the second lap.
"We didn't talk out there, but it's good to have someone to run with. It can get lonely out there," said McDonald after the race.
In the 10K trail run, Richard Kipp won for the men in 46:02. David Ash was second in 46:19 and Daniel Peco was third in 47:37. In the women's race, Aubrey Peco won in 50:30, XTERRA triathlete Sian Crespo was second in 53:38, and Leslie Crais was third in 56:45.
The day also featured a 5K on the trails, which was won by Andrew Kilgore in 21:48. Brody Church was second in 23:21, and Jacob Villani was third in 23:49. For the women, Clark Stewart was first in 26:30 while Uta Wendland was second in 26:51. Sarah Kemper was third in 27:10.
Watch the Highlights / Full results / Photo Gallery
SPECIAL THANKS
XTERRA Oak Mountain was presented by Paul Mitchell, and our great sponsors from Shelby County, Suunto, OOFOS, Gatorade Endurance, XTERRA Fitness, XTERRA Boards, and the Shelby County Reporter. Special thanks to our volunteers, the Pelham Fire Department for taking such good care of our athletes, the good folks at Oak Mountain State Park, and all the BUMP members for maintaining the trails we love to race on each May. 
Video News Release Download Links
XTERRA Oak Mountain off-road triathlon, May 19, 2018
https://spaces.hightail.com/receive/kl4BvoEQny/dHJleUB4dGVycmFwbGFuZXQuY29t
XTERRA Oak Mountain Trail Runs, May 20, 2018
https://spaces.hightail.com/receive/zQAqCHLPqe/dHJleUB4dGVycmFwbGFuZXQuY29t