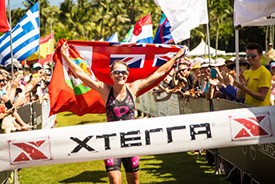 One elite became an instant legend in her home country and another solidified his status among XTERRA's all-time greats at the 19th running of the XTERRA World Championship on Sunday afternoon.
Complete Results / Highlight Video
October 26, 2014 (Ritz-Carlton Kapalua, Maui, HI) – One elite became an instant legend in her home country and another solidified his status among XTERRA's all-time greats at the 19th running of the XTERRA World Championship on Sunday afternoon.
Flora Duffy, who first dreamed of becoming a world champion when she was 8-years-old, became the first pro triathlete from Bermuda to win a world title and Ruben Ruzafa from Spain captured his third XTERRA World Championship and wrapped up a perfect season that featured nine straight wins, the XTERRA European Tour Championship, the ITU Cross Triathlon World Championship and the XTERRA USA Championship.  Ruzafa and Duffy each received $20,000 for their respective victories.
More than 800 endurance athletes from around the world participated in the off-road triathlon, which started and finished at The Ritz-Carlton, Kapalua hotel on Maui. The course consisted of a 1-mile swim, a 20-mile mountain bike, and a 6- mile trail run.
RUZAFA REIGNS   
It used to be all about the bike for Ruben Ruzafa, who has now posted the fastest bike split at all three XTERRA World Championship races he's entered (and won) , but now he's almost just as strong at swimming and running.
"I feel great, it's incredible. Until you finish the race you don't know if you are going to win. Today, I knew it was going to be hard because Josiah was really good. I am surprised because I swam very well… but Josiah did really well in the ride, and running of course he was very fast. So, it wasn't until the end of the course that I knew he was not there."
Ruzafa came out of the water less than one-minute behind the leaders and made all that up and more to take the lead on the bike by the six-mile mark when he passed the other 11 riders in front of him and finally Ben Allen.  More importantly, his 20:51 swim split was 1:45 faster than his toughest opponent, Josiah Middaugh.
He extended the gap on Middaugh by 50-seconds on the bike and even though the American XTERRA icon ran more than a minute faster in the final leg of the race, it wasn't enough.   Here's how Middaugh explained it…
"I knew I had to have a really good swim. I had a great start today and I had the best swim I've ever had here.  I was a little over two minutes behind the lead, but really close to the people I was racing with but Ruben was off ahead with an even better swim. He wasn't too far off the front. I caught the top 5 on the bike really early and I put together the best race I have done here.  It wasn't quite enough to win but I'm very happy with second. I feel like I pushed really hard all the way through. I feel like I emptied the tank like 50 times and put every single thing into this race. Best day I've had."
Aussie Ben Allen came out of the water up front with Mauricio Mendez, was the first out on the bike course after a quicker transition and held the lead until Ruzafa caught him at around mile four.  Middaugh passed 33 people in front of him before he passed Allen at mile 13 and moved into second.  Allen stayed in third the rest of the way.  Here's what he said after the race:
"I'm so stoked to back up my third-place last year.  It's been a roller coaster ride but I've finished top 5 in every race and to come here and back it up, it just goes to show it wasn't a fluke last year and shows me that I'm a force to be reckoned with in the sport of XTERRA. I mean, I really dug deep today and had the attitude that I had nothing to lose and gave it a crack."
Dan Hugo, who won seven races on the XTERRA World Tour this year, also came in to the main event in fine form.  Much like Middaugh, he was happy with his effort, if not the result that came with it.
"The guys set the bar exceptionally high, maybe the best expression of XTERRA we have ever seen," said Hugo.  "Salute and credit where due, especially my friend Joe in second, so sublime, he's in the best shape and he must be recognized for that. Personally, I came in digging and I really wish there was more but it felt great. I wish it felt this way but I went quicker."
In a finish for the ages, Mauricio Mendez from Mexico City (who turned 19 earlier in the week) edged Bart Aernouts and Conrad "the Caveman" Stoltz by two seconds.  Aernouts went on to finish 6th and Stoltz was 7th.
"Being fifth place in my first year as a pro is unbelievable.  When I started running I just told myself that this was a fight with me, nobody else," said Mendez, who moved up eight spots from 13th to 5th with a blistering run split of 38:50 that was second only to Middaugh.
More Ruben Ruzafa Quotes
– "I knew that the run part would be really hard because Josiah runs really fast. I pushed the whole time because of him. I knew he was a really strong competitor."
– "I feel great, it's unbelievable. I go race by race and once again I'm really, really happy for me and for my family."
– "Really special for me.  I've been racing the whole season and I prepared the entire season for this. I knew that we were working in a good direction."
– "The bike course is really tough, the run course is more tough because you come tired from the bike so the running is the worst."
More Josiah Middaugh Quotes
– "You know, it feels good because I did everything that I could do today. I feel like I pulled out all my stops in my training and I put together the perfect race for me. You can't control what other people do. Ruben was stronger today and I feel like I had the best race I've ever had here."
– "Ruben was unbelievably tough. He had a little over two minutes going into the run, and I knew if I had a chance I would have to take a minute in the first half of the run. I tried as hard as I could to take it back but he was climbing just as fast as I was climbing and I was going for it, so yeah, he was super strong. I run downhill faster than he does and I knew I could make up a minute but I was just too far back."
– "I'll be a little pissed off with second but like I said, it was the best day I've had here just as far as really high intensity the whole way, really high energy all the way through, and the best preparation I've ever had for this race."
– "It was hot but I felt like I managed the heat well, being hyper hydrated before the race started. I kept cool with some cold bottle and ice packs on my back, cold frozen bottles in my hands and I felt actually fine all the way through."
More Ben Allen Quotes
– "Ruben caught me I think about mile 4 or 5 and I was so surprised he caught me so quickly. I was first at that stage and Ruben caught me and passed, credit to him he's improved on his swim he's a world champion so what do you expect. I'll come back next year, I'll work with my coach and we'll go back to the drawing board and have another crack."
– "Josiah caught me at mile 13, and he was flying. He had the look of determination on his face, I could see it. I told him to go for it. I tried to stay with him for as long as I could on the bike and not lose too much time to him and I did that and same on the run when Ii started, just tried to hold on for as long as I could."
– "This place is so special; words can't describe the feeling and the atmosphere, the people.  It's just one big party and all of us XTERRA athletes we really embrace this sport here, it's the home of XTERRA its where it was born and breed, to come back here and put on a dream performance it's a dream come true."
More Dan Hugo Quotes
– "It was a special day being involved in Flora's build up and execution so a lot of joy today. Brad, so much to take from, at the very top he had broken a pedal but still was just behind me. I looked around and thought maybe I'm a better tutor than I am a student."
– "Beautiful day, as cool as it can be in Maui and the tacky course was exceptional. The single track was divine and it was such fun riding. Couldn't have asked for better conditions. I just wish that somehow I could go quicker.  Still, fantastic year.  I'll look back on 2014 with big smiles, quite the way from XTERRA South Africa to Maui, it's been a dream-like year."
– What now… "I plan to make up for a few things this afternoon, in excess, and then shoot to New York to run in the New York Marathon – a bucket list dream, and then fly to Bermuda, hit South Africa, then have a November month of holiday. I need to fuel the soul for a little bit."
DUFFY DOMINATES
It was only a little more than a year ago when Flora Duffy finished out of the top five at the XTERRA Mountain Championship and told herself, "never again."
There was an again, fortunately, at Maui last year where she surprised herself with a 3rd-place finish. After that she went to South Africa – where XTERRA roars – and honed her skills in the craft of mountain biking and the results were remarkable.  Combine the fitness she already possessed with some mad skills and Duffy turned into a dominant racer.  She won everything except XTERRA Germany, and by big margins.
Nothing could stop her today, not a mechanical, not even a wicked crash that sent her flying into the bushes and ripped holes in her racing kit.
"I crashed so hard, I literally don't know how I got back on my bike," said Duffy. "You know how it's a steep gnarly decent, I hit a root awkwardly and just flew into the trees head first with the bike on top of me. I was lucky I landed in the bushes.  Then, five minutes later I had a mechanical.  It was a hard day out there."
It was even harder for all the elite women trying to keep up with Duffy.  Last year's women's winner Nicky Samuels did her best, but said she lacked the fitness after her break from ITU racing.
"I had a break after the ITU season so I think 3rd is about where my fitness is, and to hold on to 3rd place was good enough for me," said Samuels.  "Flora probably pulled away at the 1k or 2k mark on the bike, so really soon. And I think she was pulling the same ground going down, so huge difference in her bike fitness and mine.  Barbara (Riveros) passed me on the last descent and then pulled away."
Riveros, who was the runner-up two years ago and finished fourth last year, worked her way back into the second spot this year.
"I'm very, very proud of Flora," said Riveros.  "I'm happy for her for getting the title for her country. She's a role model.  She's very strong and I knew she was the big contender here and she more than proved that today so clap for her and congratulations to everyone."
Emma Garrard continues to shine bright as America's top female racer and improved on her fifth-place performance of a year ago with a fourth-place showing today.
"I was about 12th out of the water but there were some girls not too far ahead so that was kind of helpful," said Garrard.  "By the ridge I had kind of caught up to Jacqui and Susie but didn't pass them and on the next climb I could see Melanie.   Before we got to the single track at the end I made a move on Melanie and Kathrin.  Susie wasn't too far in front but I couldn't catch her on the last section coming into transition. I was side by side with Susie and had no idea if Helena was behind us. I really hoped I could make it on the podium on the run but…"
Helena Erbenova was several minutes behind the leaders after the swim but coupled a great bike and run to work her way into fifth despite crashing on the bike.
More Flora Duffy Quotes
– "I'm super happy. This was my goal for 2014 to come out and win and it feels good to have executed and achieved my goal."
– "It was super-hot. The swim was tough because it was choppy out there. Luckily I'm a strong swimmer and my choppy stroke works in that condition. Up on the bike it was super hard, I mean this is a brutal course in the best conditions. I crashed really hard seven miles in and just tried to forget about that. I had a mechanical and that's just part of the race and you have to stay calm and keep pedaling because it's a really long race. There's plenty of time to make up time."
– "I felt alright but I didn't feel like I was riding my best.  I didn't feel sluggish but I just kept pedaling and felt smooth through the technical, that's a strength of mine."
– "I was really shaken (after the crash). This was the first time I had crashed that hard on the race and for it to happen in the world champs that messes with your head. You really just have to take a deep breath and calm down, realize these things happen in mountain biking on a super gnarly descent, and just get back on your bike. I think of it in the perspective that the girls behind you are having their own issues. No one is having a perfect race out there because it's so brutal, just stay calm and keep pedaling."
– "I kept getting all these time splits. At one point I heard 4 minutes then 5, then 3:15, but honestly on the run I felt super strong but of course the memories of last year were in my head where I totally cracked on that beach, totally cracked. So when I hit that beach and I felt really good, I was like alright…"
– "I've always dreamed of being a world champion so to finally get it done today is pretty cool."
– "I knew it was going to be a tough day and I had to be at my best to cross this line first. I was leading for pretty much all of the race, and at the time splits I didn't really know where everyone was so I tried to push it as hard as I can."
More Barbara Riveros Quotes
– "It could be better, obviously, I'm very hard on myself. I just felt weak on the start, you know, I crashed a couple days ago and my shoulder was a bit sore but that's no excuse for me.  It was up and down throughout the race. I started not so fast and on the bike it was really hard to find my rhythm, I think I felt the girls were going to overtake me. There was a group of guys that did and then when we got on the peak of the climb and we started descending suddenly  I see Nicky and I was like woah, she's not doing that well because I was terrible but I think, you know, some guys overtook me so I tried to find the rhythm and be strong.  I try to race a little bit downhill and got out of the course a few times, but that's XTERRA, this is exciting you have to risk something."
More Emma Garrard Quotes
– "The swim was hard for me, diving through the first wave I got some water in my goggles so that was hard but it seemed better than last year. I thought that it was in great condition, you had to focus on the climb. There were some breezy sections but I thought the bike went by pretty fast."
– "I'm really honored to be called America's best. Before the race I wasn't feeling so great and a lot of people coming up to me wishing me luck and that meant a lot. I'm glad I could race well for all the XTERRA folks."
JEANNIN, WEBSTER WIN AMATEUR TITLES
Guillaume Jeannin from France was the top amateur finisher and placed 20th overall, and about a minute ahead of runner-up Lars Fricke while Brittany Webster from Canada was the top overall amateur woman, finishing 17th woman overall in 3:17:36.
Both Peter Wood and Ed Fattoumy picked up their 9th XTERRA World Championship crowns and are well positioned to get their 10th at next year's 20th XTERRA Maui race.  Also of note, Dennis Brinson and David Rakita won their second titles.  For the women, Cindi Toepel and Hannah Rae Finchamp each won their fifth world title, while Judith Abrahams and Tamara Tabeek captured their second.
OUTRIGGER RESORTS DOUBLE AWARD
Bart Aernouts finished 10 seconds ahead of Michi Weiss today and 10-minutes ahead of him at Ironman Worlds for a combined time of 11:07:24 to win the 2014 Outrigger Hotels & Resorts elite double title and $2,500 prime.
Janez Klancnik from Slovenia won the men's amateur double in 12:42:03, 14-minutes ahead of Daniel Mannweiler of Germany; while Nicole Valentine of Maryland overcame a 16-minute deficit after Ironman to take the women's amateur double over Kelley Hess.  Each earned a six-night stay at Outrigger Aina Nalu for their efforts.
LEILANI'S PRIME
Josiah Middaugh and Barbara Riveros posted the fastest runs on the Leilani's Run Course, and each received $100 gift certificates.
Four other amateur competitors received $100 gift certificates to Leilani's for their running times: JP Donovan, Brittany Webster (by one second), Jefferson Oishi and Kimberly Mufalli.
XTERRA WETSUITS PRIME
Daniel Neilson and Jessica Simpson were the winners of XTERRA Vortex full wetsuits for posting the fastest amateur swim times.
MUSCLE MILK PRIME
Winners of special back packs from Muscle Milk for the Muscle Milk U25 Prime were Thomas Kerner, Xavier Jove Riart, and Maxim Chane for the males, and Natia Van Heerden, Larissa Rabago, and Hannah Rae Finchamp for females.
The XTERRA World Championship was presented by Paul Mitchell, Maui Visitors Bureau, The Ritz-Carlton, Kapalua, and Outrigger Hotels & Resorts, and sponsored by Muscle Milk, Kapalua Resort, Gatorade, PowerBar, T S Restaurants, Hawaii Tourism Authority, LifeProof, XTERRA Coffee, Kona Brewing Company, XTERRA Boards, Champion Systems, Greenlayer, Optic Nerve Sunglasses, Rockwell Watches, XTERRA Fitness, Maui No Ka 'Oi Magazine, and XTERRA Wetsuits
2014 XTERRA WORLD CHAMPIONSHIP QUALIFYING EVENTS
The 19th annual XTERRA World Championship was the culmination of 37 events where the fastest amateur athletes from around the globe qualify to race at Kapalua, Maui on October 26, 2014.
Date Race Location / Pro Winners
23-Feb XTERRA South Africa Dan Hugo / Flora Duffy
8-Mar XTERRA Motatapu Braden Currie / Nicky Samuels
15-Mar XTERRA Philippines Championship Dan Hugo / Renata Bucher
29-Mar XTERRA Guam Championship Dan Hugo / Renata Bucher
29-Mar XTERRA Costa Rica Leonardo Chacon / Shonny Vanlandingham
30-Mar XTERRA Great Ocean Road  Ben Allen / Jacqui Slack
5-Apr XTERRA Saipan Championship Ben Allen / Carina Wasle
12-Apr XTERRA New Zealand Championship Conrad Stoltz / Barbara Riveros
13-Apr XTERRA West Championship Josiah Middaugh / Flora Duffy
26-Apr XTERRA Asia-Pacific Championship Dan Hugo / Flora Duffy
3-May XTERRA Malaysia Dan Hugo / Jacqui Slack
17-May XTERRA Southeast Championship Josiah Middaugh / Flora Duffy
24-May XTERRA Mauritius Sam Gardner / Karyn Southgate
25-May XTERRA Spain Championship Ruben Ruzafa / Helena Erbenova
1-Jun XTERRA Portugal Ruben Ruzafa / Coralie Redelsperger
8-Jun XTERRA Brazil Championship Felipe Moletta / Sabrina Gobbo
15-Jun XTERRA East Championship Dan Hugo / Flora Duffy
21-Jun XTERRA Greece Francois Carloni / Kathrin Mueller
28-Jun XTERRA Switzerland Championship Ruben Ruzafa / Kathrin Mueller
29-Jun XTERRA Norway Dan Hugo / Cecilie Overbye
5-Jul XTERRA Ontario – Canadian Cross Tri Championship Sean Bechtel / Heather Pady
6-Jul XTERRA France Championship Ruben Ruzafa / Kathrin Mueller
6-Jul XTERRA Victoria Brent McMahon / Melanie McQuaid
6-Jul XTERRA Freedom Fest Sergio Florian / Laurel Dudley
13-Jul XTERRA Sweden Braden Currie / Helena Erbenova
19-Jul XTERRA Mountain Championship Josiah Middaugh / Chantell Widney
26-Jul XTERRA Italy Championship Ruben Ruzafa / Helene Erbenova
2-Aug XTERRA Mexico Championship Irving Perez / Fabiola Corona
9-Aug XTERRA Czech Championship Ruben Ruzafa / Kathrin Mueller
16-Aug XTERRA Germany Championship Ruben Ruzafa / Kathrin Mueller
17-Aug XTERRA Canmore Mathieu Signoretty / Brittany Webster
24-Aug XTERRA England Conrad Stoltz / Emma Garrard
31-Aug XTERRA Denmark Conrad Stoltz / Kathrin Mueller
31-Aug XTERRA Quebec Jean-Philippe Thibodeau / Claude Godbout
7-Sep XTERRA Sleeping Giant Scott Hill / Charlotte McShane
20-Sep XTERRA USA Championship Ruben Ruzafa / Flora Duffy
26-Oct XTERRA World Championship Ruben Ruzafa / Flora Duffy
About TEAM Unlimited/XTERRA 
TEAM Unlimited is a Hawaii-based television events and marketing company, founded in 1988.  It owns and produces XTERRA and in 2014 will offer more than 300 XTERRA off-road triathlon and trail running races in 25+ countries worldwide. In addition, TEAM TV has produced more than 300 adventure television shows resulting in three Emmy's and 42 Telly Awards for production excellence since 1990.  View samples at www.xterra.tv, and learn more at www.xterraplanet.com and www.xterratrailrun.com.