XTERRA Germany Elite Preview
August 17, 2022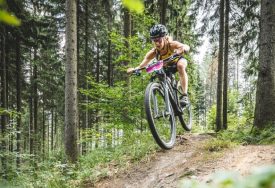 August 17, 2022 /ENDURANCE SPORTSWIRE/ –  XTERRA returns to Zittau, Germany for the 20th time with an action-packed weekend of Short Track and full distance off-road triathlon racing this Friday and Saturday, August 19-20.
As the name suggests, Friday's XTERRA Short Track race is a fast, multi-lap, made-for-TV event combining two 200-meter swim laps with an exit in-between, four 1.5km mountain bike laps complete with jumps and berms, and two 1.3km run loops.
Live coverage starts Friday, August 19, at 3:20pm CEST.
In the women's elite race all eyes are on the reigning and two-time XTERRA European Champion, Sandra Mairhofer (ITA), who won both the full distance and short track races in the Czech Republic last weekend, to see if she can keep up her winning ways.
"Of course, my legs are tired after the two hard races in Czech, but with some right training, good food and sleep, I'll be ready for this weekend," said Mairhofer. "I will give my best at both races and I think I can be strong at both. And I'm looking forward to the atmosphere, Germany is always a big party! The course is great, people are awesome, and the track is fast and fun!"
Perhaps the woman with the best shot at stealing one or both races is Alizee Paties (FRA), who finished second to Mairhofer in both contests last week.
"I think we are all motivated for the third round and we are very close to each other, which is great for spectators," said Paties (pictured left, next to Marta Menditto). "My mind is ready for these next two races, but we'll see if my body is too. This is my first time here in Zittau and I love the bike and run loop. It's more technical than others, which I prefer, and I've heard the atmosphere is electric so it should be a lot of fun."
XTERRA Short Track – Elite Women
*XWR – Name, NAT
2 – Loanne Duvoisin, SUI
3 – Marta Menditto, ITA
4 – Sandra Mairhofer, ITA
5 – Samantha Kingsford, NZL
6 – Alizée Paties, FRA
9 – Solenne Billouin, FRA
11 – Jindřiška Zemanová, CZE
12 – Morgane Riou, FRA
15 – Helena Karaskova, CZE
16 – Carina Wasle, AUT
20 – Ségolène Léberon, FRA
21 – Amanda Felder, USA
33 – Hana Odlová, CZE
38 – Elizabeth Orchard, NZL
40 – Evelyne Trepte, SUI
43 – Maria Doring, GER
50 – Štěpánka Bisová, CZE
73 – Lara Buttigieg, MLT
77 – Pauline Vie, POR
85 – Katja Krenn, AUT
100 – Beatriz Ferreira, POR
NR – Paula Leupold, GER
NR – Anna Gazzari, ITA
NR – Michaela Matušová, CZE
NR – Matilde Del Mas, ITA
Arthur Serrieres (FRA) has earned first mention when it comes to the men's race, but he says his big picture goal of winning the XTERRA World Championship on October 1 is taking top priority.
"After my performance last week, I'm here just to have a good race and enjoy the experience. I won't take any risks, but will play the game as much as possible," said Serrieres, who won the XTERRA European Championship for the third time Saturday in Prachatice, then finished fourth in the Short Track race.
"Right now I feel tired, but I expect to recover for the next two races," he said. "I went really hard during my altitude training camp coming into this block of races, and should just recover in these two weeks, because it's important I finish Germany not too tired as I'll go right back to altitude and want to push hard again. Right now, I am just focused on Worlds."
Focused on Worlds or not, Serrieres is a fierce competitor every time the cannon blasts.
Maxim Chane (FRA), who sits atop the XTERRA Short Track Series standings, says his focus this weekend is on winning the full-distance race on Saturday.
Elites count their best three scores out of the four XTERRA Short Track races, so there is a lot of strategy involved with where and when to go hard.
"My main goal is the Saturday full distance race, and I will focus on the Short Track series in Trentino on October 2," said Chane. "In France (when the short track was the day before the full distance), it killed me for the full distance and I don't want to make that mistake again."
Like Serrieres, Chane did his build-up for this block of four races at altitude.
"I spent three weeks at altitude for this week of racing and feel well prepared, strong and ready for battle. I love XTERRA Germany because the bike course is tough and fast and you can play group tactics on the flat parts in the beginning and end. Plus, the organization always does a fantastic job to create an amazing event."
If Chane had to predict the weekend's winners, he said Arthur Forissier (pictured) looks hungry and needs the points for Short Track standing so he'd bet on him Friday, "but Saturday," he said, "I'd bet on me."
XTERRA Short Track – Elite Men
*XWR – Name, NAT
2 – Arthur Serrieres, FRA
3 – Ruben Ruzafa, ESP
5 – Felix Forissier, FRA
6 – Sebastien Carabin, BEL
8 – Arthur Forissier, FRA
9 – Maxim Chané, FRA
10 – Sam Osborne, NZL
11 – Jens Emil Sloth Nielsen, DEN
17 – Xavier Dafflon, SUI
21 – Franco Pesanvento, ITA
22 – Jens Roth, GER
23 – Francois Vie, POR
27 – Kieran McPherson, NZL
29 – Michele Bonacina, ITA
33 – Federico Spinazzè, ITA
34 – Mathias Cloostermans, BEL
40 – Scott Anderson, GER
41 – Lucas Van Deynze, BEL
43 – Francois Carloni, FRA
45 – Geert Lauryssen, BEL
47 – Peter Lehmann, GER
49 – Malte Plappert, GER
54 – Tim Van Hemel, BEL
62 – Wouter Dijkshoorn, NED
111 – Keller Norland, USA
NR – Mateo Sfregola, ITA
*XTERRA World Rank
Read the full XTERRA Germany weekend preview here.
While the XTERRA Short Track Germany showcase is an invite-only event for the top 25 ranked elite men and women (with a few wildcards), more than 60 professionals from 20 countries will line-up on Saturday for the XTERRA Germany Championship race over the traditional course that combines a 1.5km swim, 37km single loop mountain bike course, and 10km trail run.
XTERRA Germany is one of the biggest events of the year, with the entire town of Zittau supporting the extravaganza in a big way on both sides of the tape.
It's the 13th time XTERRA has raced around Olbersdorfer Lake on the edge of Zittau, a historic town near the Polish and Czech borders, where hundreds of fans line the flat and fast course, using the landscape sculpted by the remnants of the old mining venue to gain a vantage point to see the entire course.
All-time XTERRA Germany Elite Race Winners
Year
Location
Men
Women
2021
Zittau
Arthur Serrieres
Sandra Mairhofer
2020
Zittau
Cancelled due to covid
2019
Zittau
Arthur Serrieres
Helena Karaskova-Erbenova
2018
Zittau
Bradley Weiss
Brigitta Poor
2017
Zittau
Sam Osborne
Brigitta Poor
2016
Zittau
Ruben Ruzafa
Michelle Flipo
2015
Zittau
Ben Allen
Helena Karaskova-Erbenova
2014
Zittau
Ruben Ruzafa
Kathrin Mueller
2013
Zittau
Ruben Ruzafa
Jacqui Slack
2012
Zittau
Asa Shaw
Helena Karaskova-Erbenova
2011
Zittau
Olivier Marceau
Marion Lorblanchet
2010
Zittau
Cancelled due to flooding
2009
Zittau
Franky Batelier
Renata Bucher
2008
Zittau
Ronny Dietz
Renata Bucher
2007
Titisee
Franky Batelier
Carina Wasle
2006
Titisee
Sebastian Kienle
Carina Wasle
2005
Titisee
Nicolas Lebrun
Carina Wasle
2004
Titisee
Olivier Marceau
Katrin Helmcke
2003
Titisee
Nicolas Lebrun
Jamie Whitmore
2002
Titisee
Ronny Dietz
Ute Schaefer
Learn more at xterraplanet.com.
All-time XTERRA Short Track Champions
Date (Location) – Men's Winner/Women's Winner
August 4, 2019 (Prachatice, Czech Republic) – Arthur Forissier/Loanne Duvoisin
September 4, 2020 (Prachatice, Czech Republic) – Arthur Serrieres/Laura Philipp
October 3, 2020 (Trentino, Italy) – Ruben Ruzafa/Marta Menditto
June 5, 2021 (Lake Garda, Italy) – Arthur Forissier/Loanne Duvoisin
June 20, 2021 (Prachatice, Czech Republic) – Arthur Forissier/Marta Menditto
August 20, 2021 (Zittau, Germany) – Lukas Kocar/Diede Diederiks
August 29, 2021 (Pujols, France) – Arthur Serrieres/Michelle Flipo
July 2, 2022 (Xonrupt, France) – Panagiotis Bitados/Loanne Duvoisin
August 14, 2022 (Prachatice, Czech Republic) – Lukas Kocar/Sandra Mairhofer
Friday's XTERRA Short Track Germany race is the third of four big events in eight days awarding €50,000 in prize money to the sport's top elite athletes who have flocked to central Europe for the contests.The Short Track season finale will be held on October 2, 2022 in Trentino, Italy – the day after the XTERRA World Championship.
2022 XTERRA ELITE SERIES RESULTS & UPCOMING RACES
| Date | Race | Location / Race Winners |
| --- | --- | --- |
| 16-Apr | XTERRA Greece | Panagiotis Bitados/Alizee Paties |
| 21-May | XTERRA Portugal | Arthur Serrieres/Solenne Billouin |
| 4-Jun | XTERRA Italy – Lake Garda | Arthur Serrieres/Jindriska Zemanova |
| 11-Jun | XTERRA Belgium | Arthur Serrieres/Marta Menditto |
| 12-Jun | XTERRA Whistler | Edmond Roy/Katie Button |
| 2-Jul | XTERRA Short Track France | Panagiotis Bitados/Loanne Duvoisin |
| 3-Jul | XTERRA France | Felix Forissier/Marta Menditto |
| 10-Jul | XTERRA Victoria | Brent McMahon/Katie Button |
| 16-Jul | XTERRA USA Championship | Sullivan Middaugh/Lesley Paterson |
| 17-Jul | XTERRA Italy – Lake Scanno | Maxim Chane/Alizee Paties |
| 6-Aug | XTERRA Nouvelle-Aquitaine | Arthur Serrieres/Juliette Duquesne |
| 13-Aug | XTERRA European Champs | Arthur Serrieres/Sandra Mairhofer |
| 14-Aug | XTERRA Short Track Czech | Lukas Kocar/Sandra Mairhofer |
| 19-Aug | XTERRA Short Track Germany | Zittau |
| 20-Aug | XTERRA Germany | Zittau |
| 4-Sep | XTERRA Dominican Republic | Samana |
| 1-Oct | XTERRA World Championship | Trentino, ITA |
| 2-Oct | XTERRA Short Track Trentino | Trentino, ITA |
| 15-Oct | XTERRA Sardegna | Castidias, ITA |
| 22-Oct | XTERRA Tahiti | Moorea |