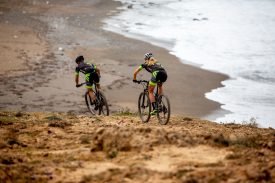 Stop No. 2 on the 2019 XTERRA Asia-Pacific Tour heads to the enchanted Whakarewarewa Forest surrounding Lake Tikitapu for the 17th annual XTERRA New Zealand off-road triathlon and accompanying sports festival in Rotorua this Saturday, April 6.
Stop No. 2 on the 2019 XTERRA Asia-Pacific Tour heads to the enchanted Whakarewarewa Forest surrounding Lake Tikitapu for the 17th annual XTERRA New Zealand off-road triathlon and accompanying sports festival in Rotorua this Saturday, April 6.
XTERRA heavyweight Sam Osborne calls this magic spot home and said he's looking forward to defending his turf for the third straight year against a strong and deep elite field this weekend.
"I'm turning up to go real fast," said Osborne, who was second to Brad Weiss at the XTERRA Asia-Pacific Championship in Taiwan last Saturday.
"The home race is always something special, and it's the best course in the world in my opinion, but it's not so much my home course that makes it but the people," said Osborne. "Racing past all the downhillers waiting for the shuttle bus that you see most weekends out riding, they get right in behind us and know how to give a good heckle. And then all the people out on the course marshalling and at the lake, the home atmosphere is what is awesome."
Aussie Ben Allen, who won back-to-back NZ crowns in 2012 and 2013, agreed with Osborne about the atmosphere and added that he loves mixing it up against the hometown Kiwis.
"The race always starts with a traditional haka, which fires you up," said Allen, who was fourth last weekend in Taiwan.  "I think it's a sacred place for everyone and having the opportunity to race XTERRA here is incredible."
Allen and fellow Australians Brodie Gardner and Taylor Charlton will have to contend with a whole gang of Kiwi speedsters, including Rotorua's own Lewis Ryan (2018 XTERRA Taiwan Champ) and Olly Shaw (who was 4th at the XTERRA European Championships last year).
"I'm excited to race, but also excited to have all my visiting friends over for a barbeque," said Ryan, the 20-year-old who was also at the Asia-Pacific Champs last week where he finished sixth.  "The XTERRA community is really an international family.  Last week the crew from Taiwan took good care of me, so I hope to return the favor to those guys this week. It's super cool."
Two Taiwanese-based elite racers are in the mix with Chung-Yi "Svenson" Lin and Yuan Keng "John" Hsu.  They're both thrilled to race on the trails in Rotorua, which seem heavenly made with magic dirt on a course that twists and turns through towering redwoods and monstrous ferns.
"It will be a great honor to race against some of the fastest XTERRA athletes in the world at such a beautiful place," said Lin.
Ryan Sissons, a member of the 2012 NZ Olympic triathlon team, is one of those 'fastest athletes in the world' and is no stranger to XTERRA.  He'll be joined by countrymen Sam Clarke, Clark Ellice, and Flavio Vianna, who won XTERRA Motatapu last month.
In the women's elite race, it's teacher vs. apprentice part II.  Last week in Kenting, Penny Slater won a thriller against her coach Jacqui Allen, but she's never raced with a bulls-eye on her back before.
"I've never been in this position, so we'll see," said Slater, who turned 23 on Wednesday.  "I've just been trying to recover well so I can put in a good performance on Saturday."
Allen, on the other hand, has won the last two XTERRA New Zealand titles and won her first-ever XTERRA major here back in 2012.
"I love it here, the Blue Lake is amazing, the trails are world-class and well maintained, and the run is my favorite on the circuit," said Allen.  "I do feel a little under pressure to repeat but am excited to rise to the challenge."
The other three women's elite racers – Samantha Kingsford (4th), Morgane Riou (6th), and Lydia Hale (7th), were also in Taiwan so the entire women's elite field is racing their second XTERRA in as many weeks.  Kingsford might have the edge as one who knows every corner of the course and is excited to race in front of her family and friends.
"It's going to be a great race and fun to see who recovered the best from last week's effort," said Renata Bucher, the XTERRA Asia-Pacific Tour technical director who won this race herself back in 2013.  "It's been one of the warmest summer's Rotorua has had in a long time and the lake feels warm, but it's always a wetsuit swim.  The trails are amazing right now for both the bike and the run.  It should be a fast race, with the men's winner in about two hours and the women in about 2.5. I expect a really tight race for both the men and the women."
XTERRA New Zealand annually attracts some 2,000 XTERRA Warriors for a festive day of events that include family-friendly 5.5, 11, and 21km trail runs, mountain bike races, and short-and-championship distance off-road triathlons.
Learn more at xterraplanet.com.
XTERRA NEW ZEALAND ALL-TIME ELITE WINNERS
Year
Men
Women
2003
Sam Mallard
Evelyn Willamson
2004
Hamish Carter
Sonia Foote
2005
Hamish Carter
Sonia Foote
2006
Hamish Carter
Gina Ferguson
2007
Tim Wilding
Gina Ferguson
2008
Terenzo Bozzone
Sonia Foote
2009
Richard Ussher
Nicola Leary
2010
Scott Thorne
Nicola Leary
2011
Richard Ussher
Karen Hanlen
2012
Ben Allen
Jacqui Slack
2013
Ben Allen
Renata Bucher
2014
Conrad Stoltz
Barbara Riveros
2015
Braden Currie
Suzie Snyder
2016
Braden Currie
Lizzie Orchard
2017
Sam Osborne
Jacqui Allen
2018
Sam Osborne
Jacqui Allen
XTERRA CYPRUS OPENS 2019 XTERRA EUROPEAN TOUR ON SUNDAY
The 2019 XTERRA European Tour gets underway this Sunday, April 7, at the third-annual XTERRA Cyprus off-road triathlon on an island rich in history, culture, and charm.
In the women's elite race the reigning XTERRA European Tour Champion, Carina Wasle, is on the start list to take on the reigning and two-time Cyprus Champ, Brigitta Poor.
"I had a great season in 2018 and would like to continue this way in 2019," said Wasle, who finished third at the XTERRA Asia-Pacific Championship in Taiwan last Saturday. "I will do races in Europe and some on the Asian Tour and hope to be on the podium again in some of them.  I changed my training this year as I broke my ribs in February. I followed some training sessions with the Swiss Olympic team and did a lot of cross country skiing. I rode my bike for the first time after Maui just two weeks ago and I feel pretty good. My 3rd place in Taiwan was a good test as I don't want to push a lot in the beginning of the season. I think Brigitta will be strong again this year, and I'm looking forward to checking my performance against her in Cyprus."
For Poor, 2019 will be about reclaiming her XTERRA European Tour title after being so close two years in a row.  With the new elite rules counting an elite's best eight scores, Poor enters the year as the clear-cut favorite to win it.  She also wants to secure a three-peat at the XTERRA European Championship (this year's race is in the Czech Republic on August 3).
"The basic training is over now," said Poor, who won seven races on the European Tour last year. "Now it's time to go fast."
Nicole Walters, the 2018 XTERRA Greece Champ, is also looking forward to going fast following a frustrating week in Taiwan spent dealing with injuries and a cold.
"Spending the week leading up to the race recovering from XTERRA Asia-Pacific Championship and the long travel back to Europe," said Walters.  "The race will be what it will be, but it will be nice to be back in the Akamas National Park. It's a really nice place, Doug and I are actually staying in Cyprus for another 10 days post-race to train for the ITU World Cross champs later in April."
In the men's elite race, it's all about Xavier Dafflon from Switzerland.
"My goal is to win all the races where I take the start," exclaimed Dafflon, half-seriously. "No, but seriously, there are quantitative and qualitative objectives. Qualitatively, first of all, I want to have fun. The results will come or not, but if I have fun and I am healthy, I will achieve my main goal. But something I have learned over the years, is that you can only deserve a success if you know how to progress after each "defeat" or "disappointment". So, I will enjoy as much as I can to be fit and achieve good results.  My real goal is to find a good balance between sport, job and family with the baby. This is the most important objective."
All that said, Dafflon also aspires to get on the podium in the final XTERRA European Tour standings after finishing fourth the last two seasons.
"I'd also like to be the XTERRA Swiss Champion and get to Maui in good shape. It is a challenge to be ready for it in October for a Swiss citizen but I've always been a bit frustrated not to be there with the world's best the last two years so why not go for it this year if possible!"
XTERRA veteran Doug Hall, fresh off a 7th place showing against a stacked field at the XTERRA Asia-Pacific Championship, thinks Dafflon is the guy to beat.
"If the body recovers in time after racing APAC champs, and I can get over the jetlag I'd love to improve on my 5th place last year," said Hall. "I really enjoy the bike course and it seems to suit me quite well. I still expect to get a hammered on the bike by Xavier Dafflon."
Other elite men of note include Rui Dolores, who was 6th in the final tour standings last year, Dominik Wychera (9th), Geert Larsen (12th), and Tomas Kubek (17th).
All the action takes place Sunday at the scenic Akamas National Park, and Agios Georgios Harbor.
Learn more at xterraplanet.com / Pics and videos on Facebook
XTERRA Cyprus Elite Start List
WOMEN
Position in Final 2018 XET Standings – Name, COUNTRY
1 – Carina Wasle AUSTRIA
2 – Brigitta Poor HUNGARY
4 – Nicole Walters GREAT BRITAIN
6 – Anna Tomica POLAND
34 – Maria Döring GERMANY
36 – Eleonora Peroncini ITALY
41 – Marta Menditto ITALY
NA – Matilde Bolzan ITALY
NA – Alizee Paties FRANCE
NA – Pauline Vie PORTUGAL
MEN
Position in Final 2018 XET Standings – Name, COUNTRY
4 – Xavier Dafflon SWITZERLAND
6 – Rui Dolores PORTUGAL
9 – Dominik Wychera AUSTRIA
12 – Geert Lauryssen BELGIUM
15 – Doug Hall GREAT BRITAIN
17 – Tomas Kubek SLOVAKIA
34 – Hannes Wolpert GERMANY
Samuel Jud SWITZERLAND
Ricard Costa Puigpelat SPAIN
Gaetan Vivien FRANCE
Oliver Kreindl AUSTRIA
Andrea Giuseppe Zanenga ITALY
Jens Emil Sloth Nielsen DENMARK
Andres  Carnevali SPAIN
Jeremy Morel FRANCE
Filippo Rinaldi ITALY
Tiago Maia PORTUGAL
Ivan Vasilyev RUSSIA
All-time XTERRA Cyprus Elite Champions
2017 – Yeray Luxem / Brigitta Poor
2018 – Roger Serrano / Brigitta Poor
About XTERRA
XTERRA is a sports lifestyle brand that produces authentic race experiences and apparel for the outdoor enthusiast.  In 2019, XTERRA will host off-road triathlon and trail running events in 30+ countries. XTERRA also offers premium, performance apparel and accessories for the trail and beyond. Learn more at xterraplanet.com.