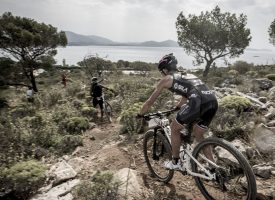 This weekend the XTERRA European Tour is in Greece, the America Tour is in Georgia, our in-house training tips expert Mimi Stockton talks about what it means to have heart, we preview an upcoming West Region race in L.A., a Northwest gem in Portland, and recap all the racing action news from last weekend around the XTERRAPlanet.
The third stop on the XTERRA European Tour takes us to Vouliagmeni for the sixth annual XTERRA Greece off-road triathlon.
Roger Serrano and Brigitta Poor will both be there and have the chance to win their third race in as many weeks and take a commanding lead in the early points standings for the Tour.
XTERRA European Tour director Nico Lebrun will also be on-site, and here are his thoughts heading into Sunday's race in the beautiful seaside suburb of Athens…
This is our third year in Vouliagmeni, where the 2004 Olympic triathlon was held. It's the perfect place to enjoy a holiday with a nice beach, calm waters, and lots of good places to enjoy the famous Greek salad. Before we relax, however, we must race.
For the elite women, it's all about Brigitta Poor. Who can beat her? Well, Helena Karaskova won here last year and captured four of the five previous XTERRA Greece titles, but in the last six months the duel between our two stars has gone Brigitta's way. And now, following a big win in Cyprus against one of the world's best triathletes, Barbara Riveros (who was 5th at Rio Olympics), she must be brimming with confidence. She is the reigning XTERRA European Champion, was 4th in Maui last year, and has eight wins in Europe in the last year.
That said, anything can happen in an XTERRA race. Helena was not 100% in Malta, as she was still tired and nursing an injury from a big swimrun just before that race, so we will see in Vouliagmeni if she can still scare Brigitta. Of course, they are not the only two contenders. Nicole Walters wants to break into this battle and show she can play in the front. I think she can. Then there is Carina Wasle, who already has two wins this year in South Africa and Danao, was 2nd in Malta and looks to be in great shape. The question is if she will be 100% recovered from those three races and a big trip to the Philippines in the middle. If yes, she will fight for the podium for sure. The fifth girl we need to watch out for is Morgane Riou, she was 4th in Malta despite a flat tire, she won her first XTERRA last year in Dominican Republic, and she is more focused on the Euro tour this season, chasing for points. For this third race of the tour, the density will be higher. Maud Golsteyn from the Netherlands is racing after a solid 5th place in Malta two weeks ago. It will be nice to see Jessie Roberts from UK back racing with us again, and Cecilia Jessen from Sweden might consolidate her third-place standing in the tour rankings after this one. Also of note are Ine Couckuyt from Belgium and Sandra Mairhofer from Italy.
In the elite men's race, Serrano will be hunted by lots of young athletes who believe they can win. Maxim Chané was second last week in Cyprus, and he didn't lose too much time on the run in that one. He is building lots of confidence, and after managing the last two races differently he might find the right way to win this time. He will be not alone in the hunt, as we have the two French Arthur's, Forissier and Serrieres, both young and talented and poised to do something great. Forissier won XTERRA Switzerland last year and Serrieres was 2nd in Germany, our biggest event on the tour, in front of world champion Bradley Weiss. It will be very interesting to see what they did in the winter and how strong they will be this season.
Another young athlete I will have an eye on is Marcello Ugazio from Italy. He showed huge potential last year by winning the ETU European Championship and finishing 6th at XTERRA France. Maximilan Sasserath from Germany could be in the mix as well, and showed promise with his third-place finish in Malta two weeks ago. I can also imagine two guys, who aren't the best swimmers, collaborating on the bike to work their way to the front – Kris Coddens from Belgium and Xavier Dafflon from Switzerland. Kris won in Greece already and loves this race and Xavier made his elite debut here last year. Both are great riders and runners and might be very strong and disturb the leaders in second part of the race. Another ex-winner here will start on Sunday, Frenchman François Carloni, who was 4th in Malta and for sure will make these guys suffer on the bike. Doug Hall, who was 5th last week, will fight for a top 10 spot among this strong field, same for Riu Dolores from Portugal. With 23 elite men on the start list, XTERRA Greece will be very intense to watch.
I'm looking forward to see what Roger will do. Does he have a strategy to surprise everybody again like he did in Malta? Despite a big crash in Malta he managed to win again in Cyprus, and I wasn't even sure he would race. I have the feeling that this time he will try to escape from the start with Maxim, and push hard together the entire bike then try to finish the job on the trail run. Lastly, I don't want to forget our Greek athlete Grigoris Souvatzoglou, who did his first elite race in Cyprus and finish 9th. I'm sure at home he will be fired-up to stay in the top 10 despite the stronger field.
Like at every race on the tour, we will try to give some updates from the race on our XTERRA Europe Facebook page. It starts Sunday at 9am in Athens, tune-in and follow along.
All-Time XTERRA Greece Elite Champions
Year – Men / Women
2013 – Ben Allen / Helena Erbenova
2014 – Francois Carloni / Kathrin Mueller
2015 – Kris Coddens / Helena Erbenova
2016 – Roger Serrano / Helena Erbenova
2017 – Ruben Ruzafa / Helena Erbenova
XTERRA Renegade rebels into LA May 6
Next Sunday, May 6, XTERRA Renegade will host a festival of races at the renowned Bonelli Park in San Dimas, CA. The events will include the XTERRA Renegade off-road tri, a sprint distance XTERRA, a duathlon, and three and six-mile trail runs.
Located less than 30 miles northeast of Los Angeles, the trails at Bonelli Park are varied enough to give experienced mountain bikers an adrenaline rush while also being friendly to beginners. Indeed, the half-mile swim, 15-mile (2-loop) bike and three-mile trail run are challenging enough for the seasoned triathlete yet short enough to entice novices.
The bike course is a mixture of paved roads, fire roads and singletrack trails with stellar views of Mt. Baldy, one of Southern California's most impressive mountains.
The trail run is hilly with a mixture of paved paths, fire roads and singletrack trails.
Rob Teixeira, a local athlete who placed third overall in last year's XTERRA Renegade duathlon, knows the trails at Bonelli Park well.
"The most difficult part of the course are the climbs, so a hard tail is sufficient for this race," said Teixeira, who is also a fire fighter in Lancaster, California and a go-to for all of those in his company looking for advice on health and fitness.
Teixeira recommends a solid warm-up before XTERRA Renegade because the bike portion starts uphill.
"The bike course starts with a 12-15 percent grade, so you want to go into this race warmed up and ready to respond where appropriate," said Teixeira. "I'm not a Peter Pan skipping off the rocks. I like to get to the top of the first climb, see everyone, and then descend."
The course is typical California canyon, meaning that it's rocky and rutty.
"You need to be flexible," said Teixeira. "And you need to pay attention to how your shoes and tires feel on the earth. Keep your brain on."
XTERRA Renegade is the second of five West Region races on this year's schedule, not including XTERRA Laguna Beach on October 7 that will count towards the 2019 series.
Learn more at xterraplanet.com.
XTERRA Weekend Wrap from April 21-22 action
Five big events took place around the XTERRA Planet last weekend, highlighted by the XTERRA Asia-Pacific Championship race in Danao, where World Champ Bradley Weiss added another title to his trophy chest, as did the veteran Carina Wasle.
Read the whole story / Photos / Results
In the Mediterranean, the second of 17 majors on the XTERRA European Tour unfolded in Cyprus, where Roger Serrano and Brigitta Poor both won their second race in as many weeks.
Read the whole story / Photos / Videos / Results
In Myrtle Beach, both the men's and women's races were decided by less than 20-seconds. For the men, former Mr. XTERRA award-winner Marcus Barton pushed his younger buddy Caleb Baity to the brink of exhaustion, but youth won out. For the women, it was experience that took the tape as Margo Pitts edged Jessica Lehman in the first XTERRA South Central region race of 2018.
Read the whole story / Results
In Denmark, the first-ever XTERRA European Championship Duathlon took place at Rebild National Park where Jens Emil Sloth Nielsen and Janni Spangsberg did the run-bike-run better than everyone else.
Read the whole story / Photos / Video / Results
Finally, just outside of Austin, Andy Lee and Melanie Etherton – a pair of Texas XTERRA legends – took the tape yet again. Despite threats of severe thunderstorms, the hard rain held off for the Saturday's race in Pace Bend Park.
"We had cold and drizzly conditions," said race director Joel Grimmett, "But that didn't stop our athletes from giving outstanding performances."
In the men's race, Lee did it again, just like last month at XTERRA Bluebonnet. That race's runner up – Kyle Grieser – didn't compete in XTERRA ATX because he was fighting fires in western Texas.
"This time we watched second and third place finishers Frank Musil and Michael Drackert battle it out with Frank just edging out Mike on the run and beating him by seven seconds."
Still, as Drackert knows well, every point counts towards a trip to Maui, and even though it's still early in the season, XTERRA South Central athletes aren't giving anything away for free. At XTERRA ATX, Lee won easily in 1:41:44. Frank Musil finished in 1:49:03 while Michael Drackert was close behind in 1:49:10.
In the women's race, Melanie Etherton – like Lee – remains undefeated in the Texas series, and won XTERRA ATX handily in 2:09:01. "Justine Emge mixed up the results and took second overall," said Grimmett about the elite swimmer and military pilot. "She easily had the fastest swim split of the day coming out of the water in 11:09."
Emge's overall time was 2:20:39 with fellow competitive swimmer, Alissa Magrum behind her in 2:22:18. Next up in the XTERRA South Central Series is XTERRA Cameron Park, on June 9th, which will be held in conjunction with the USAT Off-Road National Championship.
Learn more and find your next adventure at www.xterraplanet.com.
Upcoming XTERRA Triathlon races around the world…
04/28  XTERRA Fort Yargo, Winder, GA
04/29  XTERRA Greece, Vouliagmeni
05/05  XTERRA Uruguay, Punta del Este
05/06  XTERRA Jersey Devil, Barnegat, NJ
05/06  XTERRA Renegade, San Dimas, CA
05/11  XTERRA Tahiti, Moorea
05/12  XTERRA Brazil, Ilhabela
05/19  XTERRA Way Over Yonder, Hewitt, NJ
05/19  XTERRA Charlottesville, Charlottesville, VA
05/19  XTERRA Oak Mountain – Full / Sprint / Xticer, Pelham, AL