Writer Who Trained with Elite Runners Unexpectedly Becomes One
October 12, 2017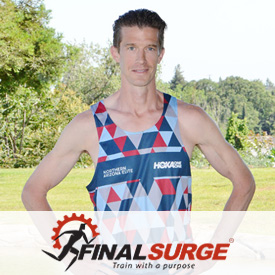 Acclaimed running author Matt Fitzgerald, 46, established himself as one of the top marathoners his age Sunday, completing the Bank of America Chicago Marathon in a time of 2:39:30. The performance placed him 146th among nearly 45,000 participants and 5th in the men's 45-49 age group. Only three runners older than Fitzgerald beat him to the finish line of the race, which is considered one of the world's most competitive marathons.
Known for bestselling books including Racing Weight and How Bad Do You Want It?, Fitzgerald ran the Chicago Marathon as the culmination of a unique experiment in which he spent 13 weeks training with HOKA ONE ONE Northern Arizona Elite, a team of professional runners based in Flagstaff, Arizona. Arriving there from his home in California with a personal-best marathon time of 2:41:42, set nine years earlier, he improved to a degree that surprised both him and NAZ Elite Coach Ben Rosario.
"I took on this challenge because I wanted to prove to my fellow amateur runners that professional athletes like those on NAZ Elite really know what they're doing, and that any runner who wants to fulfill his or her potential will benefit from emulating their habits and practices," Fitzgerald said. "But I must confess, I did not expect to benefit personally as much as I did. Forty-six-year-old men who started running at age 11 and have completed more than 40 marathons usually don't set two-minute personal bests!"
"Having Matt join the team in July really did feel like adding another athlete to our roster," Rosario added. "We treated him just like we'd treat any new team member and supported him as such. And he supported all of us in return. I believe it's that support that has helped us have the success we've been fortunate enough to have and I'd like to think it played a role in Matt's success at Chicago. On race day, watching Matt's splits come in right on the money every 5k is a coach's dream. Seeing him at 25 miles and knowing he was going to get that sub 2:40 will be a forever memory for me."
Now back home in California, Fitzgerald is busy compiling his memories and key learnings from the experiment into a book, tentatively titled The Running Bum. During his time in Flagstaff, he kept a blog of the same name and logged his training on Final Surge, a popular endurance sports training and coaching platform.
Both Matt and Ben were guests on the Final Surge Podcast this week to discuss the project which you can listen to hear: https://www.finalsurge.com/blog/article/podcast-60-matt-fitzgerald-ben-rosario
To view Matt's training on Final Surge and view his blog leading up to the marathon, please visit: https://www.finalsurge.com/therunningbum
"At Final Surge we promote training towards a goal, interacting with your coach, adjusting workouts when needed and analyzing results so that you can ultimately accomplish that goal," said Dean Ouellette, Final Surge Director of Public Relations. "This is the vision of Final Surge and we enjoyed watching it play out in the real world. We were honored that Matt and Ben allowed us to be part of that."
Final Surge is the training and coaching platform that empowers athletes and coaches to reach fitness and performance excellence like never before. Ideal for runners, cyclists, and multi-sport athletes and coaches in sports like triathlon, duathlon, XTERRA and more. Final Surge is used by athletes, coaches and teams of many sports around the world where performing your best is what it's all about. Final Surge has all of the features you need to track and analyze your training, from communicating with coaches and planning future workouts to importing workout and GPS data from your fitness devices, including the Final Surge app on your mobile device.
To learn more, visit: https://www.finalsurge.com