Women For Tri Provides Grants for Triathlon Clubs in U.S., Australia, New Zealand and China
May 25, 2018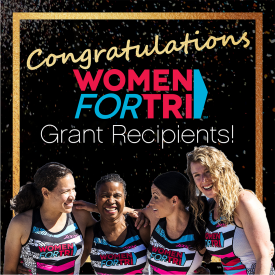 More than $248,000 to date awarded to support female participation initiatives
TAMPA, Fla. – Women For Tri®, a program of the IRONMAN Foundation®, today announced the distribution of grants to 28 triathlon clubs in the United States, Australia, New Zealand and China. This year, Women For Tri will again offer multiple grants of up to $2,500 per grant for triathlon clubs that will utilize the funds to support women's engagement initiatives, including bringing first-timers into the sport. Since the program's inception in 2016 more than $248,000 has been awarded.
"On behalf of Women For Tri, we are delighted to disburse the next round of grants and to continue to grow the triathlon club grant program globally," said Kyrsten Sinema, U.S. Representative, Arizona – 9th Congressional District and head of the Women For Tri Committee of Advisors. "Women For Tri seeks to increase women's participation in the sport of triathlon, and we have seen our club grants introduce hundreds of women to the sport we all love. We are particularly excited to see women 'growing' within the sport, starting with the sprint distance and moving up to longer distances."
Women For Tri 2018 Triathlon Club Grant Program
The Triathlon Club Grant Program was established to support local triathlon clubs as they develop programming and activities to increase female participation in triathlon. Benefiting clubs will utilize funds to provide: specific training for female triathletes with a focus on removing barriers to participation; educational programs for female triathletes; and networking and social gatherings with a focus on recruiting and engaging women to participate in triathlon. A second round of funding will be awarded later this season. The grant recipients are:
BAM Endurance Club, Sandy, UT, USA
Bathurst Wallabies Triathlon Club, Bathurst, Australia
Boca Raton Triathletes, Boca Raton, FL, USA
Canterbury Triathlon, Christchurch, New Zealand
Central Jersey Tri Club, Scotch Plains, NJ, USA
Dashing Iron Team, Hong Kong, China
Endurance Multisport, Coopersburg, PA, USA
Fort Lauderdale Triathletes, Coral Springs, FL, USA
Foundation Physical Therapy and Endurance Coach, Chandler, AZ, USA
FW Tri Club, Fort Worth, TX, USA
G3 – Gainesville Triathlon Club, Gainesville, FL, USA
Golden Gate Tri Club, San Francisco, CA, USA
Gulf Coast Multi-Sport, Slidell, LA, USA
iracelikeagirl, Easton, MA, USA
JustTriWomen for TRI, Turnwater, WA, USA
LA Tri Club, Santa Monica, CA, USA
Mullica Hill Women's Triathlon Club, Mullica Hill, NJ, USA
Pittsburgh Triathlon Club, Pittsburg, PA, USA
Playmakers Triathlon Team, Okemos, MI, USA
Poppy Sports, Denver, CO, USA
Ride Triathlon Team, Encinitas, CA, USA
Ridgewood Tri Athlete (Team RTA), Ridgewood, NJ, USA
Rocklin Endurance Sports Triathlon Club, Rocklin, CA, USA
San Francisco Tri Club, San Francisco, CA, USA
Santa Cruz Triathlon Association, Santa Cruz, CA, USA
Tri It For Life, Charlotte, NC, USA
Tri Scottsdale Foundation, Scottsdale, AZ, USA
VIVE, Denver, CO, USA
To learn more about Women For Tri, please visit www.womenfortri.com or contact [email protected]. To join the Women For Tri community online, visit www.facebook.com/groups/WomenForTri/.
For media related inquiries, please contact [email protected].
###
 About Women For Tri
Women For Tri®, a program of The IRONMAN Foundation launched by IRONMAN in 2015, works to increase female participation at all levels of triathlon. The program seeks to identify and diminish primary barriers to entry and mobilize triathlon advocates to encourage and engage female athletes across all race distances and representing all athletic abilities. Since inception, over $248,000 in grants have been awarded to triathlon clubs supporting female participation initiatives. Women For Tri embodies the heart and soul of what makes the sport so rewarding: testing your ability, overcoming challenges, and realizing the full depth of your potential in the most widely recognized test of endurance – triathlon. Learn more at www.womenfortri.com and join the Women For Tri online community of 45,000+ female triathletes at www.facebook.com/groups/WomenForTri.
About The IRONMAN Foundation
The IRONMAN Foundation® creates positive, tangible change in IRONMAN race communities by engaging athletes and volunteers to participate in programs that demonstrate service through sport and commitment to community. Since 2003, over $50,000,000 has been provided through IRONMAN charitable giveback programs including the IRONMAN Foundation to more than 6,300 local, regional, national and global nonprofit initiatives. Through these partnerships, IRONMAN athletes are powerfully linked to the community and together we leave the IRONMAN legacy behind in our race communities long after event day. For more information on IRONMAN Foundation programs, including Team IMF, Community Fund, Your Journey Your Cause, and Women For Tri, visit www.ironmanfoundation.org.
About IRONMAN
A Wanda Sports Holdings company, IRONMAN operates a global portfolio of events that includes the IRONMAN® Triathlon Series, the IRONMAN® 70.3® Triathlon Series, 5150™ Triathlon Series, the Rock 'n' Roll Marathon Series®, Iron Girl®, IRONKIDS®, International Triathlon Union World Triathlon Series races, road cycling events including the UCI Velothon® Series, mountain bike races including the Absa Cape Epic®, premier marathons including the Standard Chartered Singapore Marathon, and other multisport races. IRONMAN's events, together with all other Wanda Sports Holdings events, provide more than a million participants annually the benefits of endurance sports through the company's vast offerings. The iconic IRONMAN® Series of events is the largest participation sports platform in the world. Since the inception of the IRONMAN® brand in 1978, athletes have proven that ANYTHING IS POSSIBLE® by crossing finish lines at the world's most challenging endurance races. Beginning as a single race, IRONMAN has grown to become a global sensation with more than 200 events across 50 countries. For more information, visit www.ironman.com.
About Wanda Sports Holdings
Wanda Sports Holdings is the world's leading sports business entity, founded to capture the opportunities in the global sports industry and to contribute to the prosperous international sports landscape – in three key areas: 1) Spectator Sports (media & marketing business), 2) Participation Sports (active lifestyle business), 3) Services (digital, production and service business). Wanda Sports Holding incorporates the international sports marketing company Infront Sports & Media, the iconic endurance brand IRONMAN, and Wanda Sports China. The headquarters are in Guangzhou, China.